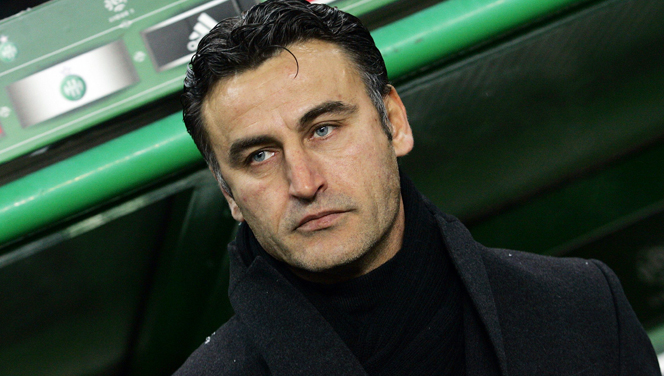 Europa League PREVIEW | St Étienne vs AEK Athens (28/07/16)
With the European campaigns for French teams starting in earnest this week, Saint-Etienne will have the spotlight once again shone their way. A relatively quiet transfer window has given the team a marked stability heading into their third round Europa Qualifying tie against Greece's AEK Athens.
Moustapha Bayal Sall and Swansea loanee Franck Tabanou have departed, but former Toulouse and Rennes left back Cheikh M'Bengue and Montpellier's Bryan Dabo, two experienced and talented players have arrived in their stead. Compare this to last season, when leading scorer Max-Alain Gradel, Tabanou and a raft of other, more ancillary players had departed, leaving the team's attacking approach in some doubt.
Always defensively sound, Les Verts  had scrambled into the European positions on the back of a stunning run of form from Gradel, but with the Ivorian departed, questions abounded. A host of players had arrived as well, some at considerable expense for a club of Saint-Etienne's means, but they were largely unproven in leagues of the standard of Ligue 1.
Nevertheless, manager Christophe Galtier guided the team, new acquisitions and all, through two rounds of Europa League play-offs and the group stage with aplomb. A heartbreaking exit in the Round of 32 to Basel followed, but the new additions generally impressed, and with a full summer to integrate the trio of winter arrivals, (Ole Selnaes, Alexander Soderlund and Oussama Tannane) optimism abounds at Stade Geoffroy-Guichard.
Team News and Tactics
The departures of Sall and Tabanou will be felt, but only the Swansea player was likely to start, and in M'Bengue and Pierre-Yves Polomat, Galtier has plenty of options at the position. Injury-wise, only Tannane is a doubt, but there is some questions surrounding what tactics Galtier will employ. In the club's first three friendlies, the team used a 4-4-2, with two of Beric, Nolan Roux and Soderlund as orthodox strikers.
The wide midfield roles can be filled by Romain Hamouma, Kevin Monnet-Paquet, Tannane, or new man Dabo, and while somewhat atypical in French football, the argument can be made that a traditional 4-4-2 is the best system for the personnel at Galtier's disposal.
That said, in the club's most recent friendly, a disappointing loss to Swiss club Lausanne, the manager switched to a 4-3-3, a formation he has used to great success during his tenure. While he has typically employed three orthodox holding midfielders centrally, the arrival of Dabo allows him a bit more dynamism from this formation.
Last season, when the team played 4-3-3, Jeremy Clement and Fabien Lemoine would generally sit deep, with Vincent Pajot tasked with supporting the attack, albeit to no great degree of success. Alternatively, Clement and Lemoine would play as a double pivot, with Valentin Eysseric in a more advanced role behind the striker, a formation that more closely resembled a 4-2-3-1.
That said, the former Montpellier man is a more natural conduit between midfield and the attack, and should be given the opportunity to prove as much. Despite the earlier experiments with two strikers, given the ability of Roux to play on the wing if needed, it would be a surprise to see the team line up  something other than a 4-3-3, especially not wanting to concede an away goal.
While stability is the watchword at Saint-Etienne, AEK Athens are a club in a state of flux at present. Winner of eleven Greek titles, the team has recently been in the shadow of perennial giants Olympiakos and Panthanaikos, a situation not unlike that of their hosts.  Even without the titles of days gone by, the team have nevertheless frequently been involved in European competition in the recent past, even if success beyond the group stage has proved elusive.
Seeking their former glory, the club this summer brought in former Newcastle player Temur Ketsbaia to help a veteran team. Bizarrely dismissed from Cypriot club APOEL Nicosia in April with his team four points clear at the top of the table, the man best known in England for smashing advertising hoardings has established himself as a more than competent club manager, having also won titles in Cyprus with Anathorsis Famagusta.
Personnel-wise, the club have brought in a few famous names to aid in Ketsbaia's task; former Barcelona and Shakhtar defender Dmytro Chygrynskiy has joined, as has former Portuguese international Hugo Almeida. While the pair are not what they once were, they are solid additions to a team that also features Portuguese winger Helder Barbosa and Venezuelan Ronald Vargas. More intriguing than either of these veterans, however, is the Argentine winger Pato Rodriguez.
Considered a top prospect during his days at Independiente, a move to Santos has badly stunted his career, barely figuring for the Brazilian giants. With the departure of his countryman Diego Buonanotte, this could be the perfect opportunity for the diminutive attacker to rejuvenate his career.
Tactically, Ketsbaia has shown himself to be a strong adherent to 4-2-3-1, a system which was used on rare occasion at AEK last season under Gus Poyet, who generally preferred a 4-3-3. With former Tottenham striker Tomas Pekhart and Almeida archetypal target men, the creative abilities of Barbosa, Vargas and Rodriguez will find a focal point, although Greek international Christos Aravidis is also an option, his performances for AEK since arriving from Panionios integral to his inclusions under Michael Skibbe.
If Aravidis starts, his pace and dribbling from the centre forward position will force Les Verts to pick their poison, as a front four of Vargas, Barbosa, Rodriguez and the Greek are all capable of creating and scoring, necessitating the aforementioned 4-3-3 on the part of Saint-Etienne.
Behind the attackers, a double pivot of Jakob Johansson and Andre Simoes will provide stern support, while back four should be Rodrigo Galo, Chygrynskiy, Dimitrios Kolovetsios and the Spaniard Didac Vila.
In goal, while Giannis Anestis did well to displace the Venezuelan international Alain Baroja when the latter was injured, he looks to continue being a reserve, as recently minted Greek international Vasilios Barkas has arrived as arguably the club's marquee signing. Just 22, the youngster is seen by many as the future for the national team, and AEK did well to swoop him with the likes of Aston Villa circling.
Not even a starter for Atromitos until the second half of the season, his performances helped the club win their last five matches to pull clear of the relegation scrap, and he looks to be a key part of Ketsbaia's plans.
Danger Men: 
Bryan Dabo, AS Saint-Etienne
Incisive, quick, a fine tackler and an equally adept dribbler, playing Dabo as part of a 4-3-3 with license to roam could be a stroke of genius on the part of Galtier. He was rarely afforded much freedom at Montpellier, but was still able to massively influence matches, even when played wide on the right or in defence.
Ronald Vargas, AEK Athens
The Venezuelan could feature as either a no 10, or wide on the right, but is sure to be AEK's biggest threat. While his discipline has been a problem on occasion, he can contribute both goals and assists, and his groin injury was one of the big reasons that AEK stumbled badly in Greece's European playoffs in May.
Prediction: 
Saint-Etienne haven't exactly been their resolute selves in their preseason friendlies, and while these matches must always been regarded with caution, it would be a surprise given the creative talent that AEK have for the Greek side not to score. That said, against a young and inexperienced goalkeeper in the Chaudron, home advantage should prove telling for Sainte.
ASSE 2-1 AEK