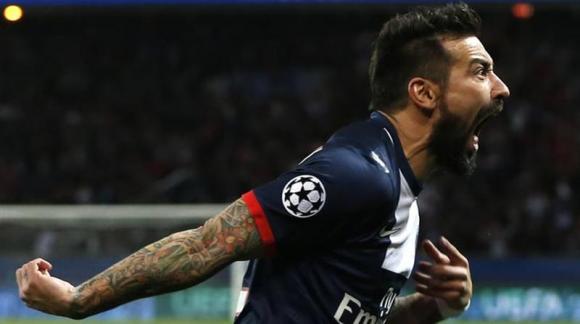 Ezequiel Lavezzi – a PSG legacy?
The signing of Ezequiel Lavezzi by Paris Saint-Germain in 2012 was heralded as a real statement of intent by QSI and their ambitious project in the French capital.
Lavezzi was arguably in the form of his life when Napoli agreed to sell the Argentine to PSG on a four-year deal for a reported fee of 26 million euros.
With 38 goals in 156 appearances for the Neapolitans, his pacey and hard-working style prompted Carlo Ancelotti to bolster his strike force and to link up with another Serie A recruit in the form of Zlatan Ibrahimovic.
Despite being sent off in only his second ever game in Ligue 1, 'El Pocho' made a positive start to his PSG career carrying on the form from his Napoli days and chipping in with some vital goals; most notably his strikes in both legs of the last 16 tie against Valencia which helped the capital club reach the Quarter Finals of the Champions League in 2013.
As Ancelotti moved on to manage Real Madrid and with Laurent Blanc unveiled as the new man at the helm in Paris, Lavezzi was deployed in a new look attacking trio alongside talisman Zlatan Ibrahimovic and new record signing and ex-Napoli teammate Edinson Cavani.
Pocho found the net 11 times in the 2013/14 season including a thunderous half-volley against Chelsea at the Parc des Princes and helped PSG to a second successive Ligue 1 title.
The most significant stat for the Argentinian was his inability to complete 90 minutes under Laurent Blanc. Although a regular starter in the team Lavezzi was substituted no less than 34 times during that season with most of those changes coming between the 60th -75th minute of a game.
Week after week it was almost becoming routine as Pocho was readying himself to be substituted before it even occurred. Oftentimes the decision was justified but even when Lavezzi performed well, Blanc still opted to replace him rather than Ibrahimovic or Cavani, as the Frenchman looked to give Lucas Moura increased playing time.
Of all the substitutions that Lavezzi had endured that year, there was at least one that arguably backfired on his teammates. Argentina's national team coach Alejandro Sabella, boldly substituted Lavezzi at half time in the 2014 World Cup Final against Germany with the game poised at 0-0.
The PSG man was arguably the best player on the pitch, using his strength and pace to trouble the German defence. Every attacking threat in that first half involved Pocho and when Argentina started the second half without him, Argentina buckled and eventually Germany went on to lift the cup.
It is hard to tell whether or not the impact of the previous season with PSG and the World Cup Final had influenced Lavezzi in the 2014/15 Ligue 1 campaign but it was clear that the player at 29 years of age should have been in his prime, but was having less of an impact on matches and began to resemble a shadow of his former self.
The regular substitutions were still occurring but this time it was Lavezzi who was coming off the bench to play in the final scraps of matches, with the likes of Lucas Moura and a rejuvenated Javier Pastore more deserving of starting places within the team.
As a result, the goals were drying up for Lavezzi and he was only able to chip in with 7; a poor but perhaps understandable return for an individual who was not playing regularly, or rather was regularly playing little.
With Lavezzi one of the highest earners in the PSG squad and with Financial Fair Play hindering PSG's activity in the transfer market, speculation started to mount about the future of the ex-Napoli man.
What was clear was that at no point did PSG enter into serious negotiations with Lavezzi's advisors regarding a contract extension. At the start of the current campaign a further blow was dealt to Lavezzi's starting place when PSG signed Pocho's close friend Angel Di Maria from Manchester United.
Lavezzi started just 8 matches before his move to the Chinese Super League in February 2016 and had fallen way down the pecking order with him being utilised mainly in PSG's domestic cup games.
The most surprising and disappointing thing about the situation was that Pocho didn't complain or question Blanc's selection; he accepted it.
A player who had played in a World Cup final and a Copa America Final in consecutive summer's had accepted being a substitute and on the rare occasion that he had a chance to start, he failed to take it. For a player who came with such a huge price tag and who was not short of suitors, he let himself down and his inability to show any kind of fight for his position in the team was poor.
There is no doubt that Lavezzi will always be in the hearts and minds of PSG fans and his now ex-teammates as the send-off he was given before the recent home game with Reims proved.
Unfortunately the player has not left a legacy behind in Paris due to the way his PSG career dwindled away. Interestingly, when asked about Pocho's departure Gregory van der Wiel, Thiago Silva, Laurent Blanc and Nasser Al- Khelaifi all complimented his happy, joking demeanour and how it will be missed in the changing room. There was no mention of his influence on the pitch.
PSG fans will remember Lavezzi for his first season above anything else and his influence on PSG claiming their first Ligue 1 title in 19 years. They will miss Pocho's activity on social media and some of the bizarre pictures and stories he would find written about him rather than his last three years in the red and blue strip on the pitch.
It is clear that Lavezzi was a popular and very likeable member of the team but in truth he became the PSG definition of a squad player, nothing more. A likeable one, but a squad player all the same.
At this stage of Pocho's career, the move to China is a good one for him personally. He will be the star of his new team Hebei China Fortune and will earn a reported £10 million a year. For a player who is approaching 31 years of age, this transfer was too good to turn down for Lavezzi and PSG.
There is no doubt that PSG will not miss Lavezzi on the pitch, but perhaps they will miss him in the dressing room. One cannot undersell the importance of the classroom joker, especially when your class is competing for four major trophies.
As for his on-pitch activity, Lavezzi's best days were undoubtedly had at Napoli and were rarely if never replicated at PSG. However, the fact that Manchester United and Chelsea were willing to offer the player a pre-contract before he made the decision to move to China affirms the fact that he remains a highly-sought after commodity for Europe's elite.
Even if we might never see him here again…
L.D. with C.N.