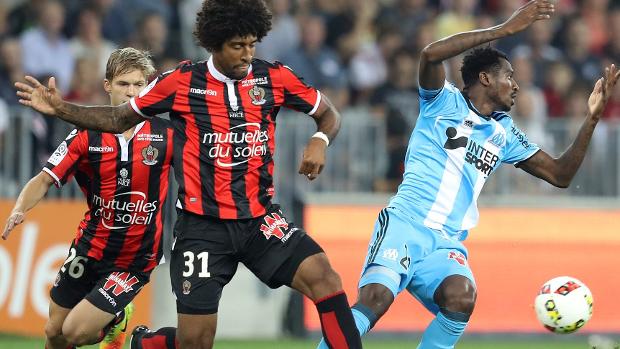 FEATURE | 5 Reasons Why OGC Nice are top of the league
After Nice's superb start to the Ligue 1 season, we take a look at some of the reasons for their success.
The Balotelli effect
The enigmatic striker was considered a huge risk when he was signed, but he has repaid Nice's faith with five goals in just three league appearances. Balotelli scored twice on his debut against Marseille, netted another brace in the 4-0 drubbing of Monaco and scored a stunning winner against Lorient.
Nice had reason to be concerned after the loss of Valere Germain left them with just Alassane Plea as their only realistic striking option this season. However, the signing of Balotelli and his goalscoring form has alleviated these worries and given Nice a genuine chance of challenging for Champions league football.
Balotelli seems to be enjoying his role as Nice's main offensive threat and has become hugely popular with the Les Aiglons supporters who have taken to him instantly after his impressive debut against Marseille.
Throughout his career Balotelli has been labeled as a "bad boy", and after several high profile bust ups with managers it seemed that Balotelli's main enemy was himself. The Italian is a hugely talented footballer, but his attitude has let him down throughout his career.
After his red card against Lorient the headline writers rushed to the conclusion that this type of performance was just Balotelli simply continuing his lack of discipline which has plagued him throughout his career.
However, it can be argued that Balotelli was hugely unlucky when he was given a second yellow card for an incident that quite honestly looked trivial. We expect for that second yellow to be rescinded by the league imminently after the referee in question admitted to his mistake.
The striker has appeared reinvigorated when playing for the French side and appears to be genuinely enjoying his football at the moment, which has given Nice fans hope that Balotelli has finally matured.
All in all it appears that this is a hungrier, fitter and more focused man then the volatile player we saw in past seasons. If Balotelli can continue to show that he has finally turned a corner, Nice will continue to reap the benefits of his success.
Squad depth
Nice enjoyed a hugely successful season last year thanks mainly to the exploits of Hatem Ben Arfa, Valere Germain and Nampalys Mendy. However, when one or more of these players were unavailable, Nice struggled to get results. This season, Nice have a much more balanced squad.
Against Nancy, Nice were able to rest Balotelli, Belhanda, Koziello and Jean Michel Seri with Plea, Eysseric, Bodmer and Walter replacing them. And while it was certainly not a vintage performance, it showcased Nice's squad depth as they were able to pick up a valuable three points away from home.
Alassane Plea is the perfect example of Nice's improved squad depth this season. Despite becoming second choice upfront since the arrival of Balotelli, the young Frenchman has scored three goals this season, two of them match winners.
If Nice are to mount a sustained challenge for Champions league football this season, players like Plea will need to be able to perform when called upon, without receiving consistent game time, especially late in the season when match fatigue and injuries become more of an issue.
Nice's success will hinge on whether they can continue to pick up results against teams like Nancy and if players like Plea can continue to perform in the absence of more established players.
Transfer Policy
Nice's work in the transfer market over the last couple of years has quite simply been magnificent, and this summer was no different.
According to CIES, Nice's squad cost a total of €40 million to assemble, a modest amount when considering that PSG and Monaco have spent a staggering €600 to €700 million combined.
This summer Nice lost Ben Arfa, Germain, Mendy and Pied all of whom were starters last season. However, it can be argued that Nice actually improved their squad this summer when comparing last season's team to this season's.
Instead of signing a direct replacement for Jeremy Pied, Nice chose to sign Dalbert, a left back, thus moving Ricardo Pereira to his natural position of right back.
Dalbert who was signed from Vitoria Guimaraes for a paltry €2m has been one of Nice's most underrated players this season, but he has been vital to making Favre's 3-5-2 system successful.
Dante, signed from Wolfsburg, has added experience and leadership to Nice's backline and has turned what was once a problem position for Nice into one of strength.
Undoubtedly however, Nice's best signings of the season have been Mario Balotelli, Younes Belhanda and Wylan Cyprien. Balotelli and Belhanda were signed as like for like replacements for Germain and Ben Arfa and they have been hugely successful so far this season.
Belhanda has helped fill the creative void left by Ben Arfa while Balotelli has effortlessly replaced Germain's goalscoring ability.
Wylan Cyprien, who was signed for just €5m from Lens, has probably been Nice's player of the season alongside Balotelli and Cardinale, with his performance against Monaco proving a masterclass in midfield play.
At just 21, Cyprien has already proven to be a player capable of making an impact on the first team and considering his enormous potential will give Nice a very prized asset in the future.
In addition to these signings Nice signed Arnaud Lusamba and Arnaud Souquet. Souquet has added depth at right back for Nice while Lusamba has been recognized as one of France's finer precocious talents.
Nice have been reaping the benefits of their astute transfer activity for a couple of years now and this season has been a culmination of that intelligence.
Youth policy
Three of Nice's most important players this season have come through their youth system. This is a credit to Nice and to Ligue 1 in general.
It is hard to find a league that has developed more young talent with Ousmane Dembele, Anthony Martial, Kingsley Coman, Adrien Rabiot and Samuel Umtiti just being some examples of players who have received their football education in France.
The three latest youngsters to rise to prominence have been Vincent Koziello, Yoan Cardinale and Malang Sarr. The three have been superb and it is fair to say that Nice would not be top of the league without them.
Vincent Koziello has continued his form from last season in which he was quietly one of the best midfielders in Ligue 1. Koziello has formed an incredibly effective trio with fellow young talent Wylan Cyprien and the tireless Jean Michel Seri.
The diminutive playmaker possesses a wonderful touch and has a huge range of passing coupled with a tireless work ethic. The fact that he is being linked to English powerhouse Arsenal is a testament to his ability. If Koziello can continue to perform to the standard that he has, then Nice will almost certainly face a fight to keep the midfielder at the club.
Yoan Cardinale has quite simply been the best goalkeeper in Ligue 1 this season. His performance against Monaco showed maturity beyond his years as he at times single handedly kept Monaco from finding the back of the net.
His meteoric rise to become Nice's starting goalkeeper began last season when then manager Claude Puel opted to start the twenty one year old in place of the inconsistent Mouez Hassen in a match against Rennes. Cardinale became starting goalkeeper soon after and has not looked back since.
With France possessing the talents of Hugo Lloris, Steve Mandanda, Alphonse Areola and Stephane Ruffier in goal, Cardinale's path to international success will be difficult, however, if he continues his superb form, then a call up to Les Bleus would be well deserved.
Malang Sarr is living the dream. At the tender age of seventeen he has played every one of Nice's games this season and scored his first professional goal on his debut. He has become one of Nice's starting centre backs not because of an injury crisis or suspensions but because of his talent.
Possessing maturity and intelligence which is commonly seen in much older players, Sarr has slotted into the three man backline partnering Paul Baysse and Dante and has not missed a beat. Despite not being the most physically imposing defender, he has shown superb reading of the game to compensate.
In addition, he has also shown a natural ability on the ball which is extremely rare in defenders his age. Nice have potentially formed a starting centre back for the next decade and have reaped the rewards of Favre having the trust to start a seventeen year old on the opening day of the Ligue 1 season.
Lucien Favre
When Lucien Favre was appointed manager, it was considered a coup for a club of Nice's size and this has proven to be true. Initially starting the season by playing Nice in a 4-3-3, Favre soon realized that this formation was not suited to Nice's players mainly due to their lack of quality wingers. The signing of Dante allowed Favre to switch to a 3-5-2/ 5-3-1-1 which has been much more effective.
Nice have been transformed from a possession based side into a lethal counter attacking team capable of killing teams on the break. Another thing Favre has changed is Nice's defence.
Nice have the best defensive record in Ligue 1 so far this season and while a big part of that has been the signings of Dante, Dalbert and the emergence of Sarr, Favre has played an important role in improving Nice's defensive structure.
Despite their brilliant attacking play last season Nice were generally defensively fragile. Favre has changed this and turned Nice into a team capable of absorbing large amounts of pressure without buckling.
Conclusion
Nice have not been perfect this season. Their two Europa league matches have both resulted in losses which will have surely frustrated Favre. However, their form in Ligue 1 has been a joy to watch and they fully deserve to be in the position they're in. They have showed the world what Leicester City proved last season.
That through intelligence and commitment, teams do not have to bow down to clubs with more money. Nice have furthered this principle and have become an inspiration and a role model on how a well run club can succeed.