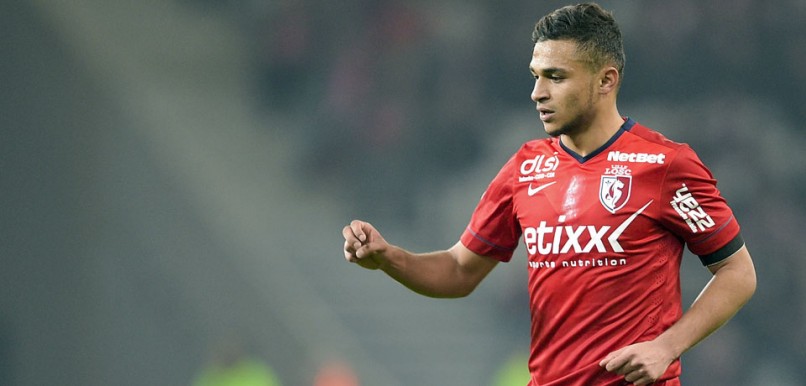 FEATURE | Why the Ounas is on Europe's elite to leave two of France's brightest attackers alone… for now
In recent years Ligue 1 has continually shown itself to be a proving ground for emerging talent. Young players are readily given the chance to play at a high standard with often relatively little pressure at clubs who have a track record in developing youth prospects or under managers who focus on blooding young players in their squads.
Sofiane Boufal of Lille and Bordeaux's Adam Ounas have greatly benefited from this aspect of the French top flight, bursting onto the scene in the last year and now command hefty price tags. With Premier League mouths watering and wallets opening, what next for these mercurial wing wizards?
6-1 down but still one of the best players on pitch. Strikes from Edinson Cavani and Maxwell in the opening 5 minutes at the Parc des Princes followed by an Ezequiel Lavezzi brace gave PSG an emphatic 4-0 half time lead. It was just too easy.
But in amongst Javier Pastore's effortless guile and Cavani's stunning chip over Vincent Enyeama, Lille's Sofiane Boufal stood out.
A transfixing run which saw him dance past, around and seemingly through Parisien defenders was the highlight of the encounter and one of a handful of eye catching moments produced by the Lille forward that afternoon as his team slumped to a 6 goal hammering.
To say Boufal is a talented dribbler of the ball would be to do him a disservice. The way in which he attacks defenders with his lightening close control, alarmingly quick feet and sharp swerve of the body draws strong comparisons with a young Cristiano Ronaldo.
The April 2015 display at PSG was barely the start of the former Angers forward's rise to prominence in Ligue 1 after signing for LOSC just 3 months earlier. Boufal hit the ground running under Herve Renard in 15/16 and only grew in stature and brilliance as the season wore on.
By mid-October Lille had mustered just 6 goals with Boufal accounting for all but one of them, not to mention almost the entirety of Lille's productive (and arguably unproductive) forward play, bamboozling Lars Jacobsen to give Lille the lead at Guingamp being a highlight.
Regularly tricking his way out of the tightest of corners, embarrassing defenders with a roll of the foot or jinking inside a full back, barely acknowledging his existence, Boufal was consistently showing his supreme talent.
Meanwhile, on the same weekend as Boufal's strike at Guingamp, 18 year old Adam Ounas made his first Bordeaux start at home to Montpellier. Two weeks earlier the diminutive Ounas had come off the bench to claw his team back into the game at Lorient with a well placed debut header and, although Willy Sagnol's side lost 3-2, Ounas made a substantial impact.
By the end of the month Ounas had asserted himself in the Girondins first team with a stunning volley to rescue three points, and arguably Sagnol's job, against the disastrous Troyes.
By the end the campaign, Bordeaux looked to be a worrying different side without Ounas. The direct, pacey winger proving to be the team's most effective creative outlet, constantly wriggling away from his man to cross or run at the opposition back four while his tendency to cut inside on his left foot turned into a key weapon.
Despite their undoubted potential and stunning ability both men are still a little raw and require a degree more nurturing if they are to become the well rounded players they are capable of being. Attitude problems, particularly on Boufal's part, are a key concern.
The Moroccan international and fellow forward Junior Tallo reportedly had to be pulled apart at half time by their manager in an away defeat to Reims last autumn.
Moreover, both men can certainly be accused of overplaying at times, not taking the passing option when they should, running down blind alleys and losing the ball unnecessarily, and although Boufal has started to change this about his game, both men still have much to learn.
The best place for them to do so is Ligue 1. With Ounas linked with Manchester United and Boufal with half of Europe this summer, there is a danger that they both could be swallowed up by bigger clubs before they have chance to complete their footballing development at this fledgling stage of their careers.
At just 19 years of age and with only 30 career outings to date, for Ounas it seems suicidal to leave Bordeaux before September 1st. A season of progression with consistent game time at Bordeaux should be his aim for the coming campaign, allowing him to improve his match craft and decision making as well as making mistakes both on and off the field before his inevitable big money move.
Now 22, for Boufal the situation is slightly different. Given that Lille have improved dramatically under Fred Antonetti and have European football to look forward to this season, he has the chance to perform at a higher level in an improving side while also having the chance to really achieve something before his move to one of Europe's bigger clubs, much as Eden Hazard did (although on a larger scale) before his move to Chelsea.
But given Michel Seydoux's assurances his star man would be allowed to leave this summer, the chances that we will start the league campaign at Lille seem slim. If he does move, it must be one that would serve to nurture his burgeoning talent.
With this in mind, amongst the raft of clubs linked Liverpool would appear to be the ideal destination.
Jurgen Klopp's style of man management could be crucial in Boufal's footballing development both technically and mentally, while the move would serve the dual purpose of guaranteeing him game time while retaining the 'big club' status of the transfer. Wherever these two talents find themselves on September 1st the season ahead will be an exciting one for both.