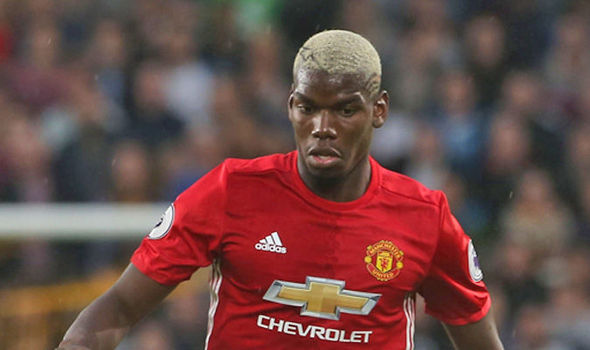 Football Leaks | The Paul Pogba Story
According to a report from Mediapart as part of the ongoing Football Leaks series, Paul Pogba has millions of Euros stashed away in offshore accounts.
The Paul Pogba brand has been the subject of an open war for many years now between two agents. Initially, Pogba's company was installed in Luxembourg, but it is now registered in an offshore haven, Jersey.
Paul Pogba has had quite the year, becoming the most expensive footballer in history with a blockbuster transfer to Manchester United in August 2016. The player's business interests have been the subject of an enormous battle between his former agent Oualid Tanazefti, a Frenchman who discovered Paul Pogba at the age of 13 and one of the biggest agents in world football, Mino Raiola.
This is not a new story, but documents obtained by Football Leaks show just how prepared both individuals were to do whatever it took to secure the rights to the Paul Pogba brand. Tanazefti convinced Pogba to sign a leonine clause in 2014, a move which effectively excludes a party from sharing in the liabilities arising from the agreement. Through signing this clause, Pogba handed over fifteen years worth of image rights to Tanazefti through a Luxembourg company.
Mino Raiola then attempted to buy these rights back, eventually succeeding in doing so, before moving the Paul Pogba brand to Hersey, a tax haven in the English Channel. This occurred just after Pogba signed a new sponsorship deal with Adidas, believed to be worth between €25m and €40m.
Documents uncovered by Football Leaks indicate that Mino Raiola managed to make €10m from Juventus during the four years that Paul Pogba played there, almost as much as the player himself made. An incredible sum and one that the media organisations analysing the data struggle to understand how the Italian side could possibly justify.
If you include the commission that Mino Raiola earned from the Paul Pogba transfer to Manchester United from Juventus, then the Italian side is alleged to have paid Mino Raiola €37m between 2012 and summer 2016.
Paul Pogba declined to comment when asked about this situation by Mediapart. Both agents that were contacted have also refused to comment in detail, but Mino Raiola had the following to say on the investigation:
"[This information is] made up, inaccurate or in any case deformed."
Oualid Tanazefi followed a similar line:
"[These claims] are totally or partially false, and/or are erroneous interpretations and ones that have been decontextualised."
The story began like a fairytale, according to Mediapart.
Outlaid Tanazefti is the son of Moroccan immigrants and dreamt of becoming a football star. He tried to make his dream a reality in Normandy, but was finished off at the age of 18 by an injury, which prevented him from becoming a professional footballer. He became a scout for Le Havre, in charge of looking for young talent in the Île-de-France area.
In 2006, 21 year old Tanazefti discovered a 13 year old called Paul Pogba. Their backgrounds share some similarities, both being the sons of immigrants, both having grown up in a big, delicate Parisian suburb. Thanks to Tanazefti, Paul Pogba joined the Le Havre youth academy.
Two years later, Paul Pogba receives a call up to the French national team U16 side. The first problems arose in 2009. At the age of 16, Paul Pogba was supposed to sign a semi-professional contract with Le Havre, who had negotiated the rights to this exclusively. But Oualid Tanazefti, who was still at this point a scout for Le Havre, but also the go-to adviser for Pogba, convinces the player to go to Manchester United.
Le Havre were furious. Understandably. They attacked Manchester United for giving "very big sums of money to the parents" and for taking one of their "best youngsters" away from them. This incident brought Tanazefti to quit Le Havre and to move to England with Pogba.
Tanazefti has said in previous interviews: "I spent three years with him in Manchester. It was sometimes difficult because we did not have a lot of money."
During this period, Tanazefti became more than just an adviser to Pogba, he became a sort of older brother, maybe even an additional father figure, the report suggests.
In the summer of 2011, Pogba signed a professional contract with Manchester United, only a one year deal. At this time, Tanazefti decided to create an agency called Sporteam with two associates, based in Provence. But the former Le Havre scout was missing an agent licence and at the time he only had one player on his books, which paled in comparison to the power of Manchester United and Sir Alex Ferguson.
That is why Tanazefti called Mino Raiola in for help. The Dutch agent of Italian origin is a Monaco resident and represents Zlatan Ibrahimovic and Mario Balotelli. Just one year later, Pogba left Manchester United for Juventus after a series of arguments with Sir Alex Ferguson, who Pogba's mother has previously alleged made her son cry during the 2011/12 campaign.
In his biography, Sir Alex Ferguson has defended his decision to let Pogba go by explaining that Mino Raiola was asking for an enormous amount of money.
Documents obtained by Football Leaks seem to confirm Alex Ferguson's view point. Paul Pogba's first Juventus contract indicates, according to the report, that the Frenchman was receiving €2.75m gross a year. From 2014 onwards, the player had reached a net salary of about €4.5m, according to Italian media reports.
That is far from all. Raiola appears to have negotiated a lot for himself too. According to Juventus official records which Mediapart obtained, the Serie A side paid Raiola €10m in agent commissions for Paul Pogba alone over a four year period. Nearly as much as the player earned throughout the same period of time in terms of salary. Normally, an agent makes between 10% and 20% of the player's salary on any one contract.
Neither Juventus nor Mino Raiola could explain to Mediapart why the agent received so much from the Serie A champions. There is more to this too. It is interesting that Raiola's name does not appear on Paul Pogba's first contract obtained by Football Leaks. Instead, the name of a Brazilian lawyer, Rafaela Pimenta, appears on Pogba's first Juve contract as his agent.
Do you want to know what is stranger than that? Pimenta was also officially Juventus, the club's, agent. This is despite the fact that she was working for Raiola and Pogba.
Perhaps Tanazefti was aware of the crazy sums that Raiola was negotiating with Juventus. Whatever the case, the Tanazefti – Raiola alliance began to come to a standstill.
In 2013, for Paul Pogba's first national team call-up, he was flanked by Tanazefti on his entrance into Clairefontaine, with the "advisor" (Mino Raiola was and is Pogba's official agent) at the time wanting to get a taste of the high life presumably. Didier Deschamps quickly called Pogba into his office and told him that such a scene could never occur again.
Over the course of two seasons with Juventus, Paul Pogba began to explode. After winning his first league title with Juventus, Pogba won the U20 World Cup with France in 2013. He is awarded as the best player in the competition and the best young player in Europe. The following season, Pogba wins another league title in 2014 and is awarded as the best young player at the 2014 World Cup.
But that is not all. With his youth, his unique haircuts and laid back style: "Pogboom" is adored by the Juventus fans, whose "Pogdance" became a go-to feature in the Juventus Stadium. At the age of 21, he is already a marketing icon, one of the very few players capable of commanding eight figure contracts with boot-makers.
While Pogba is revelling in success, Tanazefti has a bad 2014. His agent "business" appears dead in the water: he is forced to liquidate Sporteam, that made just €22,000 in two years of trading. And in the meantime, Pogba was becoming closer and closer to Mino Raiola, who already had negotiations with all the top clubs in his hand.
The only card that Tanazefti apparently had left to play at this stage were the image rights. And he seemingly showed himself to be very greedy indeed. At the 2014 World Cup, Paul Pogba was the only member of the French national team not to have a deal with a sports kit company, because his clan believed that they had yet to receive an acceptable offer, according to Damien Degree and Raphaël Raymond's book La Bande á Deschamps.
Nike were understood to be offering Pogba €900,000 a year at this time but that was rejected. During the competition, Pogba wore Nike because he liked their boots, without receiving any remuneration for doing so. Umbro also offered Pogba a €1m a year deal, but in July 2014 nothing had yet been signed.
Four months later, Tanazefti convinced Pogba to sell him his image rights. To close the deal, Tanazefti teamed up with one of his former associates at Sporteam, Ylli Kullashi, who was 34 at the time. The two agents bought the rights from Pogba (60% for Tanazefti and 40% for Kullashi), for a sum believed to have been worth between €1.8m and €5m, payable in five instalments. But the first instalment wasn't due until June 2015, seven months after the deal was signed. The second instalment, you will soon see, was never agreed upon. In short, the happy investors put in €1m at the maximum in the beginning, of which they were sure to earn back very quickly.
The contract signed by Pogba, Tanazefti and Kullashi stipulated that Pogba would receive 70% of all image right revenues, and 30% would go to the two agents. However, there was a catch. The agents themselves could earn their share whenever the money came in, Pogba had to wait for 15 years to touch his 70%, the earliest that he could take money out was the 31st October 2029, according to documents obtained by Football Leaks.
Aside from the money he received from selling his rights, Pogba only had the right to an additional revenue vis-à-vis the image rights that could not exceed €33,000 a year, the contract stipulated. Over the course of 15 long years, the agents would have been free to invest Pogba's money as they saw fit. Not only that, they had negotiated that in 2029, Pogba would have to pay back the purchase fee of between €1.8m and €5m, and then the salaries for both agents would have had to have been covered in full at that point, with regards to the work they had done to find sponsors. The cherry on the cake? Tanazefti and Kullashi had the right to re-sell Pogba's brand without his consent, with the condition that they would remain "associated" with the new owner.
The company they set up also intended to avoid paying tax. It was set up in Luxembourg, despite Tanazefti and Kullashi both being French residents. 3 months after the signature, the two agents created a business called the Koyot Group to look after the Pogba business.
Obviously, when Mino Raiola discovers this he is furious and so is Paul Pogba when he realises what has happened. Pogba brutally and swiftly cuts himself off from Tanazefti and the war of the two agents begins.
In Spring of 2015, Raiola attempts to counter-attacking. Although Paul Pogba had presented the brand "Paul Pogba" the European Union Intellectual Property Office, Tanazefti had made an administrative error by not signalling to this body that he now owned the rights. In March, an Italian lawyer then demands in the name of the French player to transfer the brand "Paul Pogba" to an Irish company called Blue Brands Limited. The transfer to this shell company could not have occurred without Pogba's consent.
Tanazefti attempts to contest the process, but the European Union Intellectual Property Office refuses, because this sort of litigation must take place in front of a tribunal in accordance with European law. The result of the whole thing? Everything comes to a stand-still. Tanazefti and Kullashi can no longer exploit the brand. But neither can Raiola. And the big clubs are wary of signing a player who does not control his image rights, because often they want a piece of the pie. This is why Pogba did not leave Juventus in 2015, when PSG, Barcelona, Real Madrid and Manchester City were circling.
Documents obtained by Football Leaks suggest that Tanazefti's response to the unfolding situation was to attempt to re-sell the rights to Pogba, behind the player's back. He met with Doyen Sports in November 2015 in London. Doyen were however scared off because they did not want to give Mino Raiola a reason for not doing business with them.
That did not seem to discourage Tanazefti. In December 2015, he appeared to offer the deal to a British intermediary, who relayed this to a Chinese group called Fosun. The Chinese group initially appeared interested, because they thought that the offer was coming from Raiola. Except that Fosun, in contact with Jorge Mendes, are warned away about Pogba's image rights situation. It appears that Mendes had such a tight handle on the situation because Tanazefti approached him too.
In March 2016, Adidas announced the signing of Paul Pogba, a deal that has been estimated by the media to be worth between €25m and €40m, which included the launch of a shoe in Pogba's name. This deal was able to occur because Raiola eventually succeeded in buying back the player's image rights for €10m. €4m for Ylli Kullashi and €6m for Oualid Tanazefti.
In the meantime, documents obtained by Football Leaks indicate that Raiola has since moved the image rights of Paul Pogba from Ireland to a company called Aftermath Limited in Jersey, a tax haven in the English Channel. Aftermath was set-up in February 2016, one month before the Adidas contract. Only in July 2016 however does an Italian lawyer make a demand to the European Union Intellectual Property Office to transfer the brand from Blue Brands to Aftermath.
Why the move to Jersey? A question that neither the player nor Mino Raiola wished to answer when contacted by Mediapart.