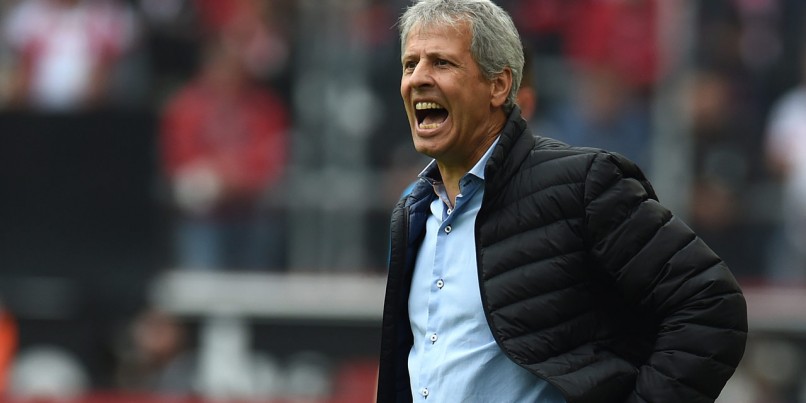 Half-Season Review: The ones that delivered
A quick goals scored comparison between the first half of this season and the first half of last season does not tell the whole story. Despite 29 supplementary goals being dispatched on Ligue 1 pitches since early August during this calendar year compared to the same time frame in 2015, the damning impression is that French football clubs are more motivated to win games rather than not to lose them.
Now 29 goals is not that enormous a difference in a 20-team league and in truth a lot of Ligue 1 sides found it more difficult to find the net this season (PSG are 10 down on their total this time last year and Lorient are seven down, the prime examples) but if there are three sides we must be thankful for it is the following trio: Monaco who are up by 30, Lyon up by 12 and Guingamp, up eight (Actually, Montpellier get an honourable mention with +6).
Whether it is the increased amount of goals scored or the fact that we have a genuine three-way title race on our hands between OGC Nice, AS Monaco and PSG, the first half of this Ligue 1 campaign has been exceptionally exciting. Let's take a look at the sides who delivered.
Nice: Favre continuing Puel's good work
In modern football, it is increasingly rare to see managers stay for an extended period of time at a certain club. Either they are not good enough and are sacked or they are prized away by bigger clubs offering a bigger wage. Claude Puel's reasons for leaving fitted neither of the two categories and instead lay with personal problems concerning his specific general management role with Les Aiglons which required him to oversee the youth setup as well as the first team. Either way, his departure was not exactly good news for Nice fans.
However, getting Swiss manager Lucien Favre in was a real coup and the ex-Mönchengladbach manager was able to appreciate what a good job Puel had done and simply pursued the strategy of giving youth its chance, additionally making astute signings in the transfer market.
Unlike the other sides mentioned in this entry, Nice did not have a particularly better half-season than in 2015/16 in front of goal (3 more goals than a year ago) but the overall strengthening of the team has been telling.
Upon his arrival, Favre brought an overhaul to every single positional compartment of Nice's squad (well, apart from Cardinale between the sticks) and the switch in personnel has resulted in an even better points tally than this time last season (+15).
In defence, Favre acquired Dante and the Brazilian has been in most Ligue 1 expert's team of the half-season. Not only have his performances been assured but he has also helped the excellent defensive prospect that is teenager Malang Sarr blossom.
In midfield, Nampalys Mendy left for Leicester in the summer so Wylan Cyprien was bought and again, the acquisition has been as astute a move as one could possible wish for: Cyprien has Mendy's defensive discipline but he also has great physical strength which makes it very hard for the opposition to get the ball off of him. His excellent free-kick execution (see his goal at the Parc des Princes in December) is also a big plus. And let us not forget the quality addition of Dalbert Henrique and the retention for the second year running on loan from FC Porto of Ricardo Pereira, who have been playing full-backs and wingers and done a superb job.
Finally, in attack, the departures of Hatem Ben Arfa and Valère Germain to PSG and Monaco respectively could have dampened any side but adding Younes Belhanda and Mario Balotelli to the squad has proven to be two more superb moves in the transfer market.
Although, Nice will have a tough time of it in the second half of the campaign, with many league sides set to approach them ultra-defensively, without Europa League and Coupe de la Ligue commitments, they can focus solely on their unlikely Ligue 1 title challenge.
Monaco: the best attack in Europe
With 55 goals scored, Monaco have almost equalled last season's total of 57. An incredible statistic for a side that sat on the fence on most weekends (and European nights) in 2015/16 and whose manager was deemed too cautious and unadventurous.
Jardim has bought wisely this summer: Djibril Sidibé from Lille, Benjamin Mendy from Marseille and Kamil Glik from Torino while getting Radamel Falcao and Valère Germain back from loan deals. This leaves Monaco with a very good squad.
The defence did take time to gel as three defenders of the back four were bought in the summer while the 4th element – Jemerson – was acquired in January. It proved to be a long process but it is reaping dividends slowly but surely: Monaco have conceded 5 goals less than this time last season.
The attack however, has been majestic. Bernardo Silva has thrived in his role on the right-wing while Thomas Lemar is getting better every game on the opposite flank. The reconversion of Fabinho from a promising full-back to one of the best central midfielders in Europe is a success (you can put your money on Monaco scoring when they get a penalty as the Brazilian literally never fails at that exercise) and Tiemoué Bakayoko is showing immense promise and proving that he is a more than an apt defence-shielder.
However, it is possible that Monaco may have peaked too soon. Now this relatively young squad will be entering the serious stage of the Champions' League against Manchester City and a lot will be asked of them in what is left of 2016/17. Equalling the amount of goals achieved in the 1st half of the season will not be difficult but nigh on impossible. Ligue 1 sides will be more than wary of Monaco's attack and – in a league as defensive as Ligue 1 – that is like going up a very steep hill for the Principality side.
Lyon: improvement nonetheless
Granted, it was not difficult to improve on Lyon's paltry 9th place position when 2015 came to a close but credit where it's due, Lyon did not have a completely disastrous Champions' League campaign (we can reminisce much worse performances from a lot of French sides down the years) and will be within touching distance of the top three if they are awarded the three points for the abandoned game at Metz (game was called off when Lyon goalkeeper Anthony Lopes was hit by a firecracker).
Making up for lost time won't be as easy as last term though. Last season, PSG had no competition and a run of games without losing brought you to 2nd spot pretty fast (despite being 9th on New Year's Day, Lyon found themselves 5th as soon as February). This season, questions have already been asked whether Lyon will be able to make it back into the top three such is the high level of competition. The two sides mentioned above and PSG have very strong squads and Lyon must have a better second half of the season (again!).
It is shaping up to be a best of the rest season from Lyon, with a clear demarcation in consistency and quality between Les Gones and the current top three, but they remain the only side who can realistically break into that title chasing pack if Génésio can muster up a functioning attack.
Guingamp: the grass can be greener
As the saying goes, the grass is not always greener but sometimes it can be. Under Jocelyn Gourvennec, Guingamp gained promotion back to Ligue 1 in 2013 for the first time since going down more than a decade ago (2003/04) but achieved either borderline seasons (finishing 16th in 2013/14 and last term) or mid-table mediocrity once (10th in 2014/15). At the time, and even now, are Guingamp the kind of club that should be aiming higher? Probably not, based on size and means.
Regardless, Guingamp have already achieved more in the league in this half-season than in any of the previous half-seasons since gaining promotion 3 years ago and could equal (or even surpass) their best ever season in France's top division (7th in 2002/03 and incredibly, only 6 points behind champions Lyon).
How did the new man, Antoine Kombouaré do it? Just like Favre, he picked up Gourvennec's good work and added some astute signings. The mix worked very well. In goal, Karl-Johan Johnson has proven to be an improvement on the inconsistent Jonas Lössl, left-back Fernando Marçal has been in most expert's team of the half-season while the experienced midfielders Etienne Didot and Lucas Deaux make a for a hard-working unit that is extremely hard to beat.
A few additions can sometimes change not only a season but general self-belief around the club. That is the case for Guingamp.