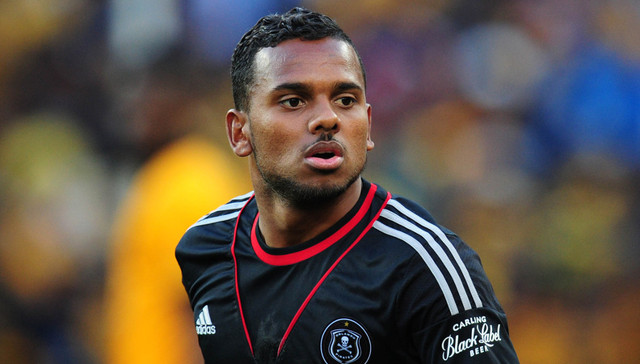 Kermit Erasmus – With Smatterings Of Agüero, He's Looking To Take His Second Chance
South African football expert Joe Crann profiles Ligue 1 side Rennes's new signing from Orlando Pirates, the excellently named Kermit Erasmus & explains what is at stake for the Agüero-esque forward.
When Kermit Erasmus returned to South Africa in 2010 it was a blow to all of his supporters. He signed for Feyenoord at 18 and was touted as one of the best young players in the world, however it didn't quite work out.
Now, having finally made it back into Europe, the new Stade Rennais man will be hoping to take his second chance with both hands and try to live up to his early promise.
Erasmus, small in stature but filled to the brim with talent, came back to SuperSport United from Holland on what was meant to be a short-term basis. There was always talk of him returning overseas, but the years rolled past and he just stayed where he was.
Arguably the most naturally gifted player that South Africa has to offer, the 25-year-old flattered to deceive for many years, showing his class in patches rather than consistently, however Orlando Pirates, one of Africa's most recognisable teams, took a punt on him in 2013 and he seemed to gain a new lease on life.
Having scored just 17 goals in three seasons at SuperSport, Erasmus grabbed eight in his first campaign with the Buccaneers, 12 in his second and had nine this year so far before he was snapped up by Rennes. No South African player scored more in the 2015 calendar year than he did.
Add to that that the sturdy forward has one of the most accurate right feet in the league and contributed 14 assists in domestic competition alone at Pirates, and you have a player who is capable of being the complete package.
The last year has been really good for the forward, especially given his impressive performances on the continent… With his help, Pirates managed to make it all the way to the CAF Confederation Cup (Africa's Europa League equivalent), where he finished as the second top scorer in the competition.
He has scored some big, big goals for Bucs since making the move across Gauteng, including a brace to guide the club back from behind to win the 2014 Nedbank Cup, however arguably his biggest moment came just a few months ago in Egypt.
Pirates were 2-1 down on aggregate against Egyptian giants, Al Ahly, with the game getting away from them. Not many teams manage to beat the Red Devils on their home patch, but after coming on as a substitute Erasmus bent a lovely strike into the top corner to make it 2-2 on aggregate and the entire mood changed.
The Buccaneers went on to record a stunning 4-3 win on the night, and 5-3 on aggregate, to march on into the final, and it was that goal out of nowhere from Erasmus that launched the fight back.
His haters have said in the past that he failed in Europe, or that he gave up in order to come home, but now a more mature, more composed and more rounded Erasmsus is heading back for a shot at redemption. Not just for his supporters, but for himself.
Erasmus has often been compared to Manchester City's Sergio Agüero. His short but stocky build and rapid speed are reminiscent of the Argentine, and the impeccable timing that he shares with 'Kun' often went underutilised in Johannesburg.
However the key difference between Erasmus and Agüero is the finishing. It has been said that Erasmus takes the tough chances and fluffs the easy ones. A quick glance on YouTube and you'll see the quality of some of his goals, he's scored some belters, but he needs to find a bit more consistency in front of goal.
At Rennes, with guys like Kamil Grosicki, Ousmane Dembélé, Paul-Georges Ntep and possibly Giovanni Sio (if paired together) to feed him, Rennes' new diminutive number nine could really blossom.
It is an an exciting signing all round. It's exciting for Erasmus, a player who enjoys the European way of life so much that he has two little girls with his Dutch partner and has craved a return to the continent for years.
It is exciting for Rennes who have snapped up a cheap and relatively young forward with undeniable quality and a hunger to prove that those predicting a bright future for him as a teenager were not wrong.
And it is exciting for South African football fans who get to see one of their most exciting players, in one of the best leagues in the world, up against some of the heaviest hitters the game has to offer.
Fingers crossed that the player, his new club and hopefully the South African national team, can benefit. Second time lucky.