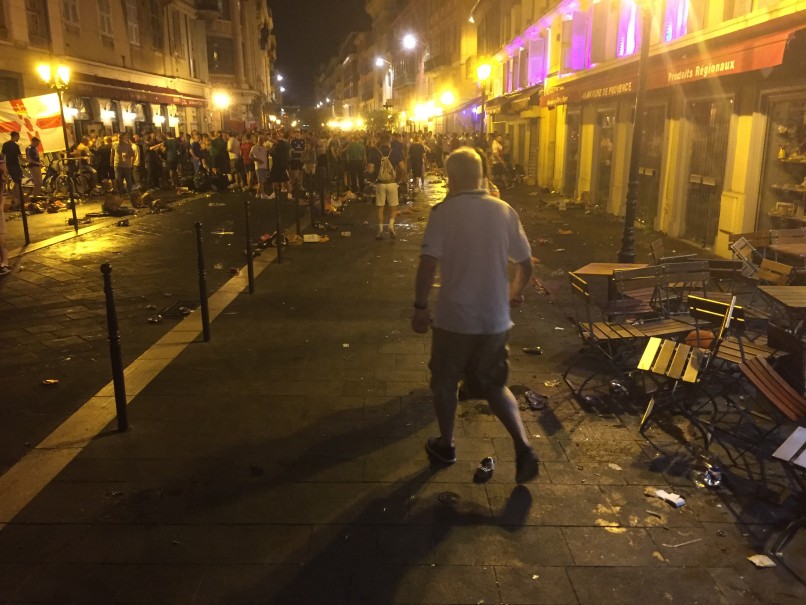 Northern Irish fans targeted in the Vieux Nice area
On an evening marred by violence in Marseille, it appears that Northern Ireland fans have been targeted by unidentified hooligans in the Vieux Nice area ahead of their EURO 2016 encounter with Poland.
The violence has been described by eyewitnesses as "coming out of nowhere".
According to Nice Matin, 20 or so local Nicois came to the scene in a street in Saint-François-de-Paule that had been turned into open-air pub where Polish and Northern Irish fans were drinking heavily together.
These locals sang the French national anthem and then "Nissa la Bella," in an attempt to goad the two sets of fans.
The violence broke out when a bottle was thrown at a Northern Ireland fan. This was quickly followed by chaos, with hundreds of people run in different directions. A window of a nearby business was broken and several tables were overturned. Several glass bottles were thrown in many directions.
Fans had been watching England vs Russia in bars in the Vieux Nice area.
Local reporters are describing the incident as an isolated one in what has been an otherwise very mild, jovial evening.
The image above is taken at the Cours Saleya and the CRS, French riot police, were quickly on the scene. The situation in its current state is not contained, but police have set out to track down the offenders.
Three minor injuries have been reported so far. As for the locals who perpetrated the attack, they ran away very quickly afterwards.
One arrest has been made so far – more to follow throughout the night on GFFN.