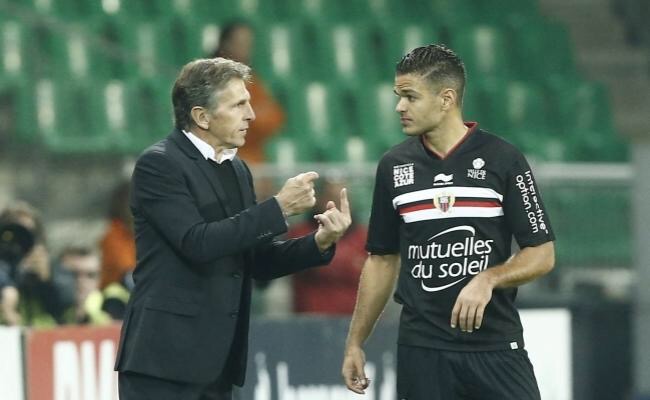 OGC Nice – the alternative football success story
When the 2015/16 Ligue 1 campaign began, there was one particular club that did not harbour any major hopes of success.
Situated on the sunny Côte D'Azur in the south of France, the OGC Nice board had little to offer fans in the way of on-pitch aspirations. Instead, the club renewed its commitment to the long-term project that President Jean Pierre Rivère and manager Claude Puel have so stringently forced through: heavy investment into youth football and club infrastructure.
In that vein therefore, Nice announced a plan to build an improved training and youth centre, whilst President Rivère continued to look discreetly for investors.
Prior to the season's start, a recent form guide told the Les Aiglons faithful all that they needed to know. The club finished an unremarkable 11th in 2014/15, a campaign where they showed glimpses of coherent, attack-minded football but were far too often let down by a shaky defence and a suspect young goalkeeper in the form of Mouez Hassen.
In the summer transfer window, Nice made moves for what appeared to be, at face value, a mixture of a series of French football fringe players and a host of unknowns from Portugal.
In truth, it is this unlikely collection of individuals coupled with a scintillating style of play implemented by Claude Puel that has installed OGC Nice as the most attractive side to watch in French football this season and has caused the club to over-achieve to such an extent that, with just four games remaining, they occupy a European football qualification slot for the next campaign.
While the complete and astounding positive career u-turn that Hatem Ben Arfa has achieved this season will headline any piece written about OGC Nice's recent successes, such a move takes the real hero criminally out of the limelight. That man is the club's manager, Claude Puel.
This season, Puel has once again proved why he is one of the best managers in French football, deploying a stunning high-pressing and lightening-quick counter-attacking game in defence and a technical and rapid possession based game in attack, making ball-playing OGC Nice the most aesthetically pleasing on the eye side in the French top flight.
Wavering between the 3-5-2 and 4-1-2-1-2 formations, OGC Nice's success this season lies principally with a newfound ability to perform with greater passing and touch accuracy than their opponents across all sectors of the pitch, a reality that simply did not exist in seasons gone by.
This trait is exemplified by the heartbeat of this Nice side, in the central midfield area. The understanding shared by the troika of the Iniesta-like French youth international Vincent Koziello, club captain and defensive midfield general Nampalys Mendy and the incredibly versatile, forward-thinking and hardworking Jean-Michel Seri has allowed Les Aiglons to dominate the midfield during matches in a way nobody imagined before the season began.
After all, while Mendy was undoubtedly the club's best player last term, Koziello had only played a handful of senior games before the season began and nobody knew what to expect from new arrival Jean Michel Seri (previously of Paços de Ferreira).
The midfield is not the only area in which Nice have dramatically improved this season. Through the loan signing of Valère Germain from bitter local rivals AS Monaco, Nice have found themselves their first reliable goalscorer since Dario Cvitanich in 2013. Germain's excellent run-making abilities have provided Hatem Ben Arfa (whose excellence and ability to create something out of nothing is well documented) with a perfect partner in attacking crime. Alassane Pléa has shown more glimpses of his undoubted talent, but has struggled with injury over the course of this campaign.
Staying true to his philosophy of finding and developing youth talent and introducing them to the professional game, it is in attack that Claude Puel has been able to express this part of his football ideology to a great extent, with Alexandre Mendy, Paulin Puel, Franck Honorat, Said Benrahma and Antony Ranieri all showing enough promise during a string of cameo appearances that leads us to believe we will see them feature prominently in Ligue 1 in the years to come.
But perhaps the most dramatic improvements have come at the back for OGC Nice this term. The second most unsung hero at the club has to be Yoan Cardinale or "Cardi", the excellent young goalkeeper who initially came into the starting XI in place of the previous first choice goalkeeper Mouez Hassen because the latter was suspended. But the uncharacteristically shaped, loud and proud understudy seized his opportunity and has never looked back. An assured presence in goal can be a crucial psychological boost for the rest a team and Cardi has certainly had that effect on his team-mates.
Maxime Le Marchand's arrival from Le Havre and Paul Baysse's initial loan move from St Étienne (which has since been made permanent) have provided Les Aiglons with a pair of cooler heads than some of the disasters before them (Mathieu Bodmer, Kevin Gomis and Romain Genevois to name a few). While both Baysse and Le Marchand are prone to the odd mistake with the ball at their feet, their excellent positional awareness has been the key to a more structured, less chaotic Nice back four.
In the full back positions, Ricardo Pereira's two year loan arrival from FC Porto is another masterstroke from the OGC Nice recruitment team. The Portuguese is nippy, plucky and exceptionally gifted technically with either foot. At times he has struggled with the physicality of some of his opponents, but he has in the main successfully combatted this with an unrelenting work-rate.
His partner, Jérémy Pied has undergone a remarkable transformation this season from a right-winger into a right-back, a development that aptly sums up Puel's shift in approach in terms of the tactical play of his full-backs. Pied himself is an unassuming individual, but he has developed enough of an engine as the season has gone by to simply outplay his opponents in the final 30 minutes of matches. Both full-backs are the only constant sources of width in Puel's setup and are therefore crucial to the offensive successes this season.
In a formation that operates fundamentally without advanced conventional wide players, it is often in this area of the pitch defensively where a side would be weak. But Nice have circumvented this problem in part due to the tremendous work-rate from their full-backs as well as captain Nampalys Mendy's ability to slot in as the central, third centre-back when Nice are hit on the counter-attack.
OGC Nice started the season with the 14th largest budget in Ligue 1, and, after a win last night against Reims, with three matches remaining in this campaign, they have earned the right to dream about nabbing a Champions League place.
So, while Leicester will receive a lot of air time and print space in the coming weeks as they most probably win the Premier League title, spare a thought for OGC Nice as the alternative football success story in 2015/16.
While it is difficult to say that their overall, final league position will trump the likely-title-winning achievements of Claudio Ranieri's men, Nice's success has been achieved with just as modest a budget as Leicester's relative to the differing financial situations of both leagues.
However, in contrast to Leicester City, Nice play expansive, attractive, overpowering football and have refused to compromise their style of play in the face of the differing tactical approaches of their Ligue 1 opposition. They have also achieved their success with the youngest team in the division in terms of average age and with more players on youth contracts making appearances this season than any other Ligue 1 outfit.
That is not to diminish Leicester City's staggering success story, but instead to highlight and elevate an exceptionally raw and phenomenally unique football revolution that has occurred in the Mediterranean over the course of this campaign.