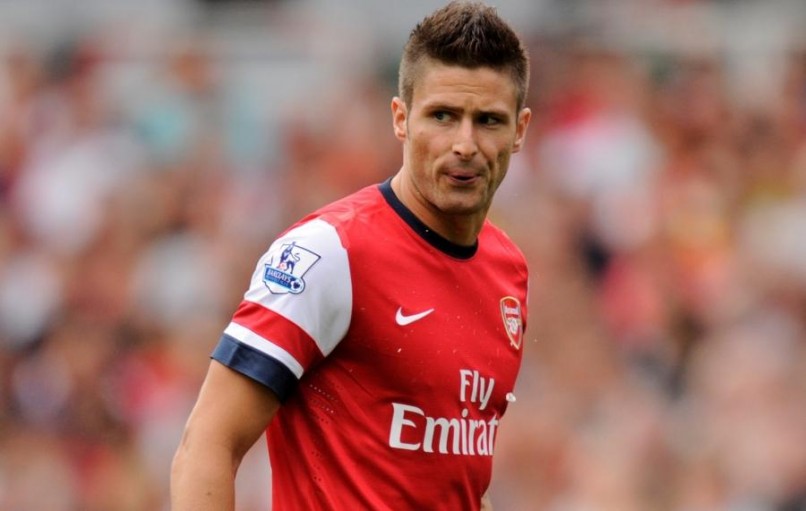 Olivier Giroud: "I feel really supported."
Speaking in an extensive, exclusive interview with France Football, Arsenal striker and French international Olivier Giroud spoke about EURO 2016 and more.
This EURO 2016 tournament began when the list was announced on the news? How did it feel to know that you have been selected?
It was a bit odd. With Lolo (Koscielny), we were at a ball for the Arsenal Foundation. We were waiting with the entire team for the evening to begin. We therefore found out from text messages from our friends.
For you, was it merely a formality, or were you slightly worried based on your season with Arsenal?
Honestly, I was a little worried. You always have to be prudent. The French national team has a lot of talented attackers. But I was still quite confident in terms of what i had done with the national team and the season I had with Arsenal. Even if, in the final months, I scored less.
How did you deal with the difficult end of the season you had with Arsenal?
You have to look back on the whole season. At the start, I play, I do well. Then came September when Walcott became the starter. There, I admit it, I had quite a delicate period.
And then I went to go and play against Denmark with the French national team which went well. It was really good for me and that allowed me to bounce back, just like the next squad meeting.
Did you doubt yourself?
Honestly no. I knew that if I came on and made a difference, I would get my place back. I had the chance to be decisive with the French national team, to be good. Aside from that, there was a Champions League match that we won against Bayern Munich.
That evening, I scored, and then I went on a run up until the middle of January, with notably a fantastic match against Olympiakos.
You scored a hat-trick that night…
My first with Arsenal! It allowed the club to qualify ourselves for the Champions League knockout stages. It was a very important match, a turning point in our season. In the middle of January, I had 18 or 19 goals for Arsenal in all competitions.
Next, it is true, I had a period where nothing was working for me, where I lacked efficiency, where I struggled in certain matches.
Certain matches or lots of matches?
When I think about it, there were not as many as is being made out. Sometimes, I made a difference without scoring. In the league I finished with 16 goals and 6 assists. I worked for the team.
You also have to realise that my period where I did not score corresponded with a time where the entire team was performing less well. From February/March, we lost the plot.
Certainly, when a team scores less, the striker is the man who is targeted. Ozil got 18 or 20 assists in the first half of the season, and then he got very little.
Since the beginning of this interview, you have said how twice the French national team was like an oxygen tank for you during difficult moments for Arsenal…
It is the truth. With the French national team, I had game time, which allowed me to express myself in another context. It was good for me to enjoy myself, to be important again.
Certainly with the blue shirt which, as I have said often, is very dear to me.
The French national team boss Didier Deschamps and Arsenal manager Arsène Wenger have not stopped supporting you publicly. How important has that been for you when you have struggled for confidence?
They are people who know football and who see me play. I know that Deschamps and Guy Stephan watch a lot of our matches, Lolo (Koscielny) and I. Sometimes you perform poorly, but throughout the season I have shown myself to be present. In the end, I have still had a good season, maybe one of my best with Arsenal.
Confidence, I have it. The managers give it to me and I try to give it back to them on the pitch. I feel really supported and that gives me even more confidence and energy to tackle these Euros with my front foot forward.
Despite your age and experience, is it essential for you to be supported and loved?
Loved, that is a very big word, that is saved for my family, but to be supported my managers, yes. Of course you want to please, to feel, in quotation marks, loved and to have people's confidence. I need it.
All players need it. Ok, maybe strikers need it more, they are the players who are most targeted by the general public and by the media. There is no doubt that we need more affection than others. Aside from that, it stops there.
I do not need to be told that I am a good player, that I am handsome, that I am the best… What people say left and right, it does not touch me.
Really?
It is something that has always been part of footballers' lives, even more so for me, because my path is different. Nothing has ever been easy for me, that is why I owe my success to my mental strength.
Today, there are people who like Giroud, others less so. Yesterday, it was the same, and there will be other moments like that. There will always be moments like that. I am forced to live with that.
If you do not accept it, if you do not create a shell, you are more or less in danger, in a tough place. You have to ignore it, deal with it, like you say here. In order to protect yourself.
Is that why you once said in an interview with L'Équipe that you suffered from a lack of recognition?
In terms of my unusual path, my profile, it is true that the way that people look at me can be different. I always have to be at my best in order to be recognised. My route here is different to players who make it very early and who are destined to have great careers.
Somewhere along the way, it was in times of adversity that I built myself. I have always known difficulties in my career. I went to go and get things. It is written that I will always have to prove myself, again and again.
On social media and from out of the mouths of certain spectators, Hatem Ben Arfa deserves to be at EURO 2016 more than you do…
Now that, that is absolute rubbish. It makes me laugh, what people are ready to say in 2016. I have been told things that make me smile. Yes, over the last four, five months, certain players have excelled.
And for me, my last four, five months they have been less good. But a football season starts in August. I know my statistics. The coaching staff at Arsenal and with the national team too. And they know the work that I do for the team. In that sense, I can sleep well at night.
As for the pseudo-football connoisseurs, they have a right to an opinion, but…
The debate has not come out of nowhere, Ben Arfa has had an exceptional season with Nice…
I can understand why certain individuals would have liked to see Hatem Ben Arfa on the list. He is a player that I like a lot and who has enormous quality, but from there to say that I do not deserve my place…
To compare him with me even though we play in completely different position and that we have completely different qualities, that makes no sense. The coach responded well when the list was announced. He had the right statistics.
Does that mean that the others don't have the right ones?
Or maybe they look only at the statistics that suit them…
In terms of statistics, Karim Benzema's with Real Madrid are very impressive but he will not be at the Euros due to the sextape affair. Is that a stroke of luck for you to become the starting striker?
It is not up to me to say whether or not I will start. I have purposely not expressed my feelings on this saga because anything that I would have said could have been interpreted in a negative way.
The only time that I talked about it, it created a total muddle. I simply said, in inverted commas, that we did not want to pollute the group atmosphere with that, that we had to ignore it.
This word, "pollute," certain people took it, remixed it and brought it out in their own context. So, in terms of this situation, I have nothing to add.
You cannot deny that it opened a door for you…
Certainly, as I am in direct competition with Karim, it might give me more playing time. But there are several attackers vying and who want to help the French national team go as far as possible.
To go as far as possible, is that to go all the way?
We want to win the Euros. We are full of hope, of readiness and of desire. We have a super team on paper. But it is on the pitch that we will have to do the work. Since I have started to wear the French national team shirt, my aim has always been to firstly honour it the best I can and to make the people I care about proud, and, by extension all of the French people.
Our role, is to excite France. That will happen with a good EURO 2016, and a good EURO 2016 is to win it. We want to realise something massive together.