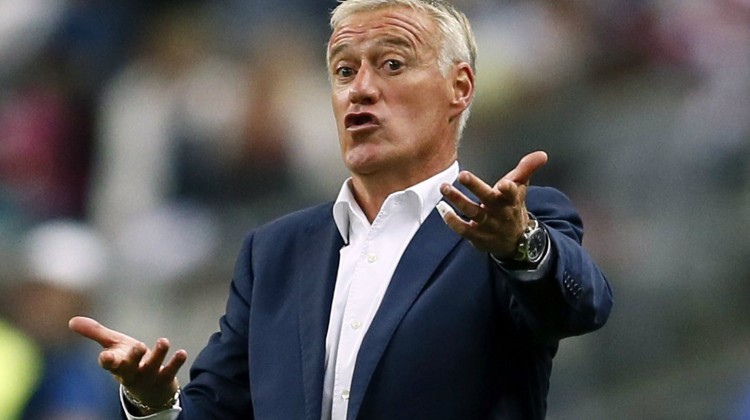 PLAYER RATINGS | The Netherlands 0-1 France – How the French fared
It was imperative for France that they picked maximum points away against one of their biggest rivals in Group A of 2018 World Cup qualifying, but Les Bleus managed to do just that in Amsterdam against a weaker Dutch side that maybe we have grown accustomed to over the years.
As for the individual performances, let's take a look at who of the French side performed the best, and who will want to forget this game in a hurry!
Hugo Lloris – 7
The captain was not called into action much during the course of the 90 minutes, but whenever Lloris was forced into make a save, he came up trumps and saved France's skin in the 88th minute with a stop from Memphis Depay. The saves made by Lloris arguably won the game for Les Bleus, emphasizing how important it is for the goalkeeper to remain on his toes.
Helped out by a solid central defensive partnership, Lloris had a rather quiet evening, baring a few moments, and marshaled his defence and helped them keep Holland's attack quiet.
Djibril Sidibe – 5
The right back had an evening of mixed emotions, but managed to get through it unscathed. Sidibe was caught out a few times defensively, and against a better opponent would've been made to pay for his lapses in concentration, but going forward Sidibe provided somewhat of a threat.
It's clear that Sidibe possesses a large threat in the attacking department, but to really be considered an international level full back he needs to improve his defensive awareness. Too many times he was caught napping, but luckily on this occasion he was let off the hook.
Raphael Varane – 7
One half of a fantastic partnership, Varane was superb at the back to restrict Vincent Janssen to rare glimpses at goal. The Madrid centre back was comfortable on the ball and dealt with any danger convincingly, contributing to his solid performance.
If Varane and Koscielny can keep up this sort of form, then they will be impenetrable over the course of this qualifying campaign, and will finally provide Koscielny with a suitable partner, something he lacked at the European Championships.
Laurent Koscielny – 8
Speaking of Koscielny, the Arsenal man was simply amazing at the heart of the defence. Brave defensive work made him one of the stand out performers Monday night, proving that on occasion Koscielny can be one of the best in the world in his position.
Every Dutch cross was dealt with comfortably by the crown of Koscielny, and despite claims from Spurs striker Janssen for a handball, Koscielny put in a rather clean performance.
Layvin Kurzawa – 5
Similarly to Sidibe, Kurzawa was a threat going forward but was left lacking in the defensive department. Unfortunately for Kurzawa, he was fairly wasteful with his crossing and attacking plays, despite bursting forward at what felt like every opportunity.
It's clear that Kurzawa is the left back for France for the foreseeable future, but if he keeps up with average and wasteful performances, boss Didier Deschamps may be forced to look elsewhere for defensive stability down the left hand side.
Paul Pogba – 7
The match winner and a game that the Manchester United man really needed to convince some doubters that he has class in the locker. The long-range winner from Pogba was just a glimpse of what he can do when the opposition allows him space in the middle of the pitch, but his game was much more than just that goal.
He controlled the pace of the game with his controlled passing, spreading the play occasionally. Given the criticism Pogba received following his poor display against Bulgaria, the former Juventus man needed to put in a positive performance and he did just that in Amsterdam.
Blaise Matuidi – 6.5
A solid game for the PSG midfielder, who broke up the Dutch attacks with relative ease. For once, he and Pogba looked comfortable together in the two midfield positions, and this game could provide the platform that both need to form a partnership to benefit both styles of play.
Matuidi also tried his hardest to start attacks with some balls out to the full backs and attempted to roll through Griezmann or Gameiro, but never managed to get the ball forward too often.
Dimitri Payet – 5
Payet had an usually poor game on the left hand side of an attacking three, but the West Ham star was kept rather quiet on Monday night. Apart from a nice piece of play where he sent the defender the complete wrong way with a deft drag back and nutmeg, Payet was quiet and ineffective on the proceedings.
Normally Payet is able to be a key source of goals or assists, and whilst he will go down for officially getting an assist for Pogba's goal, that was more about Pogba than it was Payet. It was not one of Payet's best games for Les Bleus, but it has not exactly been his season at club level, either.
Antoine Griezmann – 5
Considering how good Griezmann has been at the start of the season for both club and country, he was uncharacteristically quiet against The Netherlands on Monday night. Everything he attempted was either cut out by the Dutch defence or was slightly off the pace of the game, and this affected his Atletico Madrid partner in crime Kevin Gameiro too.
Neither man could create anything in this one, with Griezmann occasionally getting lost in the middle of the pitch and could only watch as the game just passed him by.
Moussa Sissoko – 6
Sissoko emerged from Euro 2016 as a marauding right midfielder who was so strong in his bursts forward, and the same image has stuck with him during the start of his career at Tottenham Hotspur.
This game on Monday night showed us glimpses of Sissoko and his incredible bursts, but they weren't enough to create any chances like he did in the summer.
That being said, the £30M man wasn't on the periphery of the game and certainly wasn't a by-stander like Griezmann, but he couldn't use his power to his benefit and just couldn't get into a position to cross the ball into the box or pull it back to the edge.
Kevin Gameiro – 5
Much like his club teammate Griezmann, Gameiro tried to impose himself on the game and did have one good chance that he didn't take, but that shot aside, he was quiet in the match. He was unable to create any chances and wasn't able to get many meaningful shots away, and was essentially marked out of the game by Virgil Van Dijk.
After his performance against Bulgaria much was expected of Gameiro, but the Atletico forward disappointed in Holland, but that won't deter him from trying his hardest to retain his spot as number one striker for France. You'd hope that this performance hasn't harmed his chances that much, even with Oliver Giroud returning to fitness.
Substitutes:
Anthony Martial – 5
Martial came on to add a bit of pace to the game and to try and attack Holland down the flanks where they lacked a bit of pace. However, Martial wasn't allowed the time or room to attack that often, and when he did it was usually restricted to the middle of the field.
After a poor few games for Martial, he will be hoping that he can use these late substitute appearences as a gateway to impress Deschamps and force his way into the starting XI.