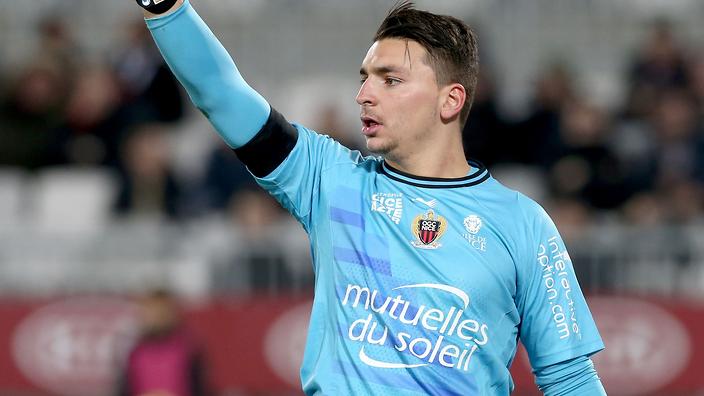 PROSPECT | Yoan Cardinale
It was not supposed to be like this. Many had already anointed Mouez Hassen, with numerous youth international caps for France, as the future between the sticks at OGC Nice. But little would he know, there was another with a claim to throne.
Up stepped Yoan Cardinale, a year his senior, to fill Hassen's place he did so with aplomb. Since the moment that that occurred last season, the 22-year-old Cardinale has been unmoveable and has slowly increased his reputation not just at club level but has also even entered onto Didier Deschamps' radar as well.
Hassen was made the starting goalkeeper back at the start of 2015 before an injury saw Cardinale finally get his chance in the side. Cardinale did a sturdy enough job but the younger shot-stopper would regain his place after recovering.
However, Hassen's renewed stint would not last long as he was sent off against Toulouse in a league encounter after just 28 minutes. Cardinale did not need a third invitation to wrestle that spot from Hassen permanently. Other than an owing to an injury before a match against Reims, Cardinale has not missed a game for the club in the league since.
After settling and establishing himself last season in a stand-out campaign, he has taken his game to the next level. Not content with just stagnating, he is growing alongside a defence that is only currently bested by Paris Saint-Germain in terms of goals conceded and Cardinale has been at the heart of that success.
Of the current crop of players, Cardinale told Nice-Matin:
"We knew we had a good team, but we would not have believed we would go twelve games unbeaten, a leading position in November, it's beautiful. We are proud of what we have done."
However, what speaks volumes of his attitude is his reaction to their first loss of the season to Caen:
"Either we win or we learn."
Cardinale has personified that ideal so far in his short career and he will hope his teammates can follow suit.
The first name that springs to mind when watching Cardinale is former French World Cup winner Fabien Barthez. Both have a smaller frame for a goalkeeper, with the Nice stopper a few centre metres smaller than the former Manchester United man, and both have similar attributes.
Cardinale shows great reflexes when it comes to stopping shots, especially from close range. His reactions are good and his deceptive athleticism allows him to spring right back up to deny second opportunities, even if they are rare due to his tendency to push the ball out of danger with his initial stop.
There is a perfect example of this in the Europa League game against Schalke, where he is forced into a triple save. The first is low and hard at his near post, the second comes quickly across him and the third is almost a rebound from the first save but he does superbly to make sure he has his body in the way to stop everything he can.
Another Barthez-esque quality is the speed that he showcases when he comes off his line for one-on-one situations. He has the ability to cut the angle down quickly and he stays on his feet for as long as possible to make it more difficult for the attacker, in what is becoming a rarer trait in modern goalkeepers.
He is good at claiming crosses and doesn't go in with his fists unless absolutely necessary. He commands his box well and is comfortable with the ball at his feet, an essential tool for any goalkeeper looking to make it to the next level.
The only worry for Cardinale is interestingly similar to Monsieur Barthez: whether his size might limit him from reaching the very pinnacle of European football. If he can keep improving, tightening his game, then he can achieve whatever he wants, but many will still fear that his size may hold him back from getting to the top of the game.
A great season with an up-and-coming team should alert anyone to his abilities but with so many interesting goalkeepers not just in Ligue 1 but in European football right now, it is hard to stand out from the crowd. There's no doubting his talents and if he can keep it up for the rest of this season, he has to be under consideration for the national side.
If he is not, then he could simply be another talented goalkeeper rooted to one level. While that would be a strange plus for Nice, it could deny Cardinale a chance of really testing his abilities to the maximum. However, if he can help his current club succeed, as Les Aiglons continue to establish themselves as title race candidates, he might not need to.