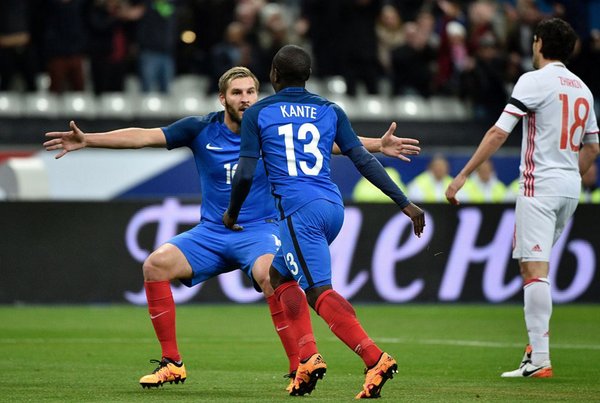 Recapping France at EURO 2016 – who fared well?
With the dust now settled on a bittersweet Europeampionships for the hosts, Get French Football News takes the opportunity to grade each member of the squad, as well as manager Didier Deschamps.
Rather than the typical numbers out of ten, we have chosen to assign these individuals letter grades, because they allow for a certain level of subjectivity.
A performance that earns Moussa Sissoko an A-, for example, may not be to the same level as one that earns the same grade for Antoine Griezmann, as each may have had differing opportunities to meet and exceed expectations.
A – A fine tournament, player exceeded expectations and should continue to be important for France going forward
B – A solid tournament, did little to disappoint, but perhaps failed to shine on the level of the very best with much consistency
C – Played an average competition, but should be taken to task for overall level of play
D – Failed to impress, status with team in doubt
F – Unlikely to play again for Les Bleus
I – Incomplete; didn't feature
Hugo Lloris – A- The key man in France's victory over Germany, Lloris showed consistently his range of reflex saves, while his command of the area continues to improve. Still not yet 30, should lead France in at least two more major tournaments.
Steve Mandanda – I Earned a lucrative move to the Premier League, should start immediately for an ambitious Crystal Palace side, capitalizing on a fine season for Marseille. Remains an able and willing deputy for Lloris.
Benoit Costil – I Only included after Stephane Ruffier declined an invitation, he will take confidence from having been at a major tournament, especially considering a rather disastrous end to Rennes' season.
Bacary Sagna – C Kept his place, but that owes more to the calibre of competition, even if his form with Manchester City was improved. Unlikely to be involved in the future given his age, but a fine player in his heyday
Christophe Jallet – I Will be disappointed to not have featured given Sagna's mediocre tournament. The argument from Deschamps' perspective about a consistent back four is easy enough to swallow, but likely a rather ignominious end to an all-too-brief international career.
Eliaquim Mangala – D The Manchester City player featured only for eighteen minutes, but given how quickly he was surpassed by Samuel Umtiti in Deschamps' pecking order, the returns to fitness of Kurt Zouma and Raphael Varane will see him unlikely to be included in the national team going forward.
Adil Rami – C A desperate pay by Deschamps, whose affinity for right footed and left footed players on each side. Thoroughly eclipsed by Umtiti, and like Mangala, unlikely to receive more call-ups given the level of competition.
Laurent Koscielny – B+ Superb in the air, and easily France's best defender. Passing could occasionally be found wanting, but a fine effort over the month.
Samuel Umtiti – B Finally received a call after a good two seasons of being ignored, and showed enough (albeit in flashes) to see why he's moved to Barcelona. Even with stiff competition, will continue to play an important role for France
Patrice Evra – B+ Hasn't the pace and drive going forward of a decade ago, but still managed to deliver a solid tournament defensively. Deserves a level of acclaim for his positional responsibility and defensiv
Lucas Digne – I Was always unlikely to unseat Evra, but will be looking nervously at the progression of Kurzawa at PSG, as he is unlikely to see much of the pitch at Barcelona.
Morgan Schneiderlin – I A late replacement for Lassana Diarra, failed to feature, but will gain confidence from being called ahead of the likes of Maxime Gonalons and Geoffrey Kondogbia
N'Golo Kante – B Was superb when played, but the unnecessary victim of a tactical switch by Deschamps. A promising part of the future; no matter the system, his energy will free Pogba in the attacking phase
Blaise Matuidi – C- Exhausted by a long season, and looked it. Even after being rested against the Swiss, still seemed to lack the energy displayed during his best days at PSG. His stutterings in a double pivot alongside Pogba have given rise to uncertainity over his club future, something that would
Yohan Cabaye – B+ His inclusion at the base of midfield was a surprise against Switzerland, but was hugely effective. Did much to resurrect his reputation, should continue to be included heading to Russia.
Paul Pogba – B- Could look imperious, but lack of focus often frustrating. Did impress in 4-2-3-1, showing good positional discipline, but still at sea to some extent, even if some of that is owed to tactical indecision.
Moussa Sissoko – A- Hugely impressive in a variety of roles, his directness and energy were what France had needed from Matuidi. Still not the best decision-maker in the final third, but a sterling tournament, easily justifying his inclusion over the likes of Lacazette and Ben Arfa
Dimitri Payet – B+ Sublime in the group stages, but seemed to bog down in the knockout rounds, becoming  bit more selfish. Nevertheless, he proved that he can be an effective creative conduit, and looks in good shape to retain his place in the future.
Kingsley Coman – B+ Stock continues to soar, was France's only ability to create any width. Worked hard, but often found himself isolated in Deschamps' schemes.
Anthony Martial – C Failing to unseat a number of inconsistent attackers is a definitive blot on Martial's record. If Deschamps persists with 4-2-3-1, could find himself on the outside looking in.
Antoine Griezmann – B+ Despite a fine goal scoring record, still went missing too often. His inability to play wide in a 4-3-3 forced a needed change from Deschamps, but more experimentation is still needed to wring the best from him
Olivier Giroud – B The model of inconsistency, was superb in some matches and a passenger in others. Still an important part of the France squad, but easily the biggest beneficiary fo the absence of Karim Benzema.
Andre-Pierre Gignac – D After impressing in the friendlies ahead of the tournament, scorned several chances to supplant Giroud. 31 this year, and unlikely to continue to be a part of the international setup.
Eric Devin, Chief Features Writer