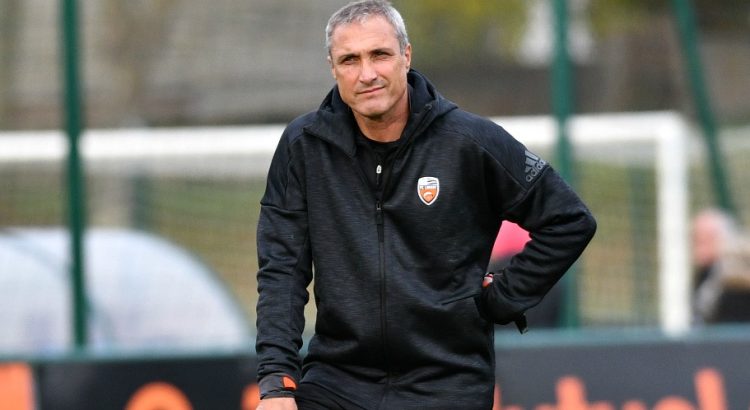 SUNDAY SPECIAL | Casoni, Lorient and the Poisoned Chalice
Lorient's struggles to find a new manager in the wake of their dismissal of Sylvain Ripoll have been well-documented, and even the source of some embarrassment to the club. First Elie Baup, then Rolland Courbis rejected the club's advances.
Remi Garde wasn't interested either, despite his stock being at an ebb following his disastrous tenure at Villa Park. Hubert Fournier looked to have the right blend of experience but he and the club couldn't agree on his bringing with him assistants of his own choosing, and that, too, fell apart.
Bernard Casoni has arrived, and while he brings in some decent experience in French football, his top flight record is less than exemplary. His initial spell in charge of a club was at Marseille, a spell which saw a team that had progressed to the second group stage of the Champions' League avoid relegation only on goal difference.
A ship-steadying spell in charge of SC Bastia saw him keep the club in Ligue 2, and while he did earn promotion with Evian, his subsequent jobs have been less impressive. He was dismissed from Auxerre with the club just above the relegation places in Ligue 2, and suffered the same fate with Valenciennes, both clubs in 17th in place at the time of his departure.
He most recently was in charge of Hungarian club Videoton, and was dismissed after a Champions' League Qualifying exit to BATE Borisov and a run on one win from five in the league. That the team recovered to finish second under his replacement, Ferenc Horvath should probably not be dismissed, either.
His opening match against Monaco saw a bright start to things, with Sylvain Marveaux shaking off his indifferent start to the season to deliver a strong performance as a false nine, with Majeed Waris and Benjamin Moukandjo positioned as inverted wingers. However, the former Newcastle man tired quickly and likewise Cameroon international Moukandjo, leading the pair to both be replaced in the second half. Jimmy Cabot is still to return and two of Monaco's goals did come from free kicks, so the performance was decently encouraging, if not the result.
It may be that Casoni, at 55, has enough to pull Lorient clear of the bottom three; in addition to Marveaux, he also has the veteran Jeremy Aliadiére working his way back to full fitness, but we are already, in pinning hopes of survival on the return of Cabot and the fitness of the former Arsenal man, beginning to see the cracks in Lorient's strategy.
To describe a team which has been uneven in recent years, while maintaining its top flight status, as a "mess" may seem a bit hyperbolic, but the case is getting easier to make the further the club drifts from the days of Gourcuff.
Let's start then with Aliadiére and what he represents in terms of the club's ambitions vis-a-vis their transfer strategy. Recruitment and youth development have huge risks for most French sides; while a Monaco, PSG or Lyon can absorb the odd academy product or Ligue 2 player not panning out, the DNCG's oversight of the league means that income must remain in balance for most teams who lack significant fan bases or wealthy ownerships.
There are clubs such as Saint-Etienne and Rennes that will have negative net spends from year-to-year, but these two are outliers, and most clubs are forced to generate profits in the transfer market to avoid points deductions, relegations, or worse.
This seems well and good, especially given the massive fees Lorient earned this summer from the sales of Didier N'Dong and Raphael Guerreiro. The two were sold for a combined €32M this summer, but there was next to nothing in reciprocal spending.
Cafu, a Portuguese midfielder was signed from Vitoria de Guimares, Lindsay Rose's loan from Lyon was made permanent and the Ligue 2 right back Faiz Selemani was also brought in. Stephen Moreira came from Rennes as well, but his move might be the exception that proves the rule.
Let's start with Cafu; he is one of a number of players with experience in Portugal that have arrived to Ligue 1 in the recent past; many of those were to Monaco, with some decidedly mixed results. For every Fabinho and Bernardo Silva, there was equally a Wallace, a Fabio Coentrao and an Ivan Cavaleiro.
The meddling of Jorge Mendes casts a shadow on these deals, but other clubs of similar means have seen the Portuguese market as a resource as well. Nantes brought in defenders Diego Carlos and Lucas Lima this summer, Guingamp added left back Marcal, who has been superb, and Ricardo Pereira and Jean Michael Seri have been sensational since arriving for Nice.
Can Cafu reach the heights of those others brought in from Portugal? After all, he was the captain of a decent Vitoria de Guimares side, and has received caps at various youth levels for his country. He's still only 23, and has a good injury record. The problem, though is not with the player, but what his acquisition represents.
The sale of Didier N'Dong necessitated a replacement central/defensive midfielder, and Cafu fits that bill to a tee, but much like fellow summer arrival Arnold Mvuemba, he is being badly misused.
In Portugal, he habitually played at the base of midfield, his height, power and mobility making him a Maxime Gonalons type, a player who could be industrious in front of a back four, liked a tackle but was fairly limited going forward.
Casoni may opt to place the Portuguese deeper, but if first impressions were anything to go by, that is unlikely. Against Monaco, the new manager doggedly trotted out the same 4-3-3 that failed to get results for Ripoll. The system shows an over-reliance on the attacking three, none of whom are necessarily playing in their ideal positions, as Moukandjo and Waris are properly strikers rather than even inverted wingers.
Mvuemba is a similarly limited player, but the former Lyon man arrived on a free. There is no doubt that Cafu was an attractive purchase, but what he represents seems to be buying a player for the sake of the player and worrying about how to fit him into the team later.
This may work at more moneyed clubs, but again, even the €2M spent on the player represents a considerable outlay, and it is frustrating to think in considering the transfer the seeming lack of foresight involved.
The arrivals of Ciani, Aliadiére and Mvuemba are similarly problematic. All three have histories with the club, which necessarily engenders as sort of feel-good factor, but questions surround the use of this trio as well.
Wesley Lautoa is probably Lorient's best centre back, but he has struggled to a large degree with fitness issues in the recent past, so the acquisition of a veteran backup would seem to make sense, hence the arrival of Ciani. However, despite recovering from an injury nearly a month ago, Lautoa kept his place on the bench as Ciani and Zargo Touré remained first choice.
The club are probably relieved to have four decent centre backs given Lindsay Rose has been injured most of the season as well, but the former Bordeaux man's arrival is still a bit of a head-scratcher.
Still only 32, by no means ancient for a centre back, the question marks surrounding Ciani stem instead from a horrendous injury history that has seen play no more than 1300 minutes combined over his last two seasons with Lazio and Espanyol, where he had started the current season.
A former stalwart of the club, with Champions' League experience, makes for a nice story, but now he is laid up with the same injury that thwarted his time at Lazio, a hamstring issue which has never ceased being a problem since first occurring some three years ago.
Aliadiére is another confounding acquisition; he, like Mvuemba and Ciani, enjoyed a good spell at one time with the club, but after failing in Qatar, is there really hope for a 33-year old striker?
Besides the presence of Moukandjo and Waris, the club also has Benjamin Jeannot, who, silly suspension aside, finally looked like fulfilling his promise for much of last season. Too, tactically, with Waris and Moukandjo playing wide areas, the slow-footed Aliadiére also seems an incongruous fit, making a team playing in a young league that much older.
Always reliant on his pace and playing as a bit of a sniper, he also seems an uninspired choice. The issues with Mvuemba are generally a composite of the other three; age is beginning to catch up with him, and, like Cafu, he is being used in a role that simply asks too much of him going forward.
Let's compare this summer's comings and goings with that of the 2013-14 season, Gourcuff's last in charge. The club unloaded several similarly important players that summer, although none of them for particularly eye-watering fees. Benjamin Corgnet's move to Saint-Etienne was the big departure, but the club also received decent fees for Mario Lemina and Innocent Emeghara, while also bringing in Guerreiro and Vincent Aboubakar. That summer, Baptiste Reynet, arriving from Lorient on a free, was, at 22, the oldest player brought in. Things started to change the next season, Ripoll's first in charge.
The late sales of Bruno Ecuele-Manga and Aboubakar had put the team in a tight situation, and a flurry of veteran Ligue 2 players were seen as the answer, rather than the youth-oriented strategy espoused by Gourcuff.
Mehdi Mostefa, Walid Mesloub and Vincent Le Goff all admittedly have done well enough for the club, to say nothing of the winter arrival N'Dong, but, in buying largely established players the club necessarily limited their sell-on values.
There are rare examples (Cheikh N'Doye) of veteran players moving from Ligue 2 into Ligue 1 and succeeding, but on the face of it, why Angers' rampaging midfielder likely stayed put this summer had more to do with his age than anything else.
The trend continued last season, and while there were a few exceptions, (Cabot last winter) Lorient once again squarely targeted journeymen in the forms of Waris, Moukandjo and Touré. This continued skewing towards veteran players now has a club stripped of almost all salable assets.
The young Gabonese winger Denis Bouanga has had a bright start to his loan with Tours (4 goals, 4 assists), but besides he, Cabot and perhaps goalkeeper Lecomte, is hard to see a player who could even potentially generate the type of fee Lorient have been habitually collecting in the recent past.
Without this potential income, the club have thoroughly hamstrung themselves. Their cadre of veterans has prevented their younger talent from establishing itself, and it seems a vicious cycle with no end in sight.
Perhaps a return from his loan for Bouanga as well as some sharp, need-based spending (with an eye towards fit over reputation) this winter can right the ship for Lorient, but for now things look impossibly grim.
Casoni may have been Lorient's fifth choice or worse. If the club are relegated with little hope for the future, another search could easily be twice as long and twice as embarrassing.
Eric Devin, Chief Features Writer