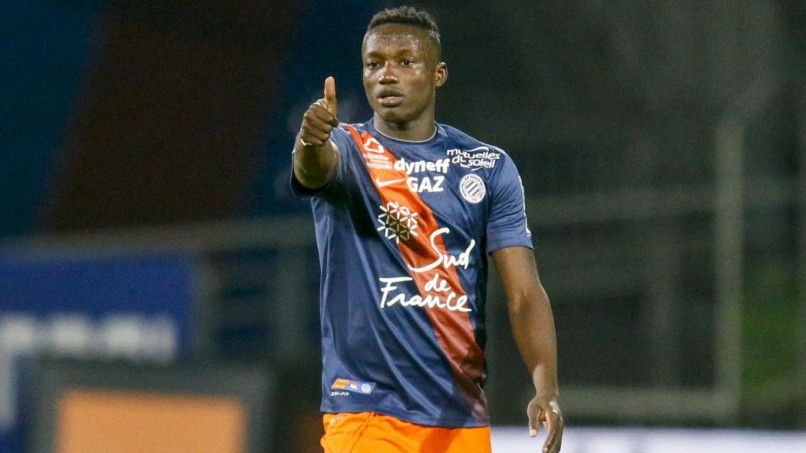 The Ligue 1 Review – Week 10
Adam White and Eric Devin return with their talking points from Matchday 10 in Ligue 1.
1 | Montpellier hit with cruel double blow
Youngster Kylian Mbappé-Lottin led the charge as Monaco thumped Montpellier at home on Friday evening, 6-2.
It was another thoroughly impressive performance from the hosts, who now boast the league's best attack by some margin.
Returning from a concussion, the seventeen year-old will give added depth to a team that has played more matches than any other team in Ligue 1 save Saint-Etienne, with an additional Coupe de la Ligue match to be added in mid-December.
As impressive as the young winger was, the takeaway from this match has to be the peril in which Montpellier now find themselves.
The six goals the team conceded means that the side have now allowed eleven in during their last three matches. The absence of Daniel Congré has been a big factor, as Ellyes Shkiri, previously impressive in a midfield role, has been far from convincing in the former Toulouse man's stead.
There is hope that things could return to some level of stability at the back, but in attack, leading scorer Casimir Ninga has been ruled out for six months due to an ACL injury. This is a devastating blow coming just as the Chad international seemed to be hitting form.
Only outside the relegation zone on goal difference, the positivity surrounding the club after last season's improvement in the run-in is in danger of rapidly dissolving.
Any one of perhaps eight teams could be relegated from Ligue 1 this season, with Montpellier firmly a part of that group; Saturday's trip to similarly hapless Lorient now has all the markings of a must-win match for La Paillade. – E.D.
2 | Lorient make the right call in sacking Sylvain Ripoll, but he will rightly feel aggrieved
Since Christian Gourcuff left the club, Lorient have been on a downward curve. Father of Yoann, Gourcuff became a club legend after establishing a footballing identity at the club and cementing their place in Ligue 1.
For the past three seasons the club have been aiming for consistency, appointing Gourcuff's assistant, Slyvian Ripoll in a bid to keep the same level of quality and excitement with the same philosophy. Unfortunately it has not gone to plan.
Lorient were lucky to survive in 2014/15 as a Jordan Ayew inspired 5-3 win at OM kickstarted a brief run of form which kept them in the division. Last season an autumn purple patch from striker Benjamin Moukandjo gave them the breathing space to keep them in Ligue 1.
This year it has been a different story and arguably through no fault of Ripoll's. Just as the club did with Jordan Ayew the previous summer, Ripoll's top talent has been sold out from under him and it hasn't been replaced.
Midfield lynchpin Didier Ndong is adding a few 0s to his wage at Sunderland, the gifted Raphaël Guerreiro is flourishing at Dortmund and the creativity of Yann Jouffre has moved on at 32 to promoted Metz.
Lorient haven't been disorganised or too open at the back this season, they simply don't have the quality to be competitive in this league and the 6 points they do have flatter them somewhat.
Ripon was not backed in the transfer market following the sale of those prized assets and although FCL are traditionally supportive of their coaches this smacked of a huge lack of faith in the coach and, understandably, he has not been able to maintain the level they have come to expect with such alarmingly diminished playing resources.
The club were left with little choice, given their position. Now their only aim will be to stay in touch with the safety zone until the window when they will look to invest under a new boss and stay in the division. A long season of uncertainty awaits… – A.W.
3 | Saivet and Veretout showing why they made it to the Premier League
St Etienne's 2-0 triumph at Caen brought a huge sigh of relief from Christophe Galtier and Les Verts, not to mention mild shock from keen observers of Ligue 1: St Etienne had at last put in a positive, disciplined and all around competent display, finally living up to quality of play promised by the talent strewn across their team sheet this season.
Key to this performance were loanees Henri Saivet and Jordan Veretout, notching once each. Both men have suffered through unpredictable and uncertain periods in their careers but now they are home in Ligue 1 and garnering some stability at last after both parent clubs were relegated from the Premier League last season.
Their quality is beginning to shine. Veretout in particular has been in increasingly effective form of late and it was his snap first time shot through a crowd of bodies after Vercoutre had flapped at a cross that sealed the victory for Galtier's side.
Veretout adds the crucial spark of creativity to the ASSE midfield which has been sorely lacking for some years and is growing into a pivotal member of the side. In a crucial season for Galtier, Veretout could be the man to push Sainte forward in both European and domestic arenas. – A.W.
4 | A shopping list for Lyon
A brief look at the top of the table sees a common thread amongst the contenders in Ligue 1. Aside from Paris Saint-Germain, each of the top four teams moved in the summer to bring aboard a central defender, with an eye on tightening things up at the back.
Neither Monaco nor Nice were abject defensively last season; Toulouse were less impressive, but all three sides can stake their claim to the title on a consistent center back partnership (or trio in Nice's case).
Toulouse and Nice have the joint-best defense in the division, and Monaco are a bit further back, but the integration of new and old have given the three the proper platform upon which to build.
Lyon did the same in the summer, but former Marseille man Nicolas N'Koulou has been a shell of his former self, especially when compared to the likes of Dante and Kamil Glik.
Replacing Samuel Umtiti was always going to be a tall order, but the Cameroon international seemed to have the right resumé for the job, combining Champions' League and international experience without being too close to his sell-by date at 26.
To be fair, he has probably been the team's best centre back this season, but considering Lindsay Rose, Milan Bisevac and Bakary Koné all joined Umtiti in leaving this calendar year, should Lyon have done more to strengthen than promoting young Mouctar Diakhaby?
The answer is a firm yes, and Lyon must move proactively to add a centre back or two. In Ligue 1, players such as Caen's Damien da Silva or Angers' Romain Thomas could be good options, or perhaps the club could bring in a player from abroad.
No matter what their transfer strategy, their defence (only five teams have conceded more) must be improved if an improvement similar to last season is to become possible. – E.D.
5 | Wide men to the rescue for Rennes
Ten matches into the season, and perhaps no team in Ligue 1 has been as inconsistent as Rennes. Early doors, the team had the best defence in the league, but a pair of 3-0 thrashings by Monaco and (bizarrely) Dijon quickly brought an end to that run.
The attack has failed to find a rhythm as well, as all of Yoann Gourcuff, Paul-Georges Ntep and Kamil Grosicki have missed significant chunks of the season.
All three featured in Saturday's hard-fought derby win over Nantes, and while the manager's son looked a long way off his best, the two wide men look well on their way to being the type of incisive presence that they are at their best.
Admittedly, there was a good deal of controversy over Grosicki's winner, coming as it did from a blocked Nantes free kick, but the movement of the pair, with Giovanni Sio stretching play ahead of them, was frightening at times.
Things are not set to get any easier for Rennes; after hosting Metz this coming weekend, the team's next three fixtures are against Paris Saint-Germain, Angers and Toulouse. Still, though, there should be a feeling of dissatisfaction for this group of players after cruelly missing out on European qualification last season.
Combining fitness and desire, Rennes might well continue their rise up the table, reclaiming what they should feel is their rightful place in the top six. – E.D.
6 | Mathieu Michel is proving to be the missing ingredient for Angers
At the Christmas break last season, Angers were third in the table. A combination of an unpredictable season overall and some astute manoeuvring from manager Stephane Moulin, on both scouting and tactical fronts, had propelled them into the Champions League places.
Their inevitable drop off and eventual ninth place finish (still very creditable having been Ligue 2's third place side in 2014/15) was put down by some as a result of other sides wiseing up to their style of play or the effect of fatigue on a small squad. Both these points carry weight but it was the loss of key players during the winter that really halted their march.
Both the imperious goalkeeper Ludovic Butelle and unpredictable forward Razza Camara were swifting picked off by clubs with a bigger draws or the ability to add a 0 or two both men's pay packet. These were two huge losses for Moulin and, despite Pierrick Capelle and Alex Letellier's best efforts, they weren't replaced adequately.
The removal of Butelle's commanding presence, infallible handling and the assuredness he provided his back four were the main factors in Angers' relative deterioration. Now, however, with the unfortunate Letellier injured, the signing of 25 year old Mathieu Michel from Nimes is beginning to truly fill the Butelle shaped hole in the Angers back line.
His solidity was again on show during the 0-0 draw with Toulouse at the weekend and his form, along with that of winger Karl Toko-Ekambi, has propelled Angers close to the defiant, intense form that had them challenging the established order this time last year. – A.W.
7 | Plea the quiet key for OGC Nice to title contention?
Nice finished the weekend a full 6 points clear of PSG having played the same amount of games. Given the Parisiens dominance in recent seasons, and their comparatively vast pool of resources, such a gap at any point is not far from astounding.
Lucien Favre is renowned as a perfectionist, reportedly halting training matches at Gladbach just to move the odd player left or right by 5 yards before continuing. In a league where most sides rely on rigidity and organisation, Favre's beating the French at their own game.
Imploring Younes Belhanda to be aware his defensive duties during injury time when his side had sealed their 4-2 win over Metz, a game in which the hosts very much played their part, exemplifies his attitude toward attention to detail. However, Favre cannot win the league (something that is looking more and more possible) with discipline alone.
The quality that comes from the likes of Balotelli, Dante, Belhanda and Cyprien, will be that extra edge much as hat trick hero Alassane Plea was this weekend. Plea proved that not only can he be the predatory finisher but that he is developing into a Ligue 1 match winner.
Although Balotelli may be ahead of him in Nice's striking cue, Plea's importance, both in adding goals to the attack and in keeping pressure on Balo in Favre's bid to keep the Italian smiling and at his best is becoming increasingly evident. – A.W.
8 | Sankharé: Lille's life force?
Sebastien Corchia and Naim Sliti may have had more eye-catching matches, and Ibrahim Amadou was industrious at the base of midfield, but might Younousse Sankharé be the player to help Lille continue their climb away from relegation? Frédéric Antonetti seems to be desperately wedded to his 4-3-3, but the extreme caution of the midfield three often left the attack without support.
In years past, Lille have been able to call on the likes of Idrissa Gueye and even Florent Balmont, players who can contribute with the odd goal or assist from midfield. Sankharé had been that sort of player with Guingamp, but since moving to Lille, he has played a more restrained role, perhaps wary of exposing the callow Ibrahim Amadou.
Against Bastia, however, he was consistently the furthest forward of the midfield three, doing well to drive with the ball at his feet, or be a late runner into the box.
With Amadou seemingly installed as the preferred starter at the base of midfield, and Rio Mavuba helping defensively as well, Sankharé should continue to show more endeavour.
Lille's best eleven is still a bit a of a mystery, especially with Rony Lopes absent, but on a night when the scoreline flattered the visitors, the added verve from midfield made the difference.
SC Bastia were brighter once Gael Danic was introduced for Lenny Nangis, but the important thing is that Lille are out of the relegation zone, and more impetus from midfield was of paramount importance. – E.D.
9 | Bordeaux in need of a change up-top
Jeremy Menez scored a sublime goal against Nancy, but has had a fairly underwhelming start to the season. His fellow striker, Diego Rolan, has the same number of goals as the former AC Milan man, but has looked a shadow of the player who found the net fifteen times two years ago.
In Bordeaux's 4-4-2, the two wide midfielders behind them, usually Adam Ounas and Malcom, both play effectively as inverted wingers, moving inside with the ball at their feet to open up space on the overlap for the fullbacks.
All four have undeniable talent, but might a tactical change be needed from Jocelynn Gourvennec to get the best from his team going forward?
When Rolan was on top form in 2015, the team played a 4-3-1-2, with Wahbi Khazri behind Rolan and Isaac Kiese Thelin, the bulky Swede providing the physical  The team don't have the midfield to play in that manner now, but might a 4-2-3-1, with more emphasis on width, provide more opportunities in attack?
Young striker Gaetan Laborde, after a strong season with Clermont in Ligue 2 last year, was kept on while Enzo Crivelli was loaned to Bastia. Given he has scored as many goals as either Menez or Rolan, in half the time on the pitch, might he be given more of a chance.
He has featured from the off three times this season, scoring in both of those matches, and offers much more of a physical presence than the more sylph-like Menez or Rolan. Laborde should start mid-week against Chateauroux in the Coupe de la Ligue; should he impress against La Berrichone, he deserves to start going forward. – E.D.
10 | Emery's overly pragmatic style is sucking the life out of PSG…
"Was I bad? Did he say I was bad?" No, Marco, you weren't bad but the same can't be said for many of your teammates or the game you've just exited.
Verratti's displeasure at being subbed was not a feeling exclusive to the Italian maestro. Le Classic should be an advert for Ligue 1 and with arguably historically France's too biggest clubs (although ASSE and OL may have something to say about that that) facing off at the Parc de Princes, an array of talent (admittedly most of it on the darker blue side) and a pair of exciting new managers on display, some semblance of spectacle was expected.
Unfortunately spectacle was not even remotely evident across the 90 years of football in Paris on Sunday evening. This is not to say Ligue 1 is devoid of flair and excitement, anyone who saw the 4-2 thriller between Metz and Nice earlier in the day can attest to that, rather it was a sign if the times at PSG.
Unai Emery is still new in Paris and he is undoubtedly a talented coach but as he approaches a score of games in charge, 'regression' is becoming the tag line to his infant tenure. PSG's performances scream of a club in transition.
Without Ibra or a real replacement, no real strengthening of the first 11 this summer and Emery's overly pragmatic style, Paris continue to huff and puff but do little else and tempers are starting to become a little frayed.
Verratti wasn't the only PSG man to look displeased at their withdrawal in the 0-0 draw with OM. There is, of course, the argument that if Cavani converted both his massive chances that PSG win 2-0 and no one even blinks, but these were the only genuinely clear sights of goal they created all night, not the norm in Paris.
Yes, Garcia's parking of the AirBus with 5 at the back had a lot to do with that but, a 6-0 win at Caen aside, this is by no means an uncommon theme for Paris this season. Although Emery has a long way to go, his use of personnel continues to frustrate.
Without Ibra, PSG can't bully opponents any more, they can't rely in the mercurial Swede to bulldoze his way to victory and drag the rest of the team behind him. Meaning they need to lean more or their guile and grace, which on paper they have in abundance, to break teams down.
But Emery continues to edge in the other direction strateguically. Talk of Verratti being used as a 10 makes little sense when the Spaniard has Ben Arfa and Pastore at his disposal (not to mention the former Pescara man's mastery of the central role) and typifies a more defensive style which my suit the Champions League but isn't appropriate in Ligue 1.
As does his insistence that Adrien Rabiot is a key player at PSG, Emery's preference to Blaise Matuidi on Sunday. Rabiot, a more pragmatic option when opposed to Matuidi's intense box-to-box style, is a talented player but not one ready to anchor a supposed Champions League semi finalist's midfield and does not yet possess the skill set to unlock a staunch Ligue 1 defence.
While the marginalisation of creative talent like Ben Arfa, who tore this league to shreds last season, and of Pastore (admittedly injury is playing a big part) only further blunts the PSG attack.
It is still early for Emery and his methods still have some time to coalesce but should Paris continue in this vein, Nice and Monaco will only extend their lead while the tipping point will edge ever closer and a change in tact may start to become imperative. – A.W.
Team of the Week: Karl-Johan Johnsson, EA Guingamp; Sebastien Corchia, Lille OSC, Loic Perrin, AS Saint-Etienne, Thiago Silva, Paris Saint-Germain, Ludovic Baal, Stade Rennais; Jean Michael Seri, OGC Nice, Younes Belhanda, OGC Nice, Kamil Grosicki, Stade Rennais; Kylian Mbappé-Lottin, AS Monaco, Alassane Plea, OGC Nice, Marcus Coco, EA Guingamp
Goal of the Week: Marcus Coco, EA Guingamp (77′)