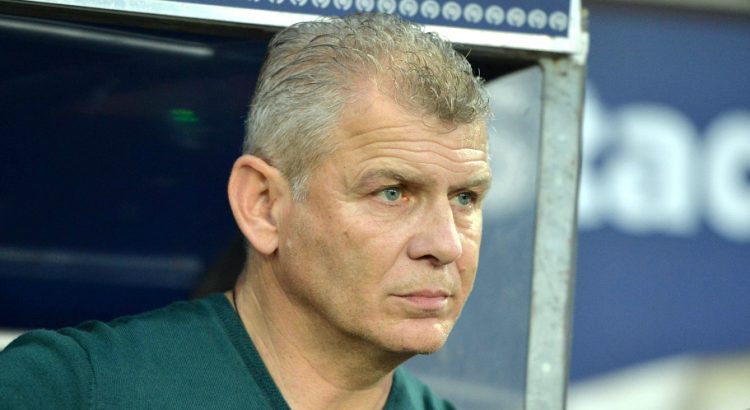 The Ligue 1 Review – Week 14
Eric Devin and Adam White return with a look at Matchday 14 in Ligue 1.
1 | Yacine Benzia's new role?
Lille are yet to appoint a permanent successor to Fréderic Antonetti, so any tactical conclusions to be drawn from Saturday's scoreless draw at Nantes must necessarily be taken with a grain of salt going forward. That said, there was evidence of the proverbial tender shoots that perhaps shouldn't be forgotten.
Antonetti was wedded to a defensive 4-3-3 that suffered badly from a lack of quality in attack and a lack of impetus in midfield. When Mounir Obbadi was felled with a series of injuries from the season's opening matches, his inventiveness in the passing phase of the game was lost. Despite gallant efforts from the full-backs, Lille's attackers were left isolated and ineffective without support from the midfield.
Interim manager Patrick Collot opted for what was listed as a 4-2-3-1, but played much differently. Yassine Benzia was used as the nominal playmaker, the former Lyon player making his first start in almost two months.
However, unlike in that match, the 4-1 loss to Monaco, with Obbadi in for Younousse Sankharé, Benzia tended to drop much deeper, using his pace to help Lille play on the counter more effectively.
A sharp passer in close quarters, he was also able to effectively link play with Nicolas De Preville and Rony Lopes cutting inside, Eder providing a focal point as a holdup presence. Lopes was poor on the evening, but Morgan Amalfitano has been an unmitigated disaster played wide on the right to date, and the young Portuguese has struggled with injury as well as form.
However, sharp observers of Ligue 1 can recall the success that Lyon had in 2012-13, improving another underachieving side by opting for an unfashionable double pivot, with Lisandro Lopez and Bafetimbi Gomis comprising the strike partnership.
The creative impetus in the absence of the oft-injured Yoann Gourcuff came from Clément Grenier and Alexandre Lacazette in wide areas, and while it would be folly to suggest that De Preville could equal the class of Grenier at that time, there may be yet some hope for Lille with this system.
Much of it does depend on Benzia, though, and his willingness to sublimate his style of play for a team ethos.
If the youngster, whose opportunities to play as a lone front man were curtailed by Herve Renard and the arrival of Eder shows the impetus to take on a new role, Lille may yet have hope to escape the drop. – E.D.
2 | Thibaut Vion's double typifies an exciting Ligue 1 weekend
Ligue 1 is often accused of being a little dull and although this is largely a generalisation, the sometimes slow and often defensive style that certain teams employ means this claim does have some basis in reality.
But not this weekend. Ligue 1 enjoyed one of its most exciting rounds of fixtures for some time, typified by Thibaut Vion's brace off the bench for Metz in the final 15 minutes to draw 3-3 at home to Lorient. Vion was a bit-part player at Belgian second division side Seraing United last season, a partner club of Les Grenats', but has impressed Phillip Hinchberger enough to make three consecutive substitute appearances for the Eastern promoted side.
Twenty-two year old Vion repaid his manager's faith with two, admittedly alarmingly free, headers to wrestle what could be a pair of crucial points away from a relegation rival. Elsewhere François Kamano mirrored Vion's off-the-bench late double to steal his Bordeaux side a victory, despite an excellent away display from Dijon, 3-2.
St Étienne and Angers put on an exciting punch and counter-punch encounter on Sunday afternoon, a wonderful solo effort from the much maligned Oussama Tannane the difference at the Stade Jean-Bouin.
Monaco again proved why they are one of the best sides in Europe at the moment by hitting OM for 4, while OL and PSG put on a thrilling advert for the league with a hard fought, rumbustious encounter on Sunday night. Ligue 1 may have its detractors but they were made to eat their words this weekend. – A.W.
3 | Gabriel Boschilia adds depth as Monaco run riot
Marseille are, to be charitable, still a work in progress. Despite a good defensive record, however, they were thoroughly shredded by an in-form Monaco after looking much more solid at the back.
The story of the match, however, was not the three points that briefly saw Monaco summit the league, but the superb play of youngster Gabriel Boschilia. Thomas Lemar had gone off injured against Tottenham in Europe, and there was some worry before the club revealed he would likely return this evening against Dijon.
However, the young Brazilian played with aplomb Saturday evening showing his own skill at dead balls with a sumptuous goal.
Signed for around €7m from Sao Paulo, Boschilia was an afterthought, a loan candidate, but this season he has become more than that, allowing Jardim to effectively spell the higher profiles members of this squad.
With Adama Traoré and Almamy Touré still to come, there is much to be said, then, not only for the current side's achievement but for hope beyond a transfer window or two.
France is in desperate need of a strong second team in European competition and Monaco's depth is going a long way towards achieving that. – E.D.
4 | Christian Gourcuff again proves his astuteness
During the GFFN Preview Show on Thursday night, I made the point that perhaps Rennes should think about switching up their set up to maximise the impact of their array of midfield talent.
Giovanni Sio, although hard working, is not only their solitary striker but also continues to regularly fail in front of goal. With the attacking guile on display behind him, Gourcuff could consider dispensing with Sio and moving some of his more pacey forwards (Ntep, Henrique, Grosicki, Said and so on) into central areas and move to a diamond midfield with son Yoann Gourcuff at the tip.
However, Christian Gourcuff proved once again this weekend what a class act he is (further exemplified by Lorient's plight since his departure) as he continues to mould Rennes into an effective and organised footballing unit.
Sio may not be the most prolific but he does create space for his supporting cast and allow others around him to play. The 1-0 victory over Toulouse meant that Rennes ended the weekend in the top 4 and have cemented themselves as a genuine European contender. Gourcuff's influence can't be underestimated at Roazhon Park. – A.W.
5 | Montpellier's luck runs out
Having tipped Montpellier as potential dark horses for Europe in the recent past, I was disappointed to see the team only draw at home to Nancy. The promoted side haven't been abject this season, but if La Paillade wanted to kick on the way their recent wing against Marseille had hinted, three points in this fixture was imperative.
A draw against an opponent set up to frustrate the opposition wouldn't seem the worst result, especially as the club are still by no means assured a mid-table finish. But, given Montpellier's displays in recent weeks, more was expected.
What, then was the issue? For this writer, it is simply bad luck. The likes of Steve Mounié, Morgan Sanson and Stéphane Sessegnon have been very influential ahead of a weakened back four, but the defence has let the team down not infrequently.
The confidence gained from a clean sheet will have a positive long-term affect, and well, yes, a goal would have been ideal, Montpellier need to put this result down to luck.
The team hit the woodwork three times and saw Guy N'Dy Assembé make a few strong serves; much like Nice, a bit of luck is sometimes necessary when the ball is round. If Montpellier can find that, they still remain contenders for Europe. – E.D.
6 | Angers, a victim of bad luck
Last season Angers were one of the most eye-catching stories of the European season. After promotion they rang in the new year sitting in a Champions League place.
Their intense brand of counter attacking, pacey football caught the French top fight off-guard, a style exemplified by a 3-0 dispatching of Monaco at the Stade Jean-Bouin in January, the talismanic Cheikh Ndoye with a brace. This season has, on paper, been rather different.
They are 5 places lower, have conceded 5 more goals, scored fewer goals themselves and are 5 points worse off than this time last year. As a result, a quick glance at the table will imply that their form has tailed off, this, however, is not true.
Firstly, the fine margins mentioned above will rightly attest to the tightness of the table both this and last season. Secondly, despite the stats, Angers continue to positively impose their intensity organised style of play but have simply, and unfortunately, not got the results they deserve.
The loss to St Étienne on Sunday lunchtime being a case in point. Stephane Moulin's side did enough to take at least a draw only for St Étienne keeper, Stephane Ruffier, to continue an excellent season with another great display that included a penalty save and for Oussama Tannane to finally turn up for Galtier to win the game with an superb solo goal.
Angers can be feel equally hard done by with losses at Guingamp and Monaco, not to mention a number of draws so far this season. Angers are still one of the most engaging sides in this league and, should they start to get some luck, a Europa League place is by no means beyond them. – A.W.
7 | Patrice Garande's second act success
Caen have earned a deserved reputation for their vicious counter-attacking style under Patrice Garande. The manager effectively harnessed the talents of players like Andy Delort, N'Golo Kanté and Dennis Appiah, but that trio have departed, leaving Garande with a side that isn't as fluent in attack as previous editions.
The early part of the season, save a dramatic win against Lorient, made for some poor viewing, and Caen, who had punched above their weight for son long, looked to longer withstand the repeated departures of top players; relegation was inevitable.
Cue a bold, if slightly negative switch from Garande; in Caen's last three matches, they have played with five at the back, giving their previously struggling defence a much-needed boost of confidence.
Bordeaux loanee Frederic Guilbert has settled in at right wing-back, while Vincent Bessat plays on the left. Somewhat of a hybrid between a 5-4-1 and a 5-3-2, Caen can play Ivan Santini on his own up to or move Ronny Rodelin centrally to aid the Croatian.
The formation not only allows more protection for the slower likes of Nicolas Seube and Julien Feret, but gives a bit more licence to the young midfielders Jean-Victor Makengo and Yann Karamoh.
At once valuing experience and privileging youth, Garande's seemingly negative tactic has seen Caen concede only twice in their last three league outings using the formation, an impressive turnabout after 11 in their previous four.
Once nailed-on bet for the drop, matches against rivals Lille, Metz, Nantes and Dijon are all on the docket in the next three weeks, and the club will do their best to stifle their direct rivals and ease their relegation worries. – E.D.
8 | Dijon are now looking like the best equipped promoted side
So far this season, the three promoted sides have been a mixed bag. Nancy, 2015/16 Ligue 2 champions, started terribly. They were put to the sword by Lyon in the opening week and have looked very much out of their depth having made worryingly few signings during the window but have since adapted their style and are gaining in confidence and competitiveness.
Metz, third in last season's second tier, have managed the opposite; signing a number of Ligue 1 stalwarts in the summer and vastly improving the apparent quality of their squad, leading to a solid start to the campaign only for Hinchberger's men to falter and look increasingly porous as the season has worn on. A 7-0 thrashing at home from Monaco being a low point.
Dijon, on the other hand, have quietly gone about their business and remain consistent performers in Ligue 1, striking the balance between an effective, more defensive style and adding some experienced signings to their squad.
Lille's midfield warrior Florent Balmont, Hungary international defender Adam Lang and former Panathinaikos man Mehdi Abeid have all complimented Olivier Dall'Oglio's promoted team nicely making them, for now at least, the promoted side seemingly most equipped to stay in Ligue 1.
The 3-2 loss at Bordeaux on Saturday night was a disappointing one after a superb display was circumvented by a late Kamano brace. However, if the bright forward pair of Lois Diony and Julio Tavares continue in such excellent form and Dall'Oglio is able to consistently cajole his charges into the coherent displays they have shown in recent weeks, a relegation battle will be of little concern for Dijon. – A.W.
9 | Lucien Favre's hesitation
Bastia are always an obdurate opponent, and Sunday's encounter with Nice was no different, but was this perhaps the hosts' most troubling match this season?
The Corsican side had conceded an opener early on, and they certainly rode their luck as Alassane Plea hit the woodwork in the second half after fluffing a hatful of chances in the first half.
But, manager Francois Ciccolini had made a positive change at the interval, bringing on the always effervescent Allan Saint-Maximin for Thievy Bifouma. The Monaco loanee was a live wire, and did well to keep Nice, Ricardo Pereira in particular, pinned back.
The visitors' equaliser came on 60 minutes, through a horrendous bit of luck that saw Enzo Crivelli's shot deflected in from close range. It was a gutting goal to concede, to be sure, but Nice failed to chase the match in a rather stunning abnegation of their status as title contenders.
Fixture congestion is an issue for every club in France at the moment, but to see Lucien Favre fail to make any changes whilst knowing Monaco had already won was simply baffling.
Vincent Koziello surely would've added more in attack than Remi Walter, and further forward, Anastasios Donis had done well against Schalke in the Europa League. Favre called on neither, however, and the match went begging, a result which saw Nice's lead at the top slip to just a single point.
If Nice miss out on honours or a certain place by a narrow margin at the season's end, this bizarre lack of action by the Swiss could be looked upon as a watershed moment. – E.D.
10 | Mathieu Valbuena still has something to offer Lyon
52 France caps, 8 International goals, a Ligue 1 winners medal. A Coupe de Ligue victor three times across a career which has seen him appear at two World Cups for Les Bleus and establish himself, although his status has since been rescinded, as the darling of the Stade Velodrome.
But, now 32, Mathieu Valbuena, despite their early season struggles, has been little more than a late sub for Bruno Genesio's Lyon side this season. As we discussed on the GFFN Preview Show last week, it would seem Valbuena has been something of a scapegoat for Lyon's (relatively) poor form since the end of the 2015/16 season.
Valbuena signed amid much fanfare, adding to the scintillating attack that had pushed OL so close to the Ligue 1 title that year of Alexandre Lacazette and Nabil Fékir. But as Hubert Fournier's Lyon reign unraveled, Valbuena failed to set the world alight and, despite some good display's overall, he has eventually been marginalised.
Nevertheless, he proved his quality on Sunday night via a well taken equaliser which put Lyon as favourites for the win over PSG in a thrilling encounter. Lyon dominated the second half only for a swift counter attack and close range Cavani finish to nick the three points for Paris.
Considering the huge Champions League visit of Sevilla next week, Genesio has a choice to make. With Fékir struggling and Ghezzal failing to consistently find the form of last season, Valbuena is making a strong case to start. The little magician could yet be the difference for Genesio this season.
Team of the Week: Stéphane Ruffier, AS Saint-Etienne; Fouad Chafik, Dijon FCO, Joris Gnagon, Stade Rennais, Thiago Silva, Paris Saint-Germain, Lucas Lima, FC Nantes; Bernardo Silva, AS Monaco, Tiemoué Bakayoko, AS Monaco, Thibault Vion, FC Metz, Francois Kamano, Girondins de Bordeaux; Valere Germain, AS Monaco, Edinson Cavani, Paris Saint-Germain.
Goal of the Week: Simon Falette, FC Metz