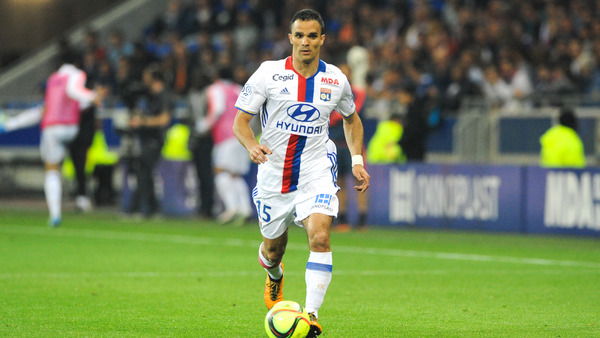 The Ligue 1 Review – Week 17
Eric Devin and Adam White return with a look at Matchday 17 in Ligue 1.
1 | Marseille Turn the Tables
When Rudi Garcia took charge of Marseille, the club were in the midst of a six-match unbeaten streak in all competitions. Despite some fine displays initially (that 0-0 in Paris), the club have struggled to find consistency, torn apart by individual skill on the counter by the likes of Monaco and Montpellier.
Cue a visit to Dijon, then, a club who not only have the defensive nous to frustrate opponents, but can also play some lovely one-touch football, Frederic Sammaritano and Loïs Diony among the chief instigators in this regard.
Marseille did indeed struggle to break down their hosts early Saturday, with Bafetimbi Gomis missing a handful of chances before netting the winner. L'OM deserve credit for their perseverance in a match marred by fog, but what was more impressive was their adaptability.
Rather than being undone on the counter, Marseille actually ceded possession to Dijon, allowing the hosts to control the ball, largely through the efforts of Mehdi Abeid. Long-term fans of Marseille would surely be disappointed to see their ambitious club playing reactively against a promoted side, but it's hard to argue with the strategy's effectiveness.
The two aforementioned losses aside, Garcia has shown extreme flexibility in his various approaches, willingly varying formations and personnel to adapt to opponents' styles, as this match sits in strong contrast to the way the team dominated the ball against Nancy a week ago.
The club now sit just three points off of fifth place, with Bastia and Lille their final two fixtures before the winter break; European football, seen as a pipe dream, may now just be within reach, and their new manager's plasticity is increasingly the reason. – E.D.
2 | Monaco will be just as pleased as Man City fans with the Champions League draw…
After the Champions League draw yesterday, much of the English based reaction seemed to focus on the simplicity of the tie handed to Manchester City. However, despite the quality at Pep Guardiola's disposal, Les Monegasques will be quietly confident ahead of their trip to the Ethiad Stadium. Monaco are arguably Europe's form side and after the 4-0 mauling of Bordeaux on Saturday afternoon, they continue to average more than 3 goals a game this season.
Leonardo Jardim's side won a tight group with a game to spare; brushing aside Spurs and getting the better of strong Bayer Leverkusen side. Although, admittedly, City are a step up, the form of Falcao (14 goals in 16 games this season) and the continued blossoming of Bernardo Silva and Thomas Lemar into two of Europe's premier young talents, as part of a free-flowing attacking unit with goals coming from all areas, will mean that anyone in the last 16 would have to be on peak form to put Monaco out. After City's 4-2 loss at Leicester this weekend and recent Monaco wins over Spurs and Arsenal, Jardim and co. will be eagerly anticipating another trip to England. – A.W.
3 | Old Dog, New Tricks
Rennes's need for a clinical centre forward continued to be clearly evinced against Lyon on Sunday. The visitors had thirteen shots, but failed to find a way past an in-form Anthony Lopes. Granted, there is no shame in coming up empty against one of France's best 'keepers, but what may have been overlooked in the club's performance is the strong performance put in by Jérémy Morel.
The veteran left-back has been a dependable presence for Lyon this season, whether playing as part of a back three, as a wing-back or in his habitual position. His quietly composed season was far from a given this summer, as the club had brought in Polish international Maciej Rebus.
The former Terek Grozny man was nominally acquired as a replacement for Henri Bedimo, but with Morel 33 by season's end, the writing was on the wall.
Instead, however, he has offered a necessary stability at the back for Lyon. While his pace and attacking intent will never be what they were dating to his time at Marseille, what he has offered instead has been even more important.
His increasingly defensive inclinations give Lyon balance when Rafael gets forward, as is his want, but he also has been important in the development of Mouctar Diakhaby.
The lanky youngster has been one of Ligue 1's surprises this season, and much of his developing positional sense and confidence is down to the play of Morel. The little left back readily covers Diakhaby's forays forward while still providing ample support for Mathieu Valbuena.
It's no coincidence that much of Le Petit Velo's recent improved form has come with his former Marseille teammate in the side, as his confidence in Morel allows him to play a freer role in the attack.
Given his advancing years, Morel is probably not long for Lyon, but his quiet determination has been indispensable; while OL may have struggled to date this season, what good has emerged is largely down to his assured presence. – E.D.
4 | Lucas Moura shows he is indispensible as Emery's team selection justly raises questions for the first time…
Unai Emery's start to life in Paris has been as inconsistent as Edinson Cavani's finishing this season. Professional, controlled displays at Arsenal and Lyon have been tempered by frustratingly limp performances in Le Classique and in losing to Monaco and Toulouse earlier in the campaign.
However, in the last week, the Emery reign came close to disintegrating entirely. Up to now, most of his decisions have made sense, despite not all of them coming off. The use of Jese and Hatem Ben Arfa as reserve strikers, the move to 4-2-3-1, his persistence with an Angel Di Maria on cruise control and the use of Matuidi in a forward role at Arsenal have all been justified despite being met with varying success.
Sunday night's crunch game with leaders Nice was different. Lucas Moura has repeatedly proved himself as PSG's most consistent, exciting and creative forward this season. His pace and skills have offered something different to an attack that has been devoid of ideas and confidence for long swathes of the last year or so, flourishing in the space left by the departing Zlatan Ibrahimovic as Edinson Cavani moved inside.
As a result, Emery's decision to drop him for the crucial Nice encounter was baffling and a sign of the lack of confidence that now seems to be enveloping the capital club. Emery chose to leave out Ben Arfa too, (who has been excellent since returning to the side in a central role) which made sense; a switch back to the 4-3-3 used to such good effect under Blanc made sense for such a big game with the players more accustomed to the set up.
But the move of Matuidi to left wing with an out of form and struggling to settle Grzegorz Krychowiak coming into midfield paid their opponents far too much respect and showed that Emery was more than a little concerned about the threat posed.
Granted, Nice are an excellent side but given the relative strength of the squads and that the game took place at the fortress that is the Parc des Princes, a defensive move made far less sense than it did at the Emirates.
2-0 down at half-time on Sunday night and staring at their third terrible result in 8 days, it was no surprise to see Moura introduced and perhaps equally so to see PSG level by the hour mark. Going forward, especially in Ligue 1, PSG need to rediscover that dominant, arrogant attitude that has characterised their recent monopoly on the title or risk showing weakness. A weakness that their rivals will gleefully exploit. – A.W.
5 | De Preville Strikes Again
Eder was welcomed back to Lille as a conquering hero this summer, his late winner for Portugal making him an unlikely pivotal figure in the European Championships. However, he has struggled mightily with his fitness, and is currently injured after a disappointing start to the season.
With Junior Tallo and Ryan Mendes also struggling for fitness, interim manager Patrick Collot turned to summer signing Nicolas de Preville to lead the line. The results have been nothing less than remarkable, with the former Reims man netting in each of the last three matches, all victories for Les Dogues.
Now clear of the relegation scrap, Europe is suddenly a realistic target with Ligue 1's crowded midtable, and much of it is down to de Preville, whose move to Lille from Reims saw him signed as the nominal replacement for Sofiane Boufal.
While Boufal was a tricky, jinking sort of player whose temper and tactical indiscipline sometimes outweighed his attacking abilities, de Preville comes with no such baggage. Despite being used more often as a wide player at Reims, the centre forward's role is a more natural fit.
Blessed with good pace, physicality and a strong work ethic, his ability to not only be a focal point in attack but also facilitate play (witness his nine assists for Reims last year) make him the ideal front man in Lille's fluid system. The players who operate in support of him, Naïm Sliti, Rony Lopes and Yassine Benzia are equally quick and deft with the ball at their feet; his own more robust physique makes him more naturally suited to be the centre forward.
Lille's European credentials are bound to be tested more sternly by Marseille and Rennes in the next weeks, but with de Preville thriving in his natural position, there is no reason to think the club can't continue their upward trajectory. – E.D.
6 | Could the firecracker incident have a long lasting effect on Metz's Ligue 1 survival chase?
The deplorable scenes as at Stade Saint-Symphorien ten days ago involving a firecracker thrown from the stands by a Metz supporter not only reflected poorly upon the club, French football and its fans as a whole and endangered the safety Anthony Lopes (who was admitted to hospital and temporarily deafened but fit to play the following Wednesday) but they may have ongoing repercussions for Metz's relegation battle.
The incident has clearly affected the camp, the insipid 2-0 loss at Bastia this weekend led coach Philippe Hinschberger to state that he didn't recognise his team and that they could not afford to only play at 60%.
This attests to a lasting effect of the events that caused the game with Lyon to be abandoned, as mentioned by defender Jonathan Rivierez: "After the game […] we did not say much. Everyone is changed, a little stunned. We felt an injustice," said Rivierez. "These events are beyond the sport. It was especially complicated earlier this week," admitted Rivierez before the trip to Corsica.
Not only is the game likely to awarded to Lyon but the stand from which the firecracker was thrown, home to the most vociferous of Metz fans, has been closed by the authorities until further notice, a big blow to what was a sizeable home advantage.
With the team already amid a slump in form, now compounded by the effect of the Lyon game, Hinchberger needs to find a way to provide his team with a new confidence and move on, even if this is only as a team, the club will be dealing with this for some time, or risk slipping further into trouble. – A.W.
7 | Angers Wearing Thin?
Last season, Angers were the feel-good story of the league, an unheralded and newly promoted side pushing for European football before falling away slightly at the season's end. Stéphane Moulin's charges nevertheless achieved survival comfortably, blending a resolute defence with a stout midfield and characteristic opportunism on the counter.
Set pieces were also key, as the deliveries of Thomas Mangani and the aerial ability of Cheikh N'Doye made the club a force to be reckoned with by anyone's standards. Optimism was furthered by the summer acquisitions of Famara Diedhiou and Karl Toko Ekambi, who had been two of Ligue 2's most promising attackers in the season prior.
Recruiting the best from the second division had worked wonders the previous season, as the likes of N'Doye, Romain Saiss and Billy Ketkeophomphone were key to the club's strong start to life in the top flight.
Besides the two attackers, the club also added goalkeeper Mathieu Michel and defensive midfielder Baptiste Santamaria, giving the squad needed depth; some had even tipped the club for an improved finish. Things have gone less than swimmingly to date, though, as the club have won just once since mid-October and are now just four points off relegation.
Last year, Moulin eschewed rotation in his side, with eight outfield players featuring in thirty or more matches, and has proceeded in similar fashion this season. It may, however, be starting to catch up with his players, who looked dead on their feet against Nancy Saturday.
Credit to the hosts is due, but Angers' performance was littered with uncharacteristic individual errors, a telltale sign of weariness in a team for whom discipline and focus were so important last season.
The club has some supremely talented individuals, but not to a level that guarantees their safety. If Moulin can't begin to trust some of his squad players in the odd match, Saturday's performance could quickly become the norm, pushing Le SCO further down the table. – E.D.
8 | It's time for Christophe Galtier to concentrate on Ligue 1 with their glamour Europa League draw something of a get out of jail free card…
Whatever the draw brought on Monday morning, one thing was clear: St Etienne do not have the quality to win the Europa League, nor do they have the form or the fitness to challenge on both fronts for an entire season.
A run to the quarter-finals is possible with the resources at their disposal and, arguably, with a favourable draw, the semis are not out of the question but nevertheless the collective threat posed by Roma, Villarreal, Shakhtar Donetsk, Spurs and Gladbach is too great for Christophe Galtier's men.
Winning their group via a miraculous comeback against Anderlecht was a massive bonus, in one of the best halves of football from Les Verts so far this season but one not they truly deserved.
Very late goals rescued points against Mainz and Anderlecht while a fortunate OG beat Qabala. St Etienne, as they have for much of this season, scrapped their way through in truth.
The glamour draw with Manchester United, however, is the perfect tie for the club. Firstly, for Galtier the tie represents something of a free hit. No one expects them to win. The clubs expected progress in the Europa League this season and having already met the bare minimum, a courageous loss to Jose, Pogba and Ibra in the knockout stages will like be seen as a decent return on their European excursion.
It will put Galtier under no added pressure to make it deeper into the tournament. Secondly, and obviously, the game will create a fair degree of fanfare and excitement for the fanbase as well as the club as a whole, while players will be desperate to play (Romain Hamouma stating before the draw, this would be his dream tie), perhaps leading to a greater degree of intensity from certain individuals that has been visibly lacking this season.
And thirdly it allows Galtier to concentrate on the club's league position, the second of his major objectives this season, as a return to the Europa League is again a bare minimum requirement and, despite Hamouma's goal to beat Guingamp on Sunday, ASSE still sit down in 8th. A packed Stade Geoffroy-Guichard awaits Jose Mourinho for what will be some occasion. Allez Les Verts! – A.W.
9 | Nantes' Free Pass
Spare a thought, then, for Nantes and their devoted fans, who saw their crucial match against Caen moved to an unknown date in 2017. The Beaujoire must have been ready to let loose its customary vociferous display, as the appointment of new manager Sergio Conciecao was poised to be an important olive branch from the club's hierarchy after the disappointing tenure of René Girard.
Severe weather was an issue in much of France, with fog being an issue in several matches, most notably Lorient's visit to Toulouse. But, was there a silver lining for Les Canaris and their supporters?
Even though Conciecao was likely not to have been on the touchline Saturday, the new manager can now ease himself into his role with a Coupe de la Ligue match against Montpellier. La Paillade opted for a rotated side last time out in the competition, while Nantes embraced a potential cup run, putting in an accomplished attacking performance against Angers.
The club have also made tickets available for €5, guaranteeing a good-sized crowd. While goodwill may be in short supply in Brittany, the delaying of the weekend's match will allow Conciecao a bit of a free pass against an injury-hit visitor who are likely without key men Ryad Boudebouz, Ellyes Shkiri and Morgan Sanson.
Recording a win in style will do much to put the new man in charge in the fans' good graces, as opposed to the potential repercussions of a loss to a relegation rival. – E.D.
10 | Ola Toivonen proves his worth…
A strength of Toulouse during the Pascal Dupraz reign has been their youthful squad and the willingness to blood youngsters, an attitude that started under Dominique Arribage with the introduction of Alban Lafont, Issa Diop, Alexis Blin and Yann Bodiger.
Dupraz has continued to put managerial faith in that generation of players while also blooding a group of his own. To varying levels of success, teenagers Clement Michelin, Kevin Amian-Adou, Odsonne Edouard and Ibrahim Sangare have been used by Dupraz this season, often at the expense of more experienced players.
But coming into the weekend's game with Lorient, Toulouse had been suffering through and injury crisis and a severe lack of form, winning just one of their previous 7 league games. Persisting with the younger men as the injury list grew has been admirable but perhaps ultimately detrimental, as without the more experienced heads around the fledgling newcomers, some had started to flounder.
Ola Toivonen, on the other hand, is now thirty and despite his Ligue 1 experience, international quality and some standout displays in 2016/17, a brace in Lille to beat the hosts jumps to mind, he has been (for a man of his stature in this league and at this club) somewhat marginalised.
Often brought off early or dropped for certain fixtures, his ability to influence has been underappreciated a little. But with Les Violet's entire first choice back four absent along with the longer term absentees Trejo, Akpa-Akpro and Doumbia, it was the Swedish international's hat-trick that won the Southerners the game by the odd goal in 5 late Saturday night.
One arrowed drive through the thick fog early on opened the scoring and a lovely dinked finish to seal the points  and the match ball in the second half proved that Toivonen is still a man to be taken seriously, not just by French football but by his manager too. – A.W.
Team of the Week: Stéphane Ruffier, AS Saint-Etienne; Djibril Sidibé, AS Monaco, Loic Perrin, AS Saint-Etienne, Kamil Glik, AS Monaco, Jérémy Morel, Olympique Lyonnais; Bernardo Silva, AS Monaco, Wylan Cyprien, OGC Nice, Mehdi Abeid, Dijon FCO, Mathieu Valbuena, Olympique Lyonnais; Radamel Falcao, AS Monaco, Ola Toivonen, Toulouse FC
Goal of the Week: Wylan Cyprien, OGC Nice