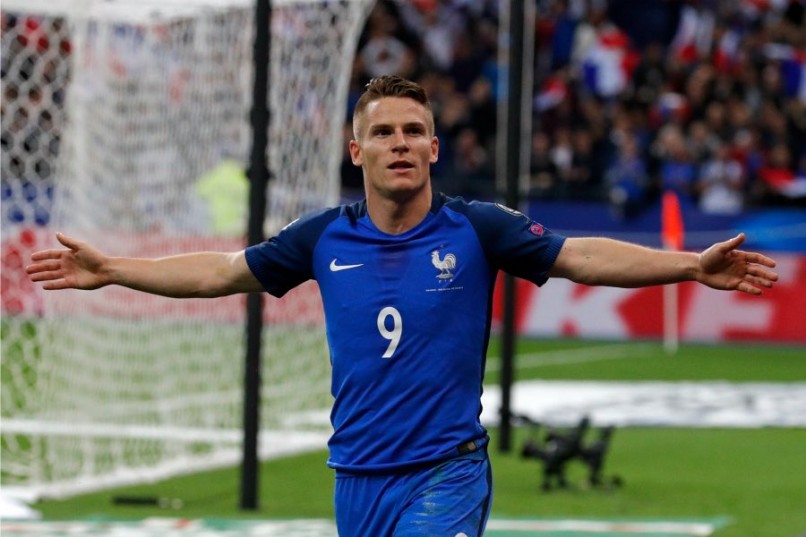 THE VERDICT | Deschamps, why you must go with Gameiro
The slow-burning career of Kevin Gameiro is once again in the spotlight after his incisive brace on Friday against Bulgaria.
The former Lorient and Paris Saint-Germain player was, on the back of a massively impressive 2009-10 season for Les Merlus, on his way to the capital club as a demonstration of bringing talent from other French sides.
His ambitions soon stalled, however, as, after a middling first season in which, despite starting most matches, his statistics were eclipsed by those of Nene.
When Zlatan Ibrahimovic arrived the next summer, he became an even more peripheral figure, and his move to Sevilla in 2013 was unsurprising.
His time in Spain started slowly, but by that season's run-in, he had found he had found his comfort zone, rattling in nine goals in as many matches during a crucial stretch.
The following two seasons saw further improvement under Unai Emery's guidance, his pace, energy and finishing making him the ideal outlet for a counter-attacking side.
His performances in winning the Europa League and doing well in Spain caught the eye of Atletico Madrid, and his move to the Spanish capital has been similarly impressive, replacing Fernando Torres in Diego Simeone's 4-4-2.
Despite a slowly improving career since leaving Paris Saint-Germain, Gameiro hadn't previously figured in Didier Deschamps' plans, having featured a handful of times under the Laurent Blanc era.
With the bigger reputations of players such as Karim Benzema, Olivier Giroud and others, it was not hard to see Deschamps' logic in terms of dismissing the Gameiro option.
There were some calls for him to be included in the side ahead of the European Championships, but he had to settle for a place in the reserves, the more experienced Andre-Pierre Gignac rounding out the set of strikers picked for the tournament.
Now, though, the time was finally ripe for Gameiro to feature, as Alexandre Lacazette, Benzema and Giroud are all missing through injury during this international break.
After a brief cameo against Belarus, Gameiro was selected to start at the top of Deschamps' 4-2-3-1 with Antoine Griezmann behind him and Dimitri Payet and Moussa Sissoko wide.
After drawing in Belarus, three points were a priority before a daunting trip to the Netherlands, and the striker duly rewarded Deschamps' bold move, netting a brace in Friday's 4-1 victory.
A brace is an impressive feat, but there is certainly no small degree of hesitation to be derived as regards to the achievement, given the middling resistance offered by Bulgaria.
That said, did Gameiro show enough to warrant his inclusion going forward, even if it means a slightly changed system? The answer, in brief, is yes. This summer, despite the considerable reputation of Paul Pogba and the stunning goals of Payet, France's most important player was Antoine Griezmann.
Scorer of five goals and winner of the Golden Boot, the Atletico Madrid man's pace and finishing were sublime, even as he suffered through myriad tactical tweaks and personnel changes as Deschamps sought to strike the right balance.
What was clear, no matter the formation, was that he did his best work centrally, and alongside another striker.
Not wanting to give away too much in physicality, Deschamps opted to use two centre forwards, the other was often Olivier Giroud, who could be a decent foil, his experience playing alongside tricky, goal-scoring attackers manifest due to his time at Arsenal.
However, what could stymie some aspects of Griezmann's game (and that of Payet as well) was the lack of space in the box, as opposing defences sat deep, ready to battle Giroud for crosses or balls over the top.
The big Arsenal striker has a decent goal record for his country, but has never been one to pull opposing defences about, instead using his passing and hold-up play to complement his more obvious physical attributes.
As a result, Griezmann often found space hard to come by this summer, particularly when he was playing centrally. As Payet likes to cut inside as well, elbow room was decidedly at a premium at times. Enter Gameiro, then, who just may be Griezmann's ideal foil.
Quick, an instinctive finisher, a decent passer and a better physical presence than one would expect given his stature, the former Lorient player is a constant worker, endlessly making runs to split opposing defences.
However unlike wide players or attacking midfielders who are tasked with similar duties, the genuine goalscoring threat that Gameiro possesses means that these runs must be respected.
Beyond his abilities on the pitch, he has also demonstrated a relentless work ethic and a humble character.
Perhaps chastened by his downfall at PSG, Gameiro, at 29, is (perhaps in a way similar to Payet) aware of the vicarious nature of international success.
Not wanting this unexpected second chance to go begging, he should continue to put forth superlative effort, especially with Deschamps perhaps begrudgingly picking the team on form.
Benzema is still persona non grata, Lacazette and Giroud are struggling for fitness and form, and Anthony Martial seems not to figure as a centre forward.
France's latest no. 9 is certainly benefiting from a raft of injuries, but given his performance (and Griezmann's) on Friday evening, there can be no doubt that Deschamps should persist with this system, and Gameiro.