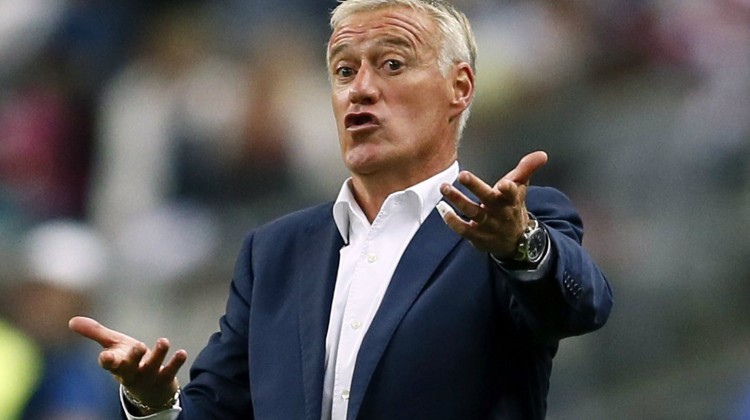 THE VERDICT | Didier Deschamps has rewarded national team experience over form, a safe path to EURO 2016 victory?
Didier Deschamps has exhibited an almost bizarre penchant for loyalty to certain players in his France squads since succeeding Laurent Blanc in 2012. Some of these loyalties have proven quite prescient, while others have not.
Germany's recent World Cup win suggests that, come an international tournament, there are more factors to consider than form, but in picking his 23-man squad for this summer's European Championships, has the former Marseille boss gone too far? In a position-by-position analysis, Get French Football News attempts to work through the logic of Deschamps' decisions and their potential impact.
Goalkeepers:
Hugo Lloris (Tottenham Hotspur), Steve Mandanda (Olympique de Marseille), Benoit Costil (Stade Rennais) 
Hugo Lloris had another fine season with Tottenham, leading the club to the Champions' League places and generally turning in assured performances. He remains one of the world's best goalkeepers in terms of his reflex abilities, even if his distribution is somewhat suspect on the odd occasion.
Steve Mandanda turned in a sublime campaign at Marseille, ably captaining the team through a tumultuous season despite a raft of injuries and questionable transfers. Both players are world-class and France would be at no disadvantage were one of the pair to come up injured; picking the pair has always been one of Deschamps' easiest decisions.
Third-choice 'keeper is another matter, however. Mickael Landreau went to the World Cup in 2014 in as third choice, in a gesture that was seen as an acknowledgement more of the veteran's career than of his form.
With Landreau retired and Cedric Carrasso injured, Deschamps had three realistic options: Stephane Ruffier, who was second choice due to Mandanda's injury in 2014, Alphonse Areola, who was recalled in the October friendlies but, at 23, is still regarded as one for the future, and Benoit Costil, the longtime Rennes 'keeper.
Taking Areola, who would be unlikely to see any action, but would gain much-needed experience by simply experiencing a major tournament, could have been regarded as not only keeping an eye on the future but also rewarding a strong season at Villarreal. However, with the tournament lacking a clear favourite, Deschamps' selections leaned towards experience, the youngster being included in the reserve list.
However, if experience is the mandate here, how is Costil Deschamps' choice over Ruffier? The Saint-Etienne man has been included in a major tournament before, whereas Costil has not, and is in much better form, having conceded only 14 goals in the league in 2016, compared to Costil's 31 over the same period of time.
It is unlikely that the third choice goalkeeper will see the pitch in the tournament proper, but this was only the first in a series of bizarre choices on the evening, some of which are much more likely to impact France's performances.
Defenders: 
Patrice Evra (Juventus), Lucas Digne (AS Roma), Laurent Koscielny (Arsenal), Raphaël Varane (Real Madrid), Eliaquim Mangala (Manchester City), Jérémy Mathieu (Barcelona), Bacary Sagna (Manchester City), Christophe Jallet (Lyon) 
Composing his back line, Deschamps followed form and picked eight defenders: four centre backs, two left backs and two right backs. Jeremy Mathieu can play left back in a pinch, adding a dash of versatility, but the four proper full backs are no surprise, with Evra still reliable at 34, Digne having impressed at Roma and Sagna improving over previous campaigns, having reclaimed the starting role from Pablo Zabaleta at Manchester City.
There was some doubt as to whether Deschamps would plump for Jallet or Mathieu Debuchy, but the veteran, on loan at Bordeaux, suffered an injury against Paris Saint-Germain on Wednesday, eliminating him from competition.
Central defence, with the injury to Kurt Zouma and the suspension of Mamadou Sakho, looked to be a part of the squad where Deschamps might offer a surprise or two. Impressive seasons by the uncapped Samuel Umtiti at Lyon and Loic Perrin at Saint-Etienne gave the Rhone-based duo high hopes, but both were left disappointed. Koscielny and Varane have featured extensively in the friendlies dating back to the World Cup in 2014, and were virtual locks, but the other two centre backs were somewhat surprising choices based on form.
Perrin has been one of Ligue 1's most consistent centre backs for years, and has been included in a few France squads in the recent past, although, at 30, he is still yet to earn his first cap. Umtiti is the division's best young defender, and continues to improve. Were Sakho and Zouma available, neither could have felt terribly hard done by to miss out, as Sakho's raft of experience and Zouma's improvement at Chelsea would surely have seen their inclusion.
However, the inclusions of Mathieu and Mangala will have surely left the duo fuming. Mangala is similarly aged to Umtiti, and at 25, does have a shade more international experience with 7 caps. However, after having seemingly turned a corner in the Champions' League this season, the former Porto player turned in a pair of miserable performances in the Premier League, a loss to Southampton and a draw to Arsenal that looked to have put his club's top four ambitions on shaky ground.
Despite his pedigree, his performances on the international stage have been similarly disappointing.
Mathieu is a vastly more experienced player at club level than Mangala, but also has a relatively scant number of caps. Moreover, the former Valencia man is recovering from a serious knee injury, no little concern at age 32. Again, much as with the exclusion of Areola, Deschamps has gone with experience, preferring the marginal international records of Mathieu and Mangala over the in-form Umtiti and Perrin.
Midfielders: 
N'Golo Kanté (Leicester), Blaise Matuidi (PSG), Lassana Diarra (Marseille), Paul Pogba (Juventus), Yohan Cabaye (Crystal Palace), Moussa Sissoko (Newcastle) 
Much like the other positions discussed to this point, the presumptive starters (Matuidi, Pogba and one of Kante or Diarra) pick themselves, the first two being holdovers from previous campaigns while the latter duo have ridden sublime form into the team. Diarra had been a bit of an injury concern after exiting against Bastia, but looks to be back at his best, ready to test Kante for the starting position at the base of midfield. The questions arise, then, when considering the roles of Cabaye and Sissoko.
Cabaye, like Diarra and Kante, is capable of playing any of the three midfield positions, so his versatility and experience make him a decent enough choice, especially as his competition, the likes of Morgan Schneiderlin and Maxime Gonalons, haven't been at their best of late. Sissoko, on the other hand, is rather less defensible from Deschamps' perspective.
The former Toulouse player turned in a few decent performances immediately upon Rafa Benitez's appointment, but has largely been disappointing since, his effectiveness in a central role marginal at best. Given the form of Hatem Ben Arfa and the comparable international experience of the Nice player, as well as his versatility, Sissoko's inclusion over Ben Arfa is a head-scratcher, especially given the placement of the two's respective clubs.
Attackers: 
Anthony Martial (Manchester United), Olivier Giroud (Arsenal), André Pierre Gignac (Tigres), Dimitri Payet (West Ham United), Kingsley Coman (Bayern Munich), Antoine Griezmann (Atletico Madrid) 
To conclude, the list of attackers offers a similar mix of easy options and at least one head-scratcher. Payet, Martial, Griezmann and Coman are all at different points in their careers, but each has reached a new level this season, and are deserved inclusions. Deschamps should look to start some combination of three of the quartet, likely Payet, Martial and Griezmann, as each also offer decent versatility.
However, with Griezmann set to start centrally, did Deschamps really need to take two big traditional forwards in Giroud and Gignac?
The Arsenal striker gave a poignant reminder of his abilities against Manchester City at the weekend, but his lack of consistent goal-scoring form for Les Bleus in the past, as well as his iffy 2016 for his club make his inclusion one seemingly based on the past rather than the present.
Granted, Deschamps does need one burly centre forward in the group, but Gignac has been in superb form since his move to Mexico, and looked the business in the most recent friendlies. Again, experience seems to be the determining factor here, as Alexandre Lacazette seems to have the most about which to complain.
The Lyon striker has been the complete package in 2016, not only scoring with aplomb, but also acting as a leader on the pitch. The only argument against Lacazette would be that perhaps he doesn't offer anything different from Martial or Griezmann as a centre forward, and while that is a fair point, the decision to go with both Giroud and Gignac over the Lyon player seems to subvert it.
Again, the decision is, at its heart one made through the warped lens of experience over form. With almost a month to go until the tournament proper, things may still change, but the fear here is that Deschamps, in badly wanting to prove his worth by winning the tournament may have taken a bit myopic of a view with his selection, as experience's battle with form appears to have a decisive winner.