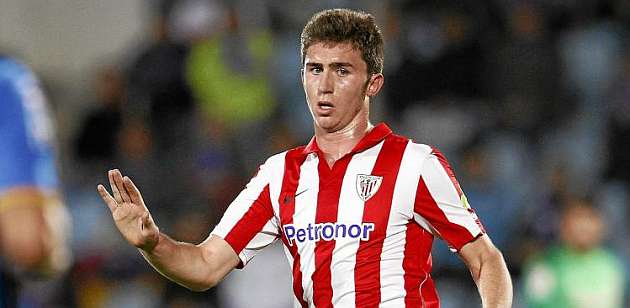 THE VERDICT | Didier Deschamps must be praised for calculated Aymeric Laporte pick
When the news came out yesterday that Athletic Bilbao central defender Aymeric Laporte had received his first call-up for the senior team, his selection, rather than being seen as a momentous occasion in a young prospect's career, has instead been greeted with a collective shrug.
Laurent Koscielny and Raphael Varane remain the first choice centre back pairing, but due to a lengthy injury list, manager Didier Deschamps was rather starved for options.
Mamadou Sakho, Samuel Umtiti, Kurt Zouma and Adil Rami, all starters in recent times, are injured. Beyond that quartet, players who previously have been on the fringes, such as Eliaquim Mangala and Loic Perrin are badly out of form or also struggling for fitness (Mangala has received a call anyway for Mathieu who has decided that he no longer wants to play a part with France).
Young Paris Saint-Germain defender Presnel Kimpembe may have been in contention as well, but given the lengthy aforementioned list, did Deschamps have any choice?
The Under-21 team have been all but eliminated from qualifying for next summer's European Championships, and Laporte's leadership therein would be less necessary as Les Espoirs were set to play two essentially meaningless matches. This is all true, yes, but is this view not a least a little bit cynical?
Could Laporte play a meaningful role with Les Bleus in the near future? After all, given his history with his club, he is also eligible for the Spanish national team, and with both Sergio Ramos and Gerard Pique past or nearing thirty, there would appear to be more ready-made opportunities there.
The same cynic would here take the view that in selecting Laporte and playing him in a competitive match, he is avoiding that issue. Here, Deschamps is stealing a march on a Spain team that have used similar tactics in the recent past (Munir El-Haddadi, Inaki Williams) to cap-tie their young prospects.
This is a tactic of questionable morality, but in a modern world of often-fluid nationalities, it is perhaps necessary to some extent, even at the expense of a young footballer's development.
Cynicism aside, though, Laporte could yet play a role for his country. Laurent Koscielny has been a fine servant for France, but celebrated his 31st birthday earlier this month. Whether he can be relied on beyond the current cycle of qualification and tournament is doubtful, but what of his younger teammates?
Raphael Varane is a great prospect, and his standing at Real Madrid is much-improved this season, seemingly having finally passed Pepe as Zidane's first choice alongside Sergio Ramos. Given that he wore the captain's armband in the last set of international fixtures, he looks set to be an important part of the future, and the same should be said for Samuel Umtiti, currently out with a groin injury.
The other long-term injury for France's centre backs is Kurt Zouma, out for close to a year after suffering a torn ACL, and it is he that will likely be Laporte's main competition, given that both have a similar skill set.
However, there remains an important factor here, and that is Deschamps' marked proclivity for left-sided and right-sided centre backs.
Laporte is left footed and is generally played on the left of the central pairing for his club. Umtiti had done decently well in that space in the summer, and is certainly a more cultured player than Laporte, but his lack of size and physicality can make him a liability at times. Alongside either Zouma or Varane, a sturdier second option is necessary, and Laporte fits that profile to a tee.
Thus, while he may not be a regular part of the squad until after Russia 2018, and may never be a regular starter, Laporte should yet prove his value. It may seem cruel to pick a player and let them twist in the wind during a lengthy qualification campaign, but with Spain circling, Deschamps had little choice.
In adding Laporte to the fold, he now has four central defenders, two for each side, and all 23 or younger. For all of France's ballyhooed attacking talent, the team will need a solid platform upon which to base their style of play, and in the Athletic Bilbao man, they just may have the final piece of it.