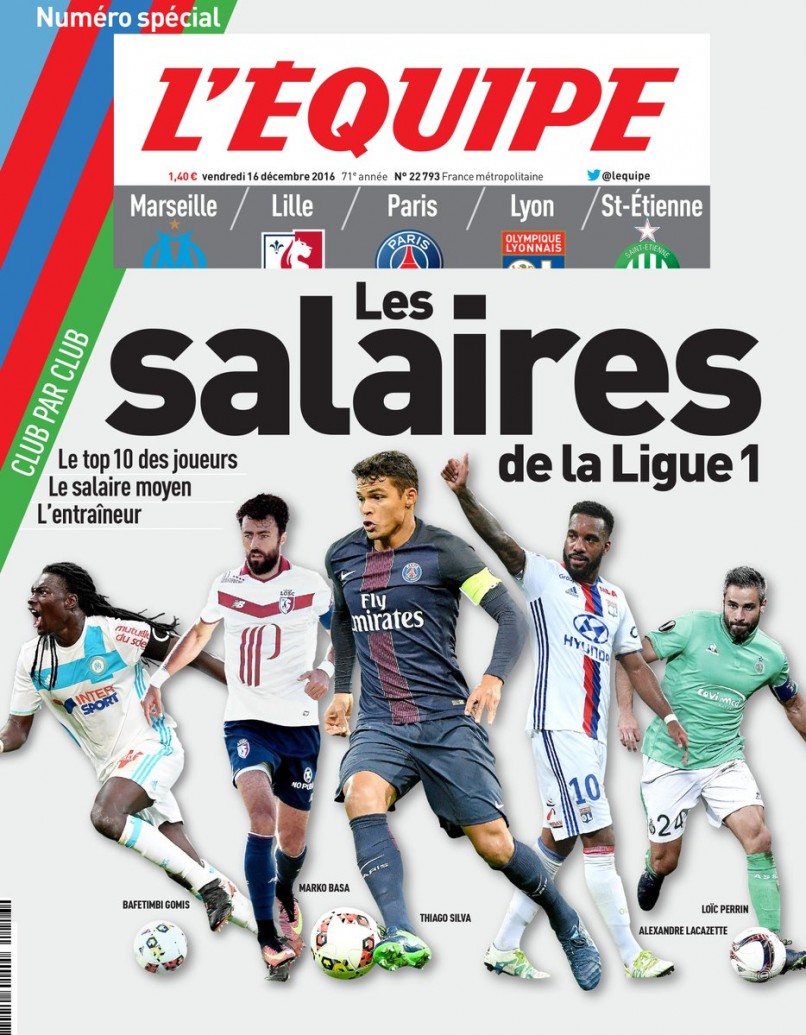 THE VERDICT | Does the publication of player salaries do anyone any good?
"Le Parole est d'argent, mais le silence et d'or", an old French proverb, but evidently one newspaper L'Équipe must not have heard, as they controversially announced the results of their latest report on player wages today.
'Les Salaries de la Ligue 1' the title reads, as France's biggest sporting newspaper reveals the largest monthly salaries of the top 10 players in each club, along with a breakdown of the biggest changes by club year-on-year. While goal and appearance bonuses are not included large-scale, they are specifically mentioned in regards to certain players, in a move which is sure to lead to some embarrassment and tension in Ligue 1 changing rooms across the country.
For a nation that claims to be usually so secretive about its finances, it is a bit of a shock that this series has continued for as long as it has, and has served to become only more and more detailed. Individual players are signalled out for their rising wages, though across the board it seems that apart from the top two of PSG and Monaco, most clubs have had to lower their salaries.
Predictably, the Qatari-backed Parisians hold the top spots (All of the first-five play in Unai Emery's team, and only Radamel Falcao (AS Monaco), Mario Balotelli (Nice) and Bafetimbi Gomis (Marseille) penetrate a PSG dominated top-10. On average, Ligue 1 players make just under €50,000 a month not including bonuses.
At this point, before we delve into the specifics, it is crucial to note that these figures are simply estimates, based on the overall salaries of the players (which are probably estimates themselves). So there are still some doubts to how accurate these figures are, and indeed how worthwhile this study actually is.
As French star Paul Pogba reportedly takes in around €1.4m million a month after his big money move to Manchester United, Ligue 1's highest earner, Thiago Silva, is not too far off on €1.1m a month. Following him is Angel Di Maria (€900k) and Edinson Cavani (€800k) showing that the South Americans seem to be the best paid in the league; Blaise Matuidi is France's best earner on €750k.
At the other end, Metz (€24,600), Nancy (€23,900) and Dijon (€20,600) round off the bottom three, though even at these three there are outliers. At Dijon for example, French international Marvin Martin is on €180k a month, over eight times the monthly salary (though €100k-120k of that is paid by parent club Lille, depending on games). At Metz, Hannover loan signing Melvut Erding is on €100k of which €40k of that is paid for by the German side.
Over on the touchline it is PSG manager Emery who predictably picks up the top buck, reportedly earning more than double of his nearest rival, Nice boss Lucien Favre. Emery earns €420,000 a month according to L'Équipe, while Favre (€200k) and Monaco manager Leonardo Jardim (€180k) round off the top three.
The bottom three clubs for players rank their managers higher, with Nancy boss Pablo Correa (13th, €45k), Metz manager Philippe Hinschberger (14th, €40k) and Dijon head Olivier Dall'Oglio (17th, €30k) further up the rankings than the players they take control of. Lille caretaker manager Patrick Collot is bottom of the list on a meagre €15k but doing well having taken control from Frédèric Antonetti in mid-November.
All of the figures doled out, the question must be asked to whether it is indeed a good thing that we have this information? While it would be naïve to imagine that players and managers don't already have a base idea of where they stand within the pay bracket of a club, to see individual figures applied to players can only be a worry for said players and their agents. Motta has apparently had his salary quadrupled since arriving at Paris; is that putting a target on his back for fans and fellow players alike?
Particularly in the clubs where money is tighter, it puts more pressure on club owners to grand performing players increased salaries, based on the fact that incoming loan players seem to receive the most combined; however again bonuses may appease this situation, at least in the short-term. Undoubtedly it will be the cause of some tension within dressing rooms, whether outwardly expressed or not, and with Ligue 1 falling behind other European leagues in terms of money offered, and France's top stars opting to play abroad, will we ever see a return to the days of French football eating at the top table of Europe?
Moreover comes the moral question; do we have the right to see what our favourite stars earn? What gives us the right to peer into the salaries of employees working for private companies, regardless of whether they be in the public eye or not? Employees, which as one commentator in today's Le Parisien pointed out, contribute billions to the French economy every year by providing employment, economic stimulation, and paying huge amounts in tax both personally and through the clubs.
More questions than answers therefore from L'Équipe after today's findings therefore, as there will be more than a few readers shifting slightly uneasily over the personal financial information of their idols over a coffee this morning. Questions will be raised about the journalistic integrity of these figures laid bare around the café tables and dressing room benches, specifically at clubs like OGC Nice and Dijon where there are a  handful of players who earn so much more than the rest.
It may make a 'good' Friday story ahead of the final weekend of Ligue 1 action before Christmas, but, depending on the backlash, the newspaper may find that silence is indeed golden after all.