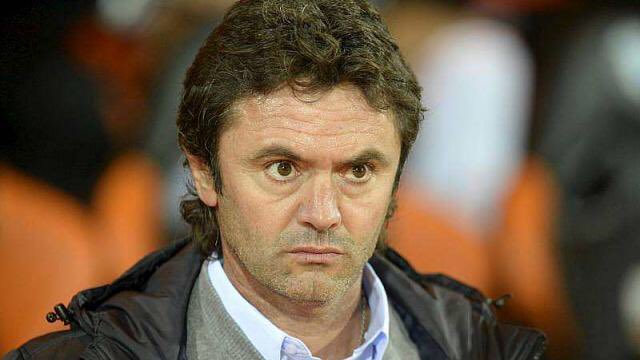 THE VERDICT | FC Lorient: A tale of woe
The headline story coming out of Lorient this summer was the decision to get rid of the artificial pitch at the Stade du Moustoir in favour of the real thing. If only they had done the same for their rigid players, then Sylvain Ripoll might still have a job.
And it started so positively against Caen on the opening weekend. Les Merlus were 2-0 up before half an hour had been played, Benjamin Moukandjo and Majeed Waris combined wonderfully and they had the game by the scruff of the neck.
Then Zargo Touré was sent off for a professional foul as the last man and the game slowly unravelled from there. Two goals in quick succession meant Sylvain Ripoll's men did not even make it to the half-time break ahead and while they held on valiantly in the second half, Ivan Santini finally broke their resistance with three minutes to go.
A crushing blow for Les Merlus but a series of events that they could hope to recover from quickly against the famously homesick SC Bastia. Even though they had lost the advantage of their artificial pitch, this had to be a fixture fans were looking to and thinking that Lorient could win at a canter.
Instead, they were stung by a superb strike from Allan Saint-Maximin and they never recovered. Didier Ndong's parting gift was a first-half red card before absent defending allowed Bordeaux loanee Enzo Crivelli to double the Corsicans' lead before the break.
It only got worse from there as substitute Benjamin Jeannot's exuberance and the referee's eagerness combined, seeing the former given his marching orders after colliding with the official. Then came the icing on the cake as Crivelli struck a killer blow with nine minutes remaining: a wonderfully guided effort into the top corner.
If they could not hear the alarm bells ringing by then, those bells were surely deafening after a 2-0 loss to Marseille. The biggest club in France had not won at the Stade Velodrome in 15 games but they waltzed to victory against a Lorient side more willing to lie down and get their tummies rubbed than actually put in a shift.
Remy Cabella opened up proceedings with a decent free-kick that Benjamin Lecomte should do better with, before L'OM were allowed to march right through the heart of Lorient's defence for Bafetimbi Gomis to seal a deserved win. Lacking in guile, toughness and any edge up top, Les Merlus were soundly beaten.
Even after that low point, it somehow got worse. A 2-0 defeat to newly-promoted and previously winless Nancy has been the exclamation point in what has been a dreadful start to the season. They didn't even make it difficult for a team low on confidence themselves and Ripoll already looked like a dead man walking.
The despondent manager got a reprieve in the next game as his side beat an equally dismal Lille before coming away pointless in a knife-edged encounter with Guingamp. Then a glimmer of hope came in the form of a solid 1-0 win against Lyon where goalkeeper Lecomte showed his true class. This should have been a platform for the team to build upon.
A somewhat unlucky defeat to Nice was then compounded by a comprehensive 2-1 loss against Nantes and club boss Loic Féry's patience began to drift away. A tough loss in the final minute against fellow strugglers Dijon, with Jordan Loties popping up with an injury time winner, was the final nail in the coffin.
Rooted to the bottom of Ligue 1 and four points off safety, Ripoll was dismissed.
The lack of goals scored were Ripoll's eventual downfall as he simply could not get anyone other than Moukandjo firing, with the Cameroonian international scoring four goals. Even then, two of those strikes were penalties and when you only have two other goals from your entire squad, there's a serious lack of an attacking threat that needs to be addressed with fresh ideas.
Majeed Waris is one man who clearly needs to step up his game. The Ghanaian international scored 11 goals last season but is yet to get off the mark this campaign, where some dismal misses have slowly sapped away at the confidence of the previously regular Ligue 1 goal-getter.
The midfield has not helped much either, with only Maxime Barthelmé registering an assist so far. Jimmy Cabot gets a polite pat on the back for his goal but has not been consistently creative enough.
Walid Mesloub has also not recaptured his pre-summer form, still dealing psychologically perhaps with the club's decision to block him from joining Marseille. The overall lack of goal-scoring opportunities from Les Merlus so far makes the decision to allow Yann Jouffre to leave in the summer appear even more foolish.
The Lorient job seems like a poisoned chalice since the departure of Christian Gourcuff. The Gourcuff mantra of selling the club's best players for as much as they can and then reshaping the team with apparent "future prospects" simply did not work for Ripoll as it had in the past.
Losing a talent like Raphael Guerreiro was eventually inevitable. From a Lorient point of view, the Portuguese international was irreplaceable with their budget restrictions. Ditto for Didier Ndong, although the Gabonese international's situation is a little different.
FCL were powerless to have to accept the ridiculous offer from Sunderland on deadline day which did not give themselves enough time to adequately replace the midfield enforcer. By surrendering to the financial advantages of the Ndong sale, Lorient signed on for a choppy opening to the 2016/17 campaign. The last-ditch free transfer signing of Arnold Mvuemba is proving to have been both unacceptable for the Lorient faithful and slightly pointless based on his on-pitch performances.
The state of play at Lorient also explains why so many potential managerial replacements seem to be running for the hills. Both Elie Baup and Rolland Courbis have reportedly turned down the role, leaving Lorient in a rut searching for someone willing to come in and be their firefighter.
Finding the right man will be vital and their options are dwindling. Some may say they have time on their side but it is going to be a hard-slog until January for any manager with the squad in its current state.
Now, if only they can find the number of a local 3G pitch firm.