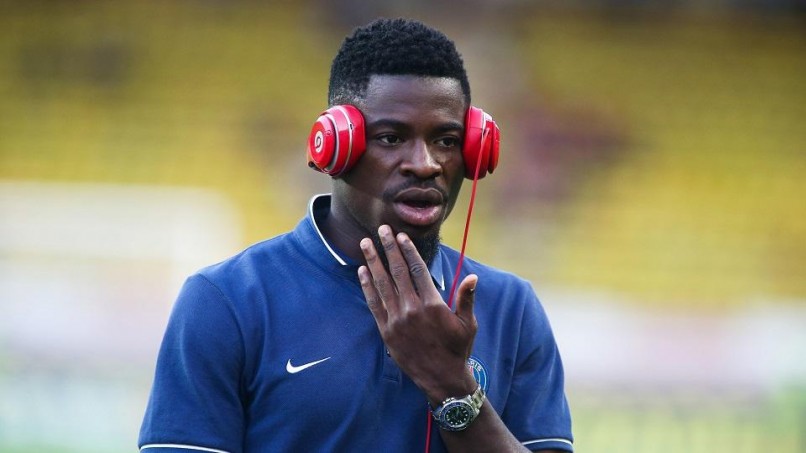 THE VERDICT | Serge Aurier's situation is a damning indictment of the realities of modern football
When you're a famous person, you must almost feel like your bulletproof. Money is an afterthought, people wait on you hand and foot and there must be those moments that make you think that you can do anything that your heart desires, be it legal or not.
That at least seems to be the mindframe of one such footballer in the French game. Paris-Saint Germain right-back Serge Aurier was handed a two-month prison sentence earlier this week for assaulting a police officer, his fourth offence with the law in recent years.
He will not serve any jail time due to France's flexible sentencing laws, which also does not mean the three-month suspended sentence earned in May will be activated either. The club have decided to stick by him during this incident as he intends to appeal, meaning he will continue to play for PSG in the league and in Europe, collecting his bumper wage packet in the process.
Does this sound like something that happens in the real world? Because it shouldn't.
This isn't the first time that Aurier has courted controversy. Other than the flirtations with the police in France, he has also had some mind-numbing moments off it that make you shake your head and wonder what planet he seems to be on.
Aurier had been banned two seasons ago for making insulting comments towards a referee on Twitter. It gets worse, last season he took to Periscope to insult his then-manager Laurent Blanc and fellow teammates, describing the French World Cup winner as "une fiotte" and insulting the likes of Zlatan Ibrahimovic and Salvatore Sirigu.
The Ivorian was banned immediately as he put forward an apology. It surely put the cat amongst the pigeons, his words had gone pretty far and his actions off the field have so far proceeded to undermine the skills he shows on it.
Only, in the world of football, that's all that matters. There should be no doubt in anyone's mind, on his day and at times last season, Aurier is one of the best right backs in the world. He has great attacking instincts, can glide past players to deliver that killer ball and has added real quality to PSG's right-hand side since his arrival from Toulouse.
That's the deciding factor in it all, as Paris Saint-Germain see no benefit in selling him. Should they look to find a buyer for him, they know that they will be low-balled by clubs looking to take advantage of his rocky reputation in order to get a bargain.
With that being said, it's not likely money has ever been the deciding factor for PSG during the Nasser Al-Khelaifi so the question really becomes is there a better option out there?
There are a few young up-and-coming players and a few talented full backs dotted around but none with his experience, combined with his talents and around his age of 23 where there is still room to grow.
The real hope from the PSG camp is that this is just some growing pains. As he enters his mid-twenties, he could mature to put some of these child-like behaviours and outbursts behind him so that he stops becoming a headache and leaves his talking for the weekend.
Whether PSG keeping him is ethical or not is irrelevant at this point. You can say everyone makes mistakes and although his are repeated infidelities, this is not unlike what we see across sports and within the celebrity culture in general.
The wider public is a sucker for a redemption story, a bad kid who turned his life around to do some good.
You see it all across social media whenever someone famous has done something wrong, even when it's proven correct, there will always be those who will live and die by those they idolise while their teams or companies facilitate that for profit.
If this was a real world setting, this would be last chance saloon for Aurier. After so many poor moments, despite any positive impact he has had at the Parc des Princes, he has turned into a PR nightmare and there should be a real concern that the next thing he does could embarrass and shame the club to an almost unrepairable degree.
However, football is not the normal world, it is an escape from reality, especially with the amount of money at PSG. They do not really care, so long as he turns up on a matchday and performs.
There is no financial or footballing benefit for them to get rid, they could not find a better option easily and for lack of a better term, it's easier for them to turn a blind eye to it than to deal with it properly.
Unfortunately, that is just the way the world works. Those in privileged positions get away with it while others in similar situations would have been crucified.
It's a sad indictment on the world but when it comes to being a professional footballer, you tend to have a little more than nine lives.
[Image: Le 10]