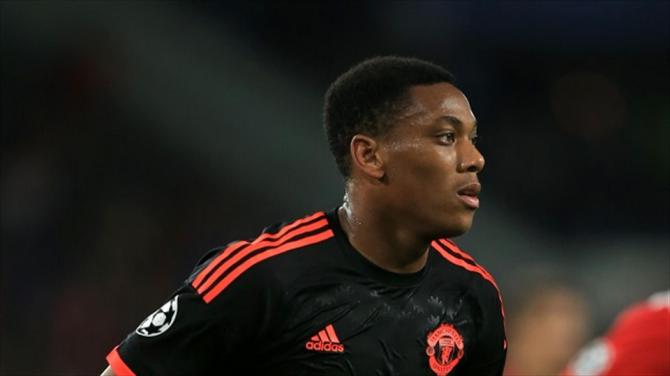 Top 5 Premier League Frenchmen 2015/16 | Anthony Martial (Manchester United)
Here, in the third instalment of a five part series by Jeffrey Gamby Boulger, GFFN lists our top 5 outfield Frenchmen in the Premier League this season in the build-up to EURO 2016. In 3rd position, Manchester United's Anthony Martial.
3: Anthony Martial
Manchester United have endured a hugely frustrating season, finishing below neighbours Manchester City, crashing out of Europe firstly at the Champions League group stage, and then with defeat to bitter rivals Liverpool in the Europa League, all while consistently losing key players in an injury ravaged season book-ended by their recent F.A. Cup triumph.
Unfortunately it is a hollow victory that does little to paper over the cracks of Louis van Gaal's hugely underwhelming time at the Theatre of Dreams.
However, there were brief moments of light in an otherwise pitch black season of disappointment under the totalitarian regime of the notorious Dutchman.
And nowhere is this more evident than with the emergence of the hugely talented Anthony Martial.
A crippling sense of boredom and lack of spontaneity has blossomed at Old Trafford during Van Gaal's unpopular reign, but the young superstar, surely destined for greatness, has been one of the few success stories in an otherwise turgid campaign.
From the first moment the little Frenchman stepped out onto the hallowed turf at Old Trafford to make his debut in September, and proceeded to make a mockery of Liverpool's Martin Škrtel with a stunning strike on his winning debut, he's been loved by fans and critics ever since.
Indeed, while United stuttered to a 5th place finish that flattered to deceive, and the team occasionally threatened to shake free from the shackles of the boredom that defined their recent identity under van Gaal, one of the only outfield players to genuinely impress has been Martial.
The Frenchman was supposedly bought for the future he will undoubtedly enjoy in years to come, and the potential that will surely see him amongst the elite talents of his generation. He was never intended to be thrust into the limelight and become such a sudden influential figure in a team so sorely lacking genuine firepower.
But despite his tender age, Martial has responded spectacularly. His dream debut instantly endeared him to the United fans and he was also pivotal in their FA Cup semi-final victory against Everton, with an assist for the first goal by Marouane Fellaini and then scoring an added-time winner to secure his club's place in the final where they defeated Crystal Palace, again in added-time.
Evidently Martial is a player of genuine substances and potential. Aside from his blistering pace and close control, Martial possesses a remarkable ability to carry the ball at speed and his dribbling enables him to glide past players with astonishing ease.
The Frenchman's dynamism is there for all to see: his touch is excellent and his technique is palpable. While others have wilted this season, Martial has been left to provide one of the only genuine attacking threats for United and it is a role he is learning to fulfil expertly despite his age.
He is by no means the finished article, but with his best years ahead of him, he already possesses the most crucial and fundamental qualities to help him push on and become the talent expected of him – simply put, he causes problems for defenders and has the ability to make a difference in games.
And in his maiden campaign, his performances have already garnered him significant adulation and acclaim.
In September he was named Premier League Player of the Month, the third-youngest player to receive the award after Micah Richards and Michael Owen, while in December he was awarded the Golden Boy as Europe's best under-21 player.
And the good news for both club and country is that the scope for Martial to still improve further is eye-watering.
So much so, that compatriot and fellow United legend Eric Cantona has compared the forward to Brazilian former Ballon d'Or winner Ronaldo. The Frenchman told MUTV:
"He's very mature for his age. I think he's the same kind of player as Ronaldo. Of course Ronaldo is a Brazilian, but he's as strong as him. Martial is skilful, he wants to score goals and he has good vision."
And with an average Whoscored.com rating of 7.24, the highest of any United player, it's not just fans, pundits and former players alike that have taken notice of the Frenchman's meteoric rise.
Martial scored an impressive 11 goals in just 28 league appearances this season, most of them important match winners, as well as receiving three separate Man of the Match awards.
Indeed, the stats also confirm that we could be witnessing the emergence of a new superstar, and a deserved entry in our Premier League Top 3.