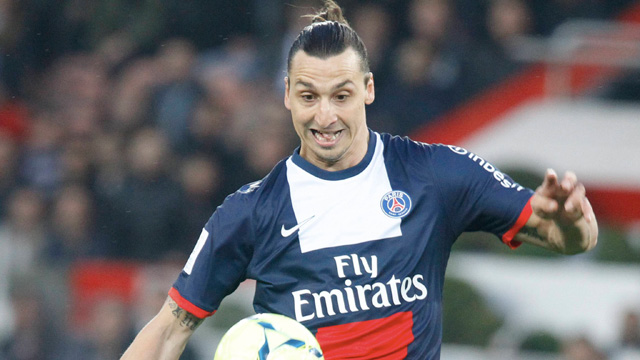 #WeekOfZlatan | Why Zlatan Ibrahimovic is PSG's best ever player
"I came like a king, left like a legend" nine words that will forever be remembered by every PSG fan and words that will further strengthen the legacy of arguably the greatest player to ever grace Ligue 1.
Zlatan Ibrahimovic is a phenomenon, a global superstar and one of the most decorated players to ever play the game. 11 league titles, 9 national cups, a UEFA Super Cup and a FIFA Club World Cup, spanning over 15 years and in 4 countries, tells its own story.
Whilst many expected Zlatan's exit from Paris this summer, nothing prepared any Paris Saint-Germain fan for the realisation when the confirmation was made on the player's official Facebook and Twitter pages two weeks ago.
Fans of PSG flocked to social media to pay tribute to the man who had given so much joy to the city of Paris in his four year spell.
The tributes were led by PSG president Nasser Al-Khelaifi who said "He has been there for me and the club when we have needed him, not only on the pitch. With the other players, the coaches, the fans and the media. He will always be in our hearts. Zlatan is part of the family".
The announcement also sparked a scramble for last minute tickets for PSG's final home game against Nantes the following evening.
40,000 free Zlatan masks were distributed outside the ground on the night, a guard of honour for the striker and a stoppage in the game in the 10th minute to a chorus of applause by PSG's biggest ever Ligue 1 home attendance.
This goes some way to understanding the appreciation of the Parisian faithful to the giant Swede. This was unprecedented and something that had never happened before in France for a player.
PSG's marketing team also got in on the act as within hours of Zlatan's announcement a t-shirt was designed with Zlatan's famous last quote which will go on sale later this month.
This is the measure of the man, Zlatan is a box office attraction, a headliner, a man who is incredibly confident of his capabilities and not afraid to deviate from what is perceived as normal.
Wherever he has played he has entertained the fans with some breath taking moments and an array of wonderful goals. He's a player that opposing fans love to hate but also one that commands respect for the incredible moments he can create.
Eyebrows were initially raised in 2012 when Paris Saint-Germain swooped to sign the striker from AC Milan. This was a player who had won titles at some of the world's biggest clubs including Juventus, Inter Milan and FC Barcelona and had just performed for Sweden at Euro 2012.
Ibrahimovic's signature wasn't just a huge signing for PSG, it was a victory for Ligue 1. A league devoid of ready-made world-class superstars, had lured one of the world biggest stars in football and more impressively, the striker was still only 30 years of age and in the peak of his career.
Zlatan scored two on his debut against Lorient which set the tone for a wonderful four years in Paris with a batch of incredible goals including his free-kick in a 2-2 draw at Marseille and not forgetting 'that' backheel against Bastia at the Parc des Princes in 2013 which won the Ligue 1 goal of the year in that season.
His strength, power and agility for a man who is 6'3'' tall and with a languid playing style was outstanding. His touch was sublime at times and this improved year after year in Ligue 1.
Ibrahimovic has beaten every record he has been faced with in Ligue 1. He finished as top scorer in 3 of the 4 seasons spent in France scoring an incredible total of 113 goals in just 122 Ligue 1 games. He was named Ligue 1 player of the year in 3 of his 4 years in France and was selected in the Ligue 1 team of the year on 4 separate occasions.
It hasn't just been the Swede's goals that have been the standout statistic, the striker's creativity in the final third has contributed to 13 assists to add to his 38 league goals in a record season in the French capital this season with PSG scoring 102 goals in Ligue 1.
Ibrahimovic's only regret would be not winning the Champions League with PSG – a team who he rates as the best he has ever played in. That night at the Etihad Stadium in April will still be tinged in sadness and disappointment for Zlatan and his teammates.
The Swede has been the catalyst behind the growth of PSG on the field and has undoubtedly helped attract a brand new fan base around the world ranging from shirt sales to the inauguration of PSG fan clubs in major cities across the globe.
He has been the face of the club, the talisman and arguably the most important signing in PSG's history.
In truth, it will not be just the fans that will feel the void left by the Swede, television broadcasters and journalists in France may find they have a little less to discuss such has been the impact of Zlatan over the last four years.
He has divided opinion at times but one thing that almost fan of Ligue 1 can agree on is that Zlatan has undoubtedly enhanced French football and helped to grow the interest in the league with Ligue 1 games now being broadcast in more countries around the globe than ever before.
So how do PSG replace Ibrahimovic? The simple answer is there is no like for like replacement. There are very few strikers past or present in world football who can score and create with such ease and post the impressive statistics that the Swede can boast.
But the same questions were asked when Pedro Miguel Pauleta played his last game for PSG in 2008. The capital club will move forward, the project is too big and too ambitious not to.
PSG may need to play a different style and formation to accommodate any incoming players and others within the squad, notably Cavani and Lucas, will now have the chance to come out of Zlatan's shadow.
It won't be easy, as there are some big boots to fill and there's no doubt that Zlatan's absence will be felt over the next year as PSG try to come to terms with losing their main man.
Is Zlatan Ibrahimovic PSG's greatest ever player? Absolutely. He has helped to revolutionise PSG and create a new spotlight on French football as a whole. He has given Ligue 1 so many wonderful moments and helped to sell out stadiums all over France.
Zlatan has become a role model to so many people and helped to inspire the next generation. As sad as it will be to see Zlatan move on, the time is probably right for him to go. He has achieved everything there is to win in France on multiple occasions and it seems that a new challenge is what the player and his family need at this time.
No player has made such an impact in such little time as Ibrahimovic and there is no doubt that Ligue 1 will be a poorer league for not having the Swede in it. Even at 34 years old he still has so much to offer his next club.
To use a quote from the great man "I'm only just warming up. Age is just a number. The difference is how you feel. I feel young, I feel very young".
Thank you Zlatan.