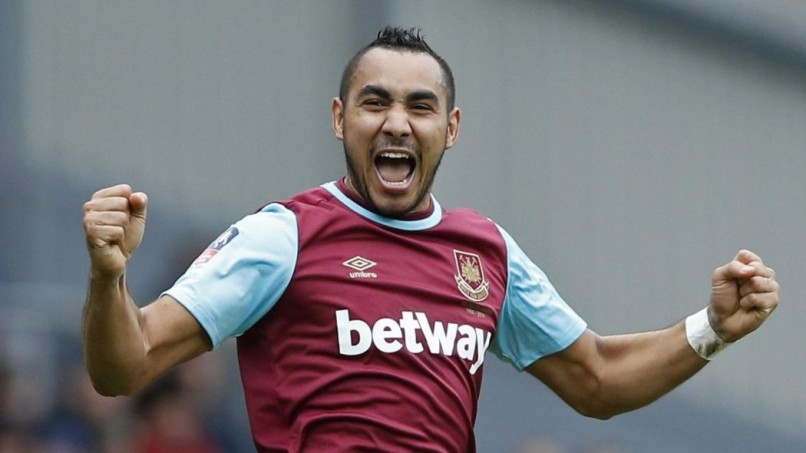 Why Dimitri Payet could be a hero for club and country this summer
As West Ham celebrate an enthralling 3-1 victory against Watford, the top of the Premier League table could not be more unexpected to anyone following the 2015/16 campaign so far.
Leicester City are enjoying arguably one of the most magnificent seasons of the modern era to top the table after being bottom exactly a year ago, as they set their sights on creating one of the greatest sporting fairytales of modern times.
Meanwhile, Tottenham are endeavouring to create their very own miracle this season as they continue to push Leicester until the very last game of the season in their unexpected quest for the league title.
And elsewhere, perennial rivals Arsenal, who started this season so strongly and looked on course to end their own wait for the league crown, have suffered their annual winter dip in form to now look destined for another top four consolidation.
Many people's choice for the title, Manchester City, have responded to the impending arrival of Pep Guardiola in the summer with a string of indifferent performances, meaning they could find themselves embracing the services of possibly the world's most coveted coach with a season in the Europa League, with Champions League qualification yet to be guaranteed.
But while performances have steadily improved again, culminating most recently in an excellent 4-0 win over mid-table condemned Stoke City, they are still locked in a battle for Champions League qualification with Arsenal and neighbours Manchester United, unless they can produce an outstanding finish to the season and push their way into more familiar surroundings at the top of the table.
In a season where the unexpected has become the expected, and predicting every twist and turn has proved more fruitless than ever before in the world's most entertaining league, if not the most technically accomplished, we are left to enjoy a deliciously unpredictable climax where anything can, has, and does happen.
But perhaps it is arguable, that in such a frenetic campaign, one team's current success has gone under the radar more than any other as attention is focused on the unlikely events at the top and bottom of the table.
West Ham's evolution from being a Premier league yo-yo team, often frequenting the top flight but unable to sustain their short lived cameos, into genuine European contenders is a stark story of astute transfer dealings, clever business acumen, shrewd manager appointments off the pitch, and most importantly a gradual rise in momentum on the pitch – always the most important and sought after ingredient in Premier League success.
And nowhere else is their season better summed up than in the performances of French maverick and virtuoso Dimitri Payet. A much maligned player, the talented creative midfielder has never failed to convince of his supreme talent or eye-catching ability, but sadly like a generation of compatriots the Frenchman has never been able to consistently tap into such profound quality.
So much so, that his summer move to West Ham failed to register anything above glazed interest to most English audiences, with few familiar with the name on the shirt, and even fewer fully appreciating the player it belongs to.
With 148 appearances, 25 goals and 33 assists at Saint-Étienne, 95 appearances with 19 goals and 30 assists at Lille, and 87 appearances with 15 goals and 30 assists during his time at Marseille, past statistics alone do not portray a particularly prolific or profound talent, worthy of such lengthy debate over his inconsistent potential.
Indeed, such similar returns point to a player well within his comfort zone in the south of France, plying his trade in the hustle and bustle of Ligue 1.
So, what makes Dimitri Payet so special? And why has he been able to suddenly re-energise a career in danger of never fulfilling its potential?
Well, to answer these questions one must delve a little deeper. While on the surface Payet's statistics alone to do not inspire confidence or raise pulses, if one takes a closer look, there are tell tale signs of a latent talent only now coming to the fore.
Although he might have never scored 30 goals in a single season, or created many worldwide headlines for his performances, the Frenchman does however have one quite remarkable record that begins to highlight why so many hours have been spent debating the frustrating inconsistency of such an obviously gifted individual.
That is, since 2010 and his time at Saint Etienne, Payet has managed to reach double figures with combined goals and assists in every single season. And when one considers that this includes playing for some of the top teams in France, and not within the comfort zone of a one club environment, the feat becomes even more impressive, to match many more obviously recognized and cherished stars from around Europe.
Plus, when one takes into account that the player has continued that record in his maiden season in England, with 12 goals and 11 assists at the time of writing, as well as domestic French honours that include being included in the Ligue 1 Team of The Year on two occasions, in 2012-13 and 2014-15, it becomes clear that for all his flaws and inconsistencies, this is a player with genuine pedigree and ability. But Payet's evolution is more than just overlooked statistics. How does a player, with so much promise, suddenly begin to realise their potential approaching 30 years of age?
The answer is not immediately obvious, or indeed down to one glaring factor. As always in life, there are many reasons one can highlight to pinpoint the Frenchman's renaissance for club and country, to explain his transition from a career in danger of stalling into a nomad existence, to now being nominated for the English PFA Player of the Year in his debut campaign.
Global exposure in the Premier League, coinciding with a purple patch in form, the impending EURO 2016 on home soil, and being surrounded by a well performing domestic team pushing for Europe has all contributed in giving Payet the boost he needed in order to, partially at least, fulfil such large promise and why he is only now being more widely recognised for the player he can still become.
In this respect, Payet shares striking similarities to France's other capricious maverick, the wonderfully talented but often inconsistent and woefully undisciplined Hatem Ben Arfa. Both have talent that has never been in question, both have endured battles with consistency throughout their careers, but both are now performing closer to their true potential than ever before.
However, whereas Ben Arfa could be argued more the flair player, a magnificent sight to behold in full flight, he has never come close to matching the all round contributions of his compatriot, who also boasts greater and more varied technical proficiency.
An astonishing dead ball specialist, with an eye for a pass, great dribbling ability and genuine footballing intelligence, Payet is on most levels the complete creative force.
And while it can be lamented that such players are only now truly hitting the heights their careers always promised, there is still hope that with this summer's European Championships only a few short months away, Les Bleus could still reap the rewards of two of Europe's more gifted players.
And with the national side rocked by recent scandals, there is arguably no better time for Payet to force his way back into a squad with cracks appearing, and spaces to claim ahead of the summer.
And unsurprisingly, Payet has flirted with the Premier League before. But while he is only now able to taste the turbulence of the English game, one can simply imagine what his career could have been had he graced English shores sooner. Arsène Wenger in particular has spoken about his compatriot, saying:
"I have known him for a long, long time.
When he played at St Etienne, he was there for a few years and we watched him many times. He has all the attributes to be a top, top player and he is that.
He is 29 years old already, but this season he has matured a lot as he has come back into the national team when he looked to be out. That shows he has been much more consistent. He has always had top talent, even when in periods he has been a bit up and down."
However, such praise hints at why it has taken so long for a player of such obvious quality to enjoy sustained recognition.
Although warming, Wenger's words translate into the stark reality that has clung onto Payet's career: that while talented, too many believed Payet just wasn't consistent enough to grace the biggest stages.
Apt, you might say for a player who it seems has only really realised his potential this season.
Except that this is simply not true, and as his record proves Payet has been able to consistently produce superior statistics over the last six seasons. So could it simply be bad luck that Payet has not been more widely recognised for his underrated ability? Or is this a player who simply had such monumental potential that anything but his true ability gracing the pitch is easily written off as inconsistency?
One could arguably find truth somewhere in between both of these conclusions, but as Payet continues to enthral English fans as the season nears its end, Ligue 1 may be left wondering what might have been for the Frenchman.
In a bizarre turn of events, a player so often overlooked now stands to become one of Les Bleus most important and in form players heading into this summer's EURO 2016, and while his surge into the headlines may come as a surprise for some, those who know the Frenchman will know it is nothing less than he deserves.
If Payet can come anywhere close to capturing this run of form heading into the summer, then it is not only West Ham fans who will enjoy the performances of the mercurial midfielder.
Indeed, if he can sustain his true potential then the Frenchman could well be a hero for both club and country this summer, and Europe will finally get to see the true Dimitri Payet.
Jeffrey Gamby Boulger