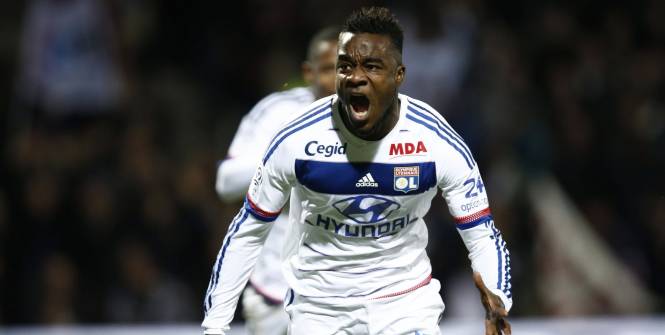 Why Maxwell Cornet is the key to Lyon's newfound attacking flare
Eric Devin reviews Lyon under Bruno Genesio and concludes that the next step is to instil faith into Maxwell Cornet if OL are to consistently be successful in the attacking department.
Three matches in the league, and one point to show for it. If the journalist's cliché of a club being in crisis hadn't yet been applied to Lyon after their loss to Bastia, could it ever? Despite a host of goodwill for the club following the departure of toxic striker Claudio Beauvue and the opening of the splendid Stade des Lumieres, the promise that greeted the arrival of new manager Bruno Genesio was quickly wearing off.
It is certainly true that grudge matches against St-Étienne and Marseille, and a trip to the always-daunting Bastia comprise a tough run of fixtures, but were there issues that lay deeper than outstanding goalkeeping from the likes of Stephane Ruffier and Steve Mandanda?
Three wins on the trot had followed that run, combining an impressive ten goals scored with only one against, but had anything really changed for the club? At the time of the loss to Bastia, Genesio was in the process of transitioning the team's preferred tactic from a diamond 4-4-2 to a 4-3-3 with inverted wingers Mathieu Valbuena and Rachid Ghezzal. Much of the reason for Hubert Fournier's sacking had centred around a lack of adaptability as regards the shape of his team, the former Reims manager adhering fairly strictly to a diamond midfield.
That formation had worked exceptionally well in 2014-15, with Nabil Fekir its beating heart, but it also saw fine seasons from Alexandre Lacazette, Corentin Tolisso and Clinton N'Jie. With Fekir absent, the side lacked a focal point who could not only run at defenders and draw fouls but could also be a goal-scoring threat. For all his creative trickery, Mathieu Valbuena has never really filled the net with aplomb, and was never a good fit to operate behind Beauvue and Lacazette.
Fournier had grudgingly used a 4-3-3 on a few occasions towards the end of his tenure, including a 2-0 win at Valencia, a result that has looked less than impressive given the struggles of the club since the appointment of Gary Neville. However, with the Lyon's season rapidly slipping away, the appointment of Genesio was a necessary one, despite Fournier's achievements of the previous season.
Genesio, like Remi Garde before him, had been with the club for a long period both as a player and a coach. Because of this, his understanding of the ethos and culture under Jean-Michel Aulas has been crucial, as has his willingness to stand down from persistent attachment to a given tactical system, unlike his predecessor.
However, despite some promising results at the beginning of Genesio's reign, the club had left Corsica feeling impotent. The new formation, so lethal against the likes of Troyes and amateur side Limoges, had been seemingly found out against more resolute opposition. What was the key to getting the best out of this group of players, especially in attack?
After all, the defence, which had struggled badly in the absences of Christophe Jallet and Samuel Umtiti, had certainly improved, with asettled back four improving even the once-woeful form of Mapou Yanga-Mbiwa. Anthony Lopes and Maxime Gonalons have likewise been reliable, especially now that the captain is no longer tasked with a makeshift role in central defence.
After conceding fifteen goals in Fournier's final six league matches, the team had only conceded more than one goal to the mighty Paris St-Germain in a pair of cup losses. This, of course, marked a welcome return to the team's resolute defending that had become the hallmark of their success in the wake of the injury to Nabil Fekir. Now that the defence was back in full flight, how could the attack likewise find its rhythm?
The match that started the current run of form could be taken as a one-off, given that Lyon's 3-0 home victory over Bordeaux was a win over a team badly struggling defensively at the time. Not only had the team conceded five goals against Lille in the Coupe de la Ligue the previous mid-week, but they were also integrating a new right back in Mathieu Debuchy, to say nothing of bringing in eighteen year-old goalkeeper Paul Bernardoni.
Indeed, Lacazette's opener in that match was, to some extent, down to a horrific punt from the youngster. The ball floated to earth just beyond the center circle, and Maxime Gonalons had too easy of a time in taking advantage of a poor touch by Cheick Diabaté and starting the move, linking with Corentin Tolisso, who in turn fed the striker. His second, which also had its genesis with Tolisso, was a gift, a cross dropped by the young goalkeeper allowing Lacazette the opportunity to poke the ball home from close range.
Bordeaux's defensive errors were at least partly to blame for that result, but perhaps the inclusion of Maxwell Cornet should be given a closer look. As previously stated, Genesio's initial experiments with the 4-3-3 used Mathieu Valbuena on the left and Rachid Ghezzal on the right, both of them operating as inverted wingers.
While both are superb with the ball at their feet, during Lyon's dire run of form ending with the Bastia game, the two had jinked and tricked their way into dangerous positions to no great end. Lacazette is a fine striker on his day but not one with any great aerial prowess, and opposing defences were too happy to allow the wide players space, so long as it was on the edges of the area.
Both being primarily one-footed and neither a real threat to score themselves, defences could force them outside, knowing that their only real effectiveness would be to cut inside. With two centre backs to occupy Lacazette and the fullbacks forcing the wide players outside, Lyon had plenty of the ball in the opposition half, but were severely blunted, even as the two tried to foster some level of unpredictability by switching flanks.
Valbuena throughout his career has always been at his best in a 4-3-3, but on the right, allowing him to facilitate the attack with his natural foot. His time at Marseille and with the French national team have shown this well, yet Genesio preferred Ghezzal on the right, the intent being that with both cutting inside, they could create the kind of quick, one-touch passing that had been the crux of the interchanges between Fekir, Lacazette and N'Jie in the previous season.
This makes sense on its surface, but the reality was far from that, as the potency of that trio far exceeded the current front three with only Lacazette really capable of scoring. The introduction of Cornet, however, aimed to fix some of that.
While nominally a wide player, Cornet has a great propensity to drift inside, taking the ball onto his left foot and using his acceleration to get past center backs. However, unlike Valbuena, and, to a lesser extent, Ghezzal, he is a much more of an instinctive finisher, as his goal record for France at various youth levels suggests.
With this dimension to his game, his career has to date taken a path not dissimilar toLacazette, that of a player who is initially brought into the first team as wide player but evolves into a pacy center forward. Able to peel off defenders either cutting in from the wing or from a central area, players of Cornet's type make an ideal outlet for sides that like to play the ball on the ground.
Cornet was excluded for the next week's trip to Angers, coming on only at the death as a substitute for Lacazette. Lyon did win, 3-0, without Cornet in the side, but with key man Thomas Mangani having been sent off on 16 minutes, the match was never really a contest. Ghezzal did play fairly well, but his goal was more down to a slip by Angers left back Yoann Andreu. The following weekend, however, was perhaps the best distillation of Cornet's potential to date as Lyon notched a 4-1 victory over Caen.
While Caen had been on a bit of a slide of late when they travelled to Lyon, they are still an exceptionally dangerous opponent on the counter. Andy Delort's arrival from Wigan has presented Patrice Garande's side with an ideal outlet, and despite the losses of N'Golo Kante, Nicolas Benezet, Lenny Nangis and Thomas Lemar, the team has done well this season, playing a fluid and attractive style that gets the best out of not only Delort but fellow new acquisitions Ronny Rodelin and Vincent Bessat.
With Rodelin as a target man, Caen are adept at breaking up opponents' play and launching an attack with a long ball towards either the former Lille man or Delort, and in Bessat and Julien Feret, they have the creative talents to deliver.
Lyon, however, wasted no time in shattering any illusions the visitors may have held as regards the current season, going 2-0 up inside fifteen minutes. While Tolisso was rightly man of the match, owing to a pair of assists and a superb long-range goal, Cornet was again at the races, constantly linking with Lacazette and leading the team in shots and notching a fine goal.
Perhaps he should've added another, given the number of chances, but Remy Vercoutre was in fine form despite conceding four goals. Tolisso's performance was a masterclass, but as N'Jie's work had often gone unrecognized last season, so too did Cornet's.
Two weeks ago, against Lille, with injuries to Tolisso and Gonalons, Lyon were forced to play a makeshift 4-2-3-1, which saw Cornet deployed on the left, but sitting deeper than he normally would.
Removed after the sending-off of Christophe Jallet, Cornet nonetheless put forth another game effort in his sixty minutes on the pitch, tracking back with aplomb and doing his best to get involved going forward as well. It wasn't to be, however, with the formation forcing too many players into unfamiliar roles and resulting in a general lack of synthesis in attack.
Even with that being the case, Cornet is one of a very few Lyon players who could take anything positive from their efforts. While all of this may seem high praise for what are admittedly uneven performances from a very young player, those who saw Cornet's match against Valencia in December should have already been banging this drum.
As if the past six weeks weren't enough evidence, Cornet may have finally proved his worth in a more definitive fashion against Paris St-Germain. Not only were he and Ghezzal adeptly switching flanks, he and Lacazette also frequently exchanged places, a tactic that did much to drag the champions' center backs, in particular David Luiz, out of position, leading not only to Cornet's goal but also creating the space for Rafael to deliver the cross that led to Sergi Darder's winner.
With Cornet in the side alongside Ghezzal and ahead of Valbuena (who was admittedly injured against PSG), Lyon have not only the directness that they need from the wing, but perhaps the answer to the impending tactical conundrum that is the return of Nabil Fekir, who despite his talents, has no clear role in a 4-4-3. Last season, Lyon's diamond 4-4-2's success saw praise heaped upon Fekir and Lacazette, but Clinton N'Jie's role in that team shouldn't be undersold, either.
His move to Tottenham may have surprised many, especially given the fee, but his pace and ability to draw defenders away from his fellow attackers, as well as provide the odd goal made him a sublime foil for Fekir and Lacazette. Cornet is quite a bit younger than N'Jie, but what he lacks in terms of polish, he more than makes up for in defensive work-rate. Upon Fekir's return, Lyon would do well to revert to Fournier's diamond, lining up Cornet alongside Lacazette with Fekir in behind.
The reputation of Valbuena would seem to preclude this happening, but what would the former Marseille man's role be with Fekir in the side? Some have suggested playing Fekir alongside Lacazette with Valbuena behind the pair, something that worked well at times last season, Yoann Gourcuff occupying the playmaker role in that instance, but that overlooks the differences in style between Gourcuff and Valbuena to too great a degree.
In a 4-3-3, Fekir would have to play wide, but he has unquestionably been at his best through the middle, and shouldn't be forced to play out of position to privilege Valbuena.
Many derided Fournier for his dogged persistence in using the diamond formation; it is now ironically a return to it that may see Lyon at their best come the run-in. With Fekir resuming light training this week, he is perhaps a month or so from seeing the pitch, and he is simply too talented not to be included as Les Gones chase a Champions' League position.
He has proven time and again that the diamond 4-4-2 is the best use of not only his talents but those of Lacazette, and in Cornet, there just may be a way to reinstate it, bringing the team back to their scintillating best.