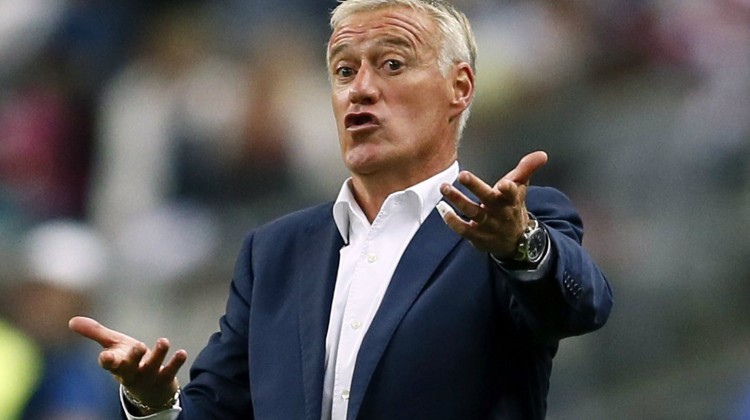 Will Didier Deschamps be forced out of "retirement"?
When I try and analyse the situation at Old Trafford regarding Manchester United's hesitation whether to sack Louis van Gaal or not I can only come to the conclusion that the candidates are getting slimmer by the day. When I began to write this piece, I could only see two individuals who could get the job which were Guardiola and Mourinho. Those two and Ancelotti are considered to be the best managers in the world.
The problem is that with Sir Alex Ferguson having now retired (something Wenger will do one day) there are too many big clubs calling for high-quality managers. When Ferguson was at the club, he could survive any kind of media brawl thrown at him. He could take the criticism because he knew the P45 was never coming his way.
Since his departure, Manchester United have become like every other club: they swap managers every 2-3 seasons maximum. How long is this going to go on? And what happens when Arsenal start doing the same once Wenger retires?
Now there are only a few clubs who demand management to the level of Ancelotti and Guardiola. (Mourinho has fallen in everyone's esteem since getting sacked and then allegedly writing a pitiful letter to Manchester United.)
Those clubs are the following: Arsenal, Barcelona, Bayern Munich, Chelsea, Liverpool, Manchester City, Manchester United, PSG and Real Madrid. (This may be a notable occasion to reflect on the lack of Italian clubs.)
That is 9 teams who are left to deal with 2 and a half men. Of the candidates that may break the top three we have Jürgen Klopp (Liverpool is his first tough job, let's see how well he does with that after 18 months) and Diego Simeone (Atletico Madrid manager who broke the Barcelona/Real Madrid duopoly in 2014).
Let's take this apart country by country.
We have Bayern who do well by taking thought-out strategic decisions by hiring the best managers around, on a consistent basis, regardless of the individuals' playing philosophy. Ok, so that's done.
We have in Spain two clubs whose management techniques could not be further apart. Barcelona rely on youth development and give academy managers (Pep Guardiola and Tito Vilanova) and players their chance (Xavi, Iniesta, Busquets, Pique et al). Of course you have the odd Neymar and Ibrahimovic but they emerge perhaps once every three years, so not often. It is a model strategy that other sides are struggling to emulate.
Meanwhile, Real Madrid have demanding fans who find it hard coming to grips with Barcelona receiving all the limelight. The chairman usually makes rash decisions when it comes to management (sacking Ancelotti and appointing Benitez; giving Zidane the job) and the place is splashing cash all over Europe hoping that whoever is in charge will be able to win everything (and they mean everything!).
England is where the money is. Fans pay a lot of money to attend games and expect high-quality managers. Once Wenger's tenure will be over, Arsenal will demand a respected and respectful head with broad shoulders to provide CL football season in season out. Who may that be at this moment in time I have no idea.
Chelsea can kiss goodbye their dream of making Mourinho their long-term manager. Where do they turn now?
Manchester City are still at a loss in the CL as soon as the going gets tough and are being outmuscled by Leicester. Pellegrini is not doing a good job (it is not this column's aim to judge his tenure but his obscenely primitive tactics were his downfall). The same can be said about van Gaal while Liverpool's deal with Klopp is not going too well right now but that may change.
That leaves PSG who have been managed by the same man since Ancelotti left for Real Madrid and who look quite smart to have done so. Again the main argument in the Qataris' favour is: who would you replace Blanc with?
I'd argue that PSG are having a much better season in terms of motivation and quality of play not especially thanks to Blanc but thanks to Di Maria's creativity and passing accuracy. But still, from an outsider's view, PSG sticking with Blanc for 3 seasons (this one included) shows a certain degree of trust which has given Blanc more confidence (certainly more than last season).
There is one manager that people keep overlooking due to his being on international duty. Blanc left the French national team in a shambolic state after Euro 2012 but Deschamps picked up the pieces taking tough decisions which Blanc avoided doing (Nasri).
In Brazil, France had its first successful tournament since Germany 2006 (to be fair, the post-Zidane era would have been tough on any manager) and would it not be for shady doings between Benzema and his horrible childhood thugs, would be clear favourites to win Euro 2016.
I have long been of the opinion that being a manager on international duty is effectively the football equivalent of a retirement home. You do not do much when all is said and done apart from attending games at the weekend (some don't even do that), issuing international call-ups to the usual suspects and the odd new kid on the block and being the complete centre of attention for two months every two years.
Vicente Del Bosque and to some extent Joachim Löw can appreciate that their careers are pretty much over, simply due to the amount of time that they have spent outside of the club arena (if the German and Spanish federations had been a little braver, both individuals would have seen their contracts terminated at some point or another during their tenures). I doubt Roy Hodgson would go back to club football either.
But Deschamps is only 47. The next decade will make or break his managerial career. And currently, I would argue that he is wasting it taking care of sextapes instead of managing a big club.
His credentials are impressive. He led a French club (Monaco) to a Champions' League final (Blanc wouldn't mind doing that), managed Juventus (ok, the Bianconeri used him to get them out of Serie B but still, it is a big name on the resume) and won silverware with Marseille (no trophies since his departure).
Can the managers I've mentioned before say that they have achieved that much at 47? Sure they've won major league titles but they had the funds to do it with.
I am at a loss however because if Deschamps does leave his position as France manager then I have no idea who we turn to. When Domenech was France manager, it was clear that Deschamps and Blanc would get the position at some point. Now that both of them have had a fair crack at it, who do we pick? Zidane? Do me a favour.
One thing is clear is that Deschamps's talent will be of better use at one of the nine aforementioned super clubs rather than doing porn investigations.