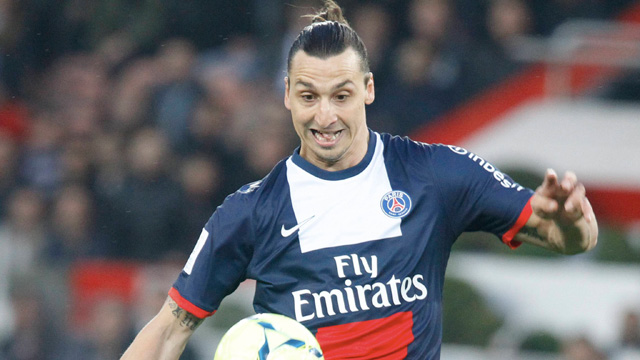 Zlatan Ibrahimovic's most Zlatan moments at PSG
Following the announcement that Zlatan Ibrahimovic will leave PSG at the end of the season when his contract expires, we have compiled some his most "Zlatan" moments during his four year spell at the club.
1. "Welcome to Paris"
During the first week of training following young German goalkeeper Kevin Trapp's arrival from Eintracht Frankfurt last summer, every single time that Zlatan Ibrahimovic scored against him, he would say to Trapp: "Welcome to Paris."
2. That time when he allegedly called France a sh** country…
In March 2015, following PSG's 3-2 loss against Bordeaux, Zlatan Ibrahimovic was caught on camera firing off a foul-mouthed tirade of abuse, believed to be directed towards the officials and also France as a country. Watch back here.
3. Accuses Chelsea "babies" for his sending off in the Champions League
Speaking to Sky Sports following PSG's 2nd leg Champions League Round of 16 win against Chelsea in March 2015, in a game where Zlatan was sent off, he accused the Chelsea players for being babies and convincing the referee to send him off.
"When the red card happened the worst thing was the Chelsea players. I felt there were 11 babies around me."
4. Ordering his PSG teammates not to talk to the press following a Coupe de la Ligue fixture
In February 2015, following a 1-0 win over Lille in the Coupe de la Ligue, Zlatan forbade his teammates from speaking to the press.
"Follow me, follow me. Nobody talk, Zlatan is the boss."
5. Unveiling 50 tattoos on his body after scoring a league goal against Caen in aid of his campaign for the World Food Programme
In February 2015, after scoring a goal against Caen in a Ligue 1 match, Zlatan removed his shirt to unveil 50 temporary tattoos on his body, all of which were names of people suffering from hunger, in aid of his campaign with the World Food Programme.
When asked by reporters about the yellow card that he received for doing so, Zlatan responded in the following way:
"I would even take a red card just to help the World Food Programme – these types of problems are bigger than a yellow card or a red card. It was spontaneous, I just wanted to reach out to everybody and the consequences would come afterwards. I am ready for any consequence – to even get a big fine, it doesn't matter."
6. His obsession with replacing the Eiffel Tower with a statue of himself
Zlatan first eluded to the possibility of the Eiffel Tower being replaced with a statue of himself when a life-size statue of himself was unveiled at the Musee Grevin, in February 2015.
"The next step? I don't know… Maybe replacing the Eiffel Tower with an Ibrahimovic statue?"
Ibra also recently famously told Anne Laure Bonnet of BeIN Sports that he would stay at PSG if they replaced Paris's most famous monument with a statue of himself.
"If they replace the Eiffel Tower with a statue of myself then I will stay at PSG, I promise."
7. Zlatan's Hollywood career
Zlatan revealed just last month that he was in talks to make a film franchise about his life.
"We can make a lot of films about me. Like Rambo 1 to 5, we can do Ibracadabra 1 to 10."
8. Sharp-shooting Zlatan
During the 2014 Christmas break, Swedish reports revealed that Zlatan Ibrahimovic had extreme success with a rifle. He managed to kill a 500kg elk with a single shot whilst hunting in the Swedish forests.
9. When Zlatan turned down a dinner with the French President
After being invited by French President François Hollande to attend a state dinner between the 2nd and 4th December 2014 alongside the Swedish royal family, headed up by Carl Gustaf XVI and his queen Silvia, Zlatan Ibrahimovic decided not be attend.
Why? Maybe he had something better to do…
10. "You think you know football better than me?"
Following a match in January 2015, a journalist was a little meek with his questioning post-match vis-à-vis Zlatan's performances. It did not go so well for him.
"You think you know football better than me? No? Why are you talking then? Are you a journalist? Why are you carrying a camera? You have a small budget…"
11. No point in the World Cup, after Zlatan failed to qualify
Speaking to reporters in November 2013 following Sweden's failure to qualify for the Brazil World Cup in 2014, Zlatan explained that there was no point in watching it anyway.
"One thing is for sure, a World Cup without me is nothing to watch so it is not worthwhile to wait for the World Cup."
12. Ibra in Ibra's best team of all time
In a feature on PSG's website in November 2014, which required the striker to name his best XI of all-time, he of course named himself within it.
Buffon, Maxwell, Cannavaro, T.Silva, Thuram, Iniesta, Vieira, Xavi, Nedved, Messi, Ibrahimovic.
13. Ibrahimovic – the inspiration 
We were reminded of Zlatan Ibrahimovic's inspirational side when he did an excellent interview with the Guardian in October 2014.
"If you are different, or you have minimum possibilities, you can still succeed. I am living proof of that. I didn't have that 'wow' life. I was not a 'wow' person. Those around me were not 'wow' people. I didn't live in a 'wow' area. So my message to those who feel different, or unlucky, is that if you believe in yourself you will also make it. There is always a possibility. Everything depends on you."
14. Zlatan the best
Speaking following the UNFP Awards in 2014, Zlatan questioned paper talk about other stars joining PSG.
"Why sign Ronaldo or Messi when you have Zlatan?"
15. An incredible interview
Zlatan Ibrahimovic and Zoumana Camara partook in an incredibly hilarious interview for BeIN Sports following a win over Toulouse. Watch here.
"You are even uglier on TV than in real life!"
16. "I have no wrong foot."
After a Champions League clash with Bayer Leverkusen in February 2014, a reporter dared to say that Zlatan had a weak foot…
Interviewer (on his 2nd goal): 'It was your wrong foot.'
Ibrahimovic: 'I have no wrong foot.'
17. Faroe Islands controversy
Zlatan Ibrahimovic was left unimpressed after visiting the Faroe Islands in a World Cup qualifying match in 2013, calling them "a bunch of fishermen".
18. King of Ligue 1
After his first season with PSG, he was asked a number of questions about his initial experiences which caused for him to respond in typical fashion.
Interviewer: "Now do you know Ligue 1 better than before?"
Zlatan Ibrahimovic: "It is Ligue 1 who knows me better than before."
19. Zlatan put France on the map of the world, he claims
Speaking to reporters this year about the possibility of featuring at EURO 2016, Ibra claimed that he had put France on the map of the world.
"I would love to play the Euros in France. It is my fourth season in France and it has been a fantastic period for me, I will have very good memories when I leave. I put Sweden on the map of the world, and, now, I have also put France on the map of the world. I am very happy."
20. Rockstar arrival
When Zlatan Ibrahimovic's move to PSG was announced, he was given a rockstar welcome by adoring fans just by the Eiffel Tower. Awesome.