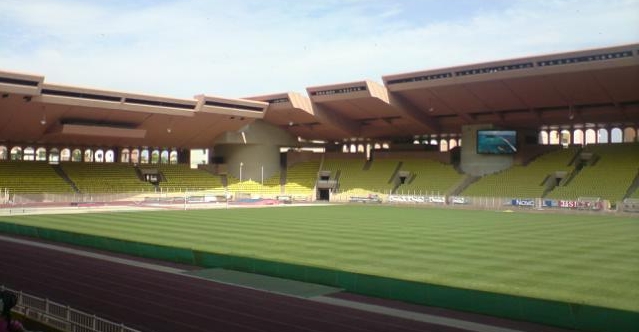 Leonardo Jardim over-reached last night when he could have sealed a win for AS Monaco
It's been hard to assail many, if any of the decisions made by Leonardo Jardim this season. The Monaco manager has successfully integrated three new starters in defence, solved last season's striking woes with a pair of players (Radamel Falcao, Valere Germain) who spent the previous campaign on loan and fostered the development of some promising young players, most notably academy products Almamy Touré and Kylian Mbappé-Lottin.
This has all been achieved while topping the Ligue 1 table, winning a difficult Champions' League group and having the best attack in Europe. No small feat, all told, but did the Portuguese overreach on Tuesday against Manchester City?
There was no small degree of surprise to see Germain left out of the starting lineup, but that's not the issue at stake here, as Mbappé, his replacement acquitted himself in a fairly impressive manner.
Likewise his tactics; with Mbappé in the side, Monaco often resembled a 4-2-3-1 rather than their customary 4-4-2, but the youngster's penchant for stretching play on the break and dragging defenders out of position made for quite a bit of positional fluidity among the front three; the team's shape manifested itself in any number of forms, which surely did its part to frustrate the hosts. Rather, the doubts here surround two potentially fatal mistakes: Jardim's use of unfit players, and his failure to kill the game when he had the opportunity to do so.
Ahead of the match, both Djibril Sidibé and Tiemoué Bakayoko had been injury doubts. Bakayoko has been a regular this season, but has often played with a heavily-strapped leg, a precaution given his injury history.
The former Rennes man only featured for 45 minutes against Bastia on Friday, being removed for Fabinho at the interval; while there is some debate as to the nature of his removal, he was nevertheless far from at peak fitness. Sidibé, for his part, had not played in two weeks since coming off against Montpellier, with the youngster Touré playing in his stead.
However, desperate to make a good impression and already missing influential centre back Jemerson, Jardim started both players, even though in João Moutinho and Touré he had capable replacements for both available.
One may quibble about the experience of the young right back and throwing such an inexperienced player into a crucial match, but Jardim has had no qualms about matter such as this in the past. Fabinho's first start as a midfielder, incredibly, was at the Emirates in 2015, and the Brazilian has scarcely looked back. Given Touré's pace and power, he surely could have coped with the occasion, to say nothing of Moutinho, who, with his hundred-odd matches in European competitions, could have spelled Bakayoko without too much of a drop in quality.
While they were impressive in spells, with Bakayoko in particular having a splendid first half, by the hour mark, the pair were a spent force, and City manager Guardiola was quick to recognise this, continually playing the ball to the dangerous Leroy Sané to catch out Sidibé. Centrally, the flagging Bakayoko, his customary rampaging presence in the first half, looked a spent force as, shorn of his normal powerful dribbles, he continually lost the ball in a swarm of City players.
Never one to worry about keeping possession, his forays forward, so often electric, merely resulted in gifting City the ball cheaply, leading to waves of counter-attacks, playing decisively into the hosts' hands. For all their possession, and the manager's reputation for patient, passing-oriented football, Guardiola's charges in their newly configured 4-1-4-1 have sought to use the pace of their wide players in concert with the passing range of the central midfielders to create opportunities quickly.
So, Jardim had erred in starting two players who were below full fitness, but did he seek to rectify matters in any meaningful way? Did he introduce Moutinho, who may not have the physical presence of Bakayoko but is a much more reliable custodian of the ball? Or, perhaps one of Touré or the veteran Moroccan Nabil Dirar for Sidibé? No, his first change was to replace Mbappé with Germain, a sensible move in the face of needing an equaliser, (the match was still 4-3 at that point) but one which did nothing to alleviate the struggles of Sidibé and Bakayoko.
Alongside those two, Fabinho was also stretched to breaking, exhausted by being forced to cover the runs of Sidibé and Bakayoko, but he stayed on the pitch as well with Moutinho's introduction; the former Porto player was introduced for Bernardo Silva, whose influence had admittedly waned, but was still probably likely to be involved in any potential consolation.
Thus, Jardim gambled, and lost with his starting eleven, but he compounded his error by not moving decisively to ameliorate it. Could it be he was feeling the pressure of being less of the underdog than he had been against Arsenal at this stage two years ago, when his plucky team won 3-1 at the Emirates? Observers in England would have seen the methodical way in which Monaco had taken apart Spurs in the group stages, and similarly embarrassed Nice and Paris Saint-Germain in recent weeks.
The brilliant goal record, the reports of a rejuvenated Falcao and a dynamic midfield, none of this would be unfamiliar to audiences around the world, and Jardim, perhaps believing a bit of his own hype, took the foolhardy approach and paid the price.
This tie is far from over, especially as a Pep Guardiola side is never going to park the bus, but Jardim's initial errors and subsequent failure to react bore more of an influence on the match than Falcao's missed penalty or Danijel Subasic's gaffe on Sergio Aguero's goal. Yes, there is hope for Monaco, but only if their manager can approach the return leg holistically, and not with the hubristic, hell-for-leather approach seen at the Etihad on Tuesday evening.