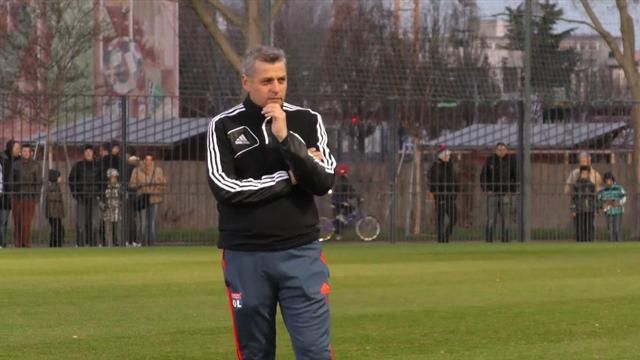 A ballad for the unwanted Bruno Génésio, N'Koulou and Lyon's need for change
"Nicolas had a decent match against Zagreb, but he can do better. He needs the support of the staff, of the club. We're talking about a player who had a shortened preseason with some physical issues. We know it's complicated, in any case. Nicolas needs to feel our confidence in him, to hear words of encouragement." 
That was Bruno Génésio's defence of Nicolas N'Koulou in September, and at that point in the season, one could see the manager's reasoning. Lyon had been embarrassed by Dijon a month prior, with the veteran particularly culpable, but the summer signing had enough of a track record to engender the belief that at 27, he could yet be a key piece in Lyon evincing some much-needed defensive improvement.
Historically, saying that defending isn't part of Olympique Lyonnais' DNA is putting it mildly. Putting aside the 2014-15 season, where they ran Paris Saint-Germain close for the title for much of the season before slipping late on, the club have regularly been rather average in that regard. Even in their last title-winning season, 2007-8, the club conceded 37 goals in 38 matches, a decent figure, but one which only ranked them sixth in Ligue 1, behind the likes of Nancy and Lorient. The team have nevertheless managed to continually finish in the European places, though, thanks to a scintillating attack. From Lisandro Lopez to Alexandre Lacazette, Les Gones have always relied on their goal-scoring abilities to bail them out of trouble.
That's not to say that the team have been horrible defensively; Samuel Umtiti moved to Barcelona for a reason, and the likes of Milan Bisevac and even Bakary Koné have had their moments alongside the academy product in recent seasons. More recently, excitement has been generated with the signing of young Argentine international Emanuel Mammana and the development of Mouctar Diakhaby, an academy graduate.
Mammana has battled injury this season, but Diakhaby has displayed a coltish energy that sometimes gets him into trouble positionally. Alongside Mapou Yanga-Mbiwa, this usually isn't too much of a problem, but when the team turns to alternatives, namely N'Koulou, problems have arisen with a problematic frequency.
The former Marseille man is vastly experienced, and his arrival this summer seemed a decent move as the club had lost Umtiti, Bisevac, Koné and Lindsay Rose in the previous six months. What that ignored, however, was that the Cameroon international really hasn't been the same since suffering a major knee injury.
While fans of the club and most observers have recognised this, and N'Koulou has turned in a handful of decent performances, Génésio looks to have continued with his line of excuses for the defender, even eight months on from those comments. Decent against Monaco a fortnight ago, and against Angers on Friday, Nkoulou was decidedly, even inevitably at sea against in Amsterdam last night, despite his experience.
To be fair, that Lyon conceded four goals wasn't solely down to the Cameroonian, as Diakhaby was also poor, but that Génésio would persist with a player who frequently didn't even make matchday squads earlier in the season shows a remarkably baffling change of attitude and approach.
His positioning was the main culprit and with Diakhaby likewise lacking in focus, Lyon might have regretted not using another option at centre back. Yanga-Mbiwa has been decent this season, and probably plays with better focus than either of last night's starters, but if Génésio had seen fit to start the pair of Diakhaby and Mammana in Rome, surely the two younger players, the best Lyon have to offer in terms of pure defensive talent, were ready for this occasion mentally.
It may seem that a complaint about team selection is grasping at straws, but this latest example of Génésio's hubris and lack of cognition regarding his players' abilities has to mean the end of the road for the manager. Better finishing from Nabil Fekir could have made this more of a tie, and Ajax were themselves irresistible, but Lyon were consistently overrun in midfield. Génésio had opted to persist with a 4-2-3-1 in the absence of Alexandre Lacazette, theoretically to involve Corentin Tolisso more in the attacking third, but Maxime Gonalons and Lucas Tousart lacked the movement and communication to deal with Hakim Zayech and Davy Klassen.
Anthony Lopes had kept things respectable until the interval, and a change could have been made, moving to a 4-3-3 to keep the score presentable, but instead Génésio's first change was to further weaken his midfield, bringing on malcontent supreme Rachid Ghezzal for Tousart. This had the effect of dropping Tolisso, whose abilities were the primary reason for playing a 4-2-3-1, into defensive midfield, where he remained a passenger. Mathieu Valbuena then pulled back a goal, making the score a respectable 3-1 and Génésio's next change, was, rather than bringing on Lacazette, or perhaps Jordan Ferri, who has a decent goal record from midfield, to change right backs, with Rafael replacing Christophe Jallet.
This may have been to add attacking thrust on the flank or with an eye towards a potentially tricky encounter with Nantes on Sunday, but was baffling in the moment. When Lacazette did come on, for Maxwel Cornet, there were less than fifteen minutes left and Ajax had added another goal, all but ending the tie.
On the road, lacking his top striker and with another important player only half-fit in Tolisso, Génésio would have been better to opt for a more defensively sound formation, starting Ferri or playing Tolisso in a box-to-box role. Instead, down to Génésio's tactical fumblings, Lyon were overwhelmed in midfield from the off and unable to react, fully deserving to lose.
Génésio has had similar struggles with tactics and player substitutions this season, but injuries were occasionally a factor in some of those matches, and none bore such a high level of import as this, Lyon's first European semifinal in seven years. Here, the manager had every opportunity to rectify his early mistakes and keep the tie alive, potentially even saving his job. Weak though Génésio's position it is, it would be difficult for club chairman Jean-Michel Aulas to dismiss a manager after winning a major trophy.
Instead, though, Génésio offered up muddled and indecisive tactics, coupled with poor personnel choices. His actions on the evening were a microcosm of Lyon's season, superlative talent undermined by poor planning. We have seen recently in Ligue 1 the impact that a good manager can have on a group of players with the successes of Lucien Favre and Leonardo Jardim, and Lyon firmly need to look to take a step up this summer in terms of who is on the bench come August.
The team will surely regret wasting strong seasons by Lacazette and Tolisso, but if anything, Génésio's performance will drive home the need to bring in a top-quality, proven manager, something the team have lacked since the departure of Claude Puel. Acrimonious though his departure was, his success at Nice showed that he was still an effective boss and that rather than the unambitious trio of Génésio, Hubert Fournier and Rémi Garde, Lyon need a strong personality, not one who is withdrawn and given the job because they are part of the furniture and/or an affordable option.
Replacing their two stars will be important for Lyon this summer, and the club are sure to welcome recent Chinese investment for wages and transfer fees. That said, on the evidence of the last nine months, some of that money will be better spent luring a quality manager, otherwise Lacazette's replacement will be as frustrated as he has been in the last five seasons, continuing a maddening cycle for a club that was once the envy of all of France.