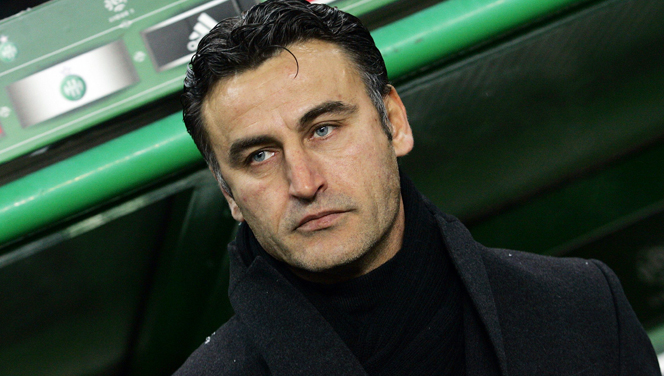 Christophe Galtier – the man who quietly, consistently exceeded expectations
Christophe Galtier was never meant to be a long-term solution for Saint-Étienne. When he replaced Alain Perrin in 2009, it was more a matter of financial prudence, as the itinerant former Lyon and Portsmouth boss, under whom Galtier had been an assistant for many years, had arrived at no small price. Perrin's move down the Rhone valley had come on the back of a double-winning season with Sainté's most bitter rivals, but success hadn't been forthcoming.
This was despite being blessed with one of the club's biggest transfer outlays in recent memory, with Les Verts spending heavily on Gonzalo Begessio and Boubacar Sanogo to replace the outgoing Bafétimbi Gomis. Hamstrung by the lack of success by both the team and these high-priced arrivals, Saint-Étienne simply couldn't afford a name replacement for Perrin, and turned to Galtier through necessity rather than any enthusiasm for his talents.
When Perrin was sacked, Saint-Étienne were in 18th place, and they finished the season in 17th under Galtier, enough to avoid relegation but still an embarrassing finish for a ten-time champion. It was true that there wasn't a marked improvement in the team's placement in the table, but Galtier did dramatically improve the team's defense that season, moving them from third-bottom to mid-table. Academy product Emmanuel Rivière also blossomed, scoring seven goals in the run-in, and it was job done for Galtier.
The next season, despite almost literally no investment in the summer, the team really took wing, challenging for Europe for most of the season before falling away late on. Blaise Matuidi and Dimitri Payet were hugely impressive, earning consistent call-ups for the national team, and despite that late slide, the consensus was that Galtier was, more than a stop-gap, a real talent on the touchline. Matuidi and Payet were sold that summer, but the arrival of Pierre-Emerick Aubameyang balanced things out in attack, with Fabien Lemoine and Jérémy Clément plugging the gap in midfield.
This pattern continued apace in subsequent seasons, with Aubameyang, Kurt Zouma, Joshua Guilavogui, Franck Tabanou and Max Gradel all departing. Obviously, aside from Paris Saint-Germain, most of Ligue 1 is a selling league, but the better teams consistently reinvest the fees that they recoup from player sales. Marseille and Lyon, as well as Lille before their move into the Stade Pierre-Mauroy, were rarely loath to spend money on players, with Les Dogues notably even taking Payet from the Stade Geoffroy-Guichard.
By contrast, until the arrival of Robert Beric last summer, Saint-Étienne's record signing was the €6m the club paid for Bergessio. Despite this one-way financial traffic, the team improved year-on-year, even becoming a legitimate contender for the Champions' League in two seasons, 2012-13 and 2014-15. There was some regression this year, which, for the club's hierarchy, may have been frustrating as they finally had a negative net spend this summer, bringing in Bryan Dabo from Montpellier.
That regression was somewhat tempered by an impressive run in the Europa League, topping a difficult group that included Anderlecht and Mainz. A loss to Manchester United in the Round of 32 was far from shameful, and Sainté gave a good account of themselves at Old Trafford. Eliminated from Europe and out of both domestic cups, it seemed in February that Les Verts were ready to mount their customary late-season charge, to slip into Europe once more.
That charge never came, though, and instead Saint-Étienne look set to miss out on the Europa League for the first time in five years. The news, then, breaking rather abruptly last week, that Galtier was set to leave Saint-Étienne was no surprise. The team hasn't exactly stagnated under the long-term manager, as there has continued to be a steady flow of players in both directions, but they certainly could lack a bit of vitality, especially in attack. The team's summer investments hadn't panned out as planned, with Dabo banished to the reserves and Cheikh M'Bengué beset by injuries. Add in the bizarre Anthony Mounier saga, and, at least in terms of permanent signings, there had been no tangible gains in terms of personnel, and a return to Europe wasn't to happen.
While club hierarchies are often eager to look everywhere but in a mirror for those culpable for a lack of success, Galtier's departure isn't a dismissal. Rather, it is an understanding that, despite being given short odds in terms of player movement and massive overachievement (add in a Coupe de la Ligue title to those Europa League successes), Galtier's time at the club had to end for the sake of all those involved.
Success under limited means was indeed impressive, but as Bernard Caiazzo, president of the club's council put it, "My affection for the coach, after all the years we have spent together, obliges me to accept this decision as a father accepts it when his son leaves home. After so many years together, this departure was unavoidable this season or next." Unavoidable, perhaps, but one that is likely to be regrettable.
Saint-Étienne did spend a bit more this past summer, but as they were when Perrin was dismissed, lack any sort of meaningful resources. This makes the team a distinctly unappealing prospect both in terms of potential wages or investment in the playing staff. The team's best players, save Kévin Malcuit, are all pushing thirty, meaning that even a radical sale in the summer would be unlikely to make any meaningful set of funds available.
Names currently linked with the club include Faruk Hadziebegic and Michel der Zakarian, both of whom have experience in Ligue 1, but neither of whom have had much success. Claude Puel could be an option if he ends up out of a job at Southampton, while Patrice Garande is also potentially available in the summer as well. Sainté could also take the "Galtier route" again and promote Laurent Batlles, but none of these five options seems particularly inspired.
Rather, France's most decorated club must take a long look at itself to shape its future. Galtier may have been limited, especially in attack, but his teams were always impressive defensively, with Stéphane Ruffier having proved an inspired signing and Loic Perrin one of Ligue 1's best centre backs. Galtier's lack of attacking nous may have frustrated the football aesthete, but for a club of Saint-Étienne's means, his achievements were truly momentous, managing to be consistently in the mix for Europe even as bigger spenders (Lille, Marseille, Bordeaux, Rennes) failed to qualify with any regularity.
It is thus likely that those same aesthetes or greedy fans who wanted more from Galtier will rue their selfishness. The club have great support, but a mix of an aging core and no real potential for investment will likely see them fail to attract a manager as talented. In this scenario, a return to the lower reaches of mid-table seems much more likely than another season in Europe, an outcome which will once again confirm Galtier's brilliance.