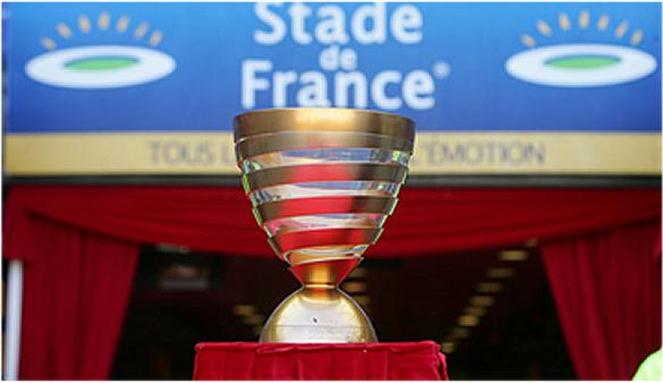 Coupe de la Ligue final: AS Monaco vs PSG – 5 things to watch
With the first piece of silverware in France on the line tonight, two managerial minds collide in yet another game of chess. Leonardo Jardim's tactics have been near perfect for most of the season while Unai Emery is still finding an unstoppable combination.
However, Monaco have already shown their hand with what has worked while Paris Saint-Germain have a few more cards up their sleeve, especially recently. Combine that with a few injuries to the table-topping side and this could be a chance for one to gain the last upper hand for the final hurdle of the 2016/17 season while simultaneously stuffing their trophy cabinets.
Here are five things to watch tactically come this evening's Coupe de la Ligue final.
Monaco stick with old faithful
In terms of formation, despite the absentees for the principality, expect Leonardo Jardim to stick with his trusted 4-4-2. It has troubled PSG already this season, whilst also proving as effective in an attacking sense in Europe.
What will be interesting to watch is how the team decides to attack. In the games they dominate, the full backs not only bomb forward but the wingers go narrow as they overlap, creating situations where there are four in the box or even five if a midfielder arrives late.
That tactic will also depend on how their opponents set up, as it was smothered somewhat in the tepid affair at the Parc des Princes a few months ago. Getting into a rhythm and finding more space in the final third, especially on the counter, will be key in any Monaco victory.
4-3-3 or 4-2-3-1 for PSG?
The players have been drilled with the importance of the 4-3-3 to Unai Emery this season but in the past few weeks, there has slowly been a sea change. Coinciding with the reintroduction of Javier Pastore to the side, the Parisians have set up more often in the Spaniard's preferred 4-2-3-1 formation.
That allowed the tricky Argentine to shine, especially in their last game against Lyon, and could be how they decide to set up against Monaco. The partnership of Marco Verratti and Adrien Rabiot behind him have worked well, covering for each other but Emery might still go for that extra cover with the safety net of three in the middle of the park.
Whichever he chooses will probably show their hand straight away. A 4-2-3-1 will suggest they fancy their chances and will go on the front foot from the off, while a 4-3-3 will suggest they are not taking things lightly and will look to soak up Monaco's counters and slowly wear them down.
Plan of attack on Almamy Touré
While Djibril Sidibé will never be claimed as a defensive force, his potential absence will be felt. That leaves Almamy Touré as the likely debutant and this will be the youngster's most high-profile match to contend with this season.
He has looked good when he has been called upon, arguably better going backwards than the former Lille man but not quite as dangerous in the final third. As with any other perceived weak link, PSG need a plan of attack to really test the young full-back and see if they can put him on edge.
Using an overlapping Layvin Kurzawa would be a good start, although the worry would be him leaving gaps in behind, combined with a winger who is willing to attack him such as Angel Di Maria or Lucas. Pastore can help torment him as well if the Argentine can get in-between the midfield and defence, much like David Silva did for Manchester City, then it could quickly become a long night for Touré if he is not quite up to the task.
Aurier or Meunier?
In something that feels like the eternal question for PSG, do they go all in on Thomas Meunier or is Serge Aurier their man? It has been a real toss up this season, with the Ivorian missing time and taking a step back while the Belgian has easily been their best signing of the season, putting in a string of high quality performances at right-back.
Aurier will feel that if he is not selected for this one, it might be time for him to move on. After being seen as one of the best full-backs in the world a year ago, his form dipping now highlights those errors of misjudgement in the past more significantly.
Meunier has shown a lot of quality, especially in the final third in providing good service for Edinson Cavani both from deep and from the byline, but on occasion has been suspect in the defensive third. Should he start, Meunier has to nullify the threat of Benjamin Mendy otherwise there will be questions afterwards.
Moutinho's role
Fabinho is a big miss for Monaco but as they always say, one door shuts so that another can open. Despite a relatively quiet season, now is the time for João Moutinho to stamp his authority on this game and stake a claim for a more regular place in the final stretch of the season.
The diminutive Portuguese will not exactly fill the role of Fabinho, who works perfectly in tandem with Tiemoué Bakayoko, but instead fill that deep lying playmaker role from where he can dictate the tempo when needed. The Frenchman alongside him will break up play almost exclusively so it is up to Moutinho to pick the right passes to spring the attacking players into devastating counter attacks.
Those two in the middle getting the balance right will be crucial, especially if PSG go with three in midfield. If they become out of sync or are simply overpowered, it will hand their opponents a massive advantage as the game goes on.