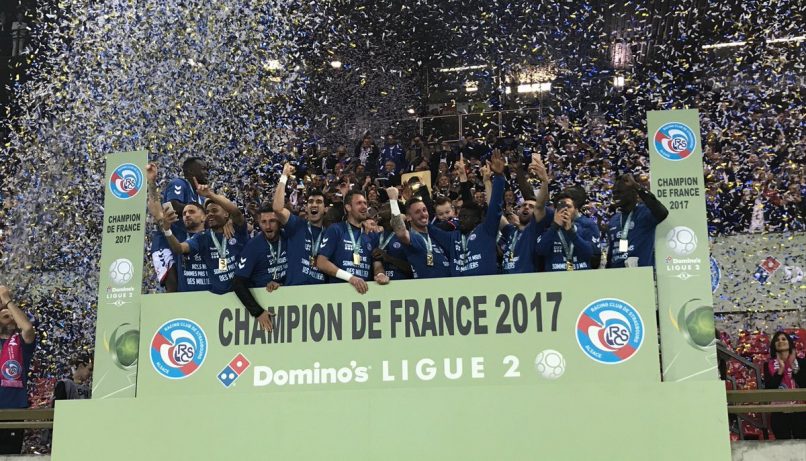 FEATURE | A Ligue 2 finale like no other
The relegation battle in Ligue 1 looks set for its own bit of late drama this evening, but however things shake out at the bottom of the division, it will have to be a truly momentous occasion to top Ligue 2's final matchday. At the start of the evening, any one of six teams could win the league; none of Amiens, Strasbourg, Lens, Nimes, Brest or Troyes were playing each other, and were within three points of each other.
The top two would seal a lucrative promotion to the top flight, while the third would enter a two-legged play-off against Ligue 1's third-bottom side. For the other three sides, it would be another slog through a grueling league schedule that starts in late July and ends nearly ten months later, a season of enterprise and hard work for naught.
The teams represented a contrasting set of fortunes at the season's outset; Lens have some of the division's biggest crowds and a strong academy all been in Ligue 1 relatively had been decidedly underwhelming. Troyes had been similarly poor last season, a 9-0 loss at home to Paris Saint-Germain only one of a number of ignominious defeats suffered by a team that had both the league's poorest defense and feeblest attack. Brest had been aggressive in the transfer market, bringing in a bevy of loan players from Ligue 1, and while some moves (Neal Maupay) came off, others (Valentin Lavigne) decidedly didn't.
Nimes had barely avoided relegation the season prior owing to a match-fixing scandal, but had adopted an up-tempo, youth-oriented attack centered around Rachid Alioui, making an unexpected late charge up the table. There were also two promoted sides, Strasbourg and Amiens, offering a further study in contrasts.
The northern club have never been in Ligue 1, while Strasbourg have won all of France's domestic titles, including the Coupe de la Ligue as recently as 2005, but had endured a liquidation in 2011. Forced to start over in the CFA2, France's fifth tier, the eastern club had risen fairly steadily through the ranks but were back in Ligue 2 for the first time since 2009-10.
As it was, their placement at the beginning of the day failed to change, as all six clubs won, results that saw Strasbourg winning the league and Amiens coming second, Troyes consoling themselves with a spot in the play-off, to the chagrin of Lens, who had been in good shape after a pair of early goals at home to Niort. All six sides won, yes, but that only tells part of the story on a day that saw the six sides battling for promotion score 21 goals between them, all driven by a will to confirm their top-flight status.
Lens struck first, going up 2-0 at home to Niort to go a provisional second as Spanish forward Cristian Lopez followed on from a hat trick the previous weekend and a brace before that, but Amiens, away at Reims had also taken the lead, going provisionally top.
Strasbourg followed up on that before the matches were half an hour old, going up 2-0 at home to Bourg-en-Bresse, while Nimes had fallen behind away to bottom side Stade Lavallois. Brest, meanwhile, who needed other results to go their way, had moved level with Lens in third, but had to overturn a considerable deficit in goal difference. For a while, though, it looked that might be the case as the hosts scored three goals in six minutes at home to Gazelec Ajaccio in a match that finished 6-2.
While Nimes were frustrated with going behind at Laval, Troyes must have been doubly so, as hosts Sochaux scored twice without reply before the interval, making the possibility of a 41-year-old Benjamin Nivet gracing Ligue 1 once more a long shot. It was in the second half that things really kicked off, though, as first Nimes and then Troyes pulled goals back.
Les Crocodiles eventually got a late winner from the spot but their poor goal difference left them on the outside looking in, despite finishing with the fewest losses in the division. So, too, Brest, as their poor defence (worst among the top eight sides) looked to have undone them over the course of the season, even if their attack was impressing on the evening.
With Strasbourg cruising, that left it to Amiens, Troyes and Lens for the other automatic promotion spot and the play-offs, and Le Sang et Or looked in good shape after Reims equalized against through Diego Rigonato midway through the second half. Troyes were to score again, but still needed a winner to move ahead of Lens, as did Amiens. Troyes, incredibly, got that goal two minutes from time, vaulting over the northern club with a late winner from young forward Samuel Grandsir. As it stood, Troyes were second, while Lens still clung to the play-off spot.
One by one, match by match, full time was sounding across France and it looked as if Troyes' Ligue 2 sojourn would be a short one. One match was yet to finish, though, as Grégory Berthier was sent off in the last minute of regular time at Reims. The officials' board went up, signaling five minutes of added time, a lifeline for Amiens to score a winner and secure automatic promotion at the expense of Troyes. Launching wave after wave of desperate counterattack, little seemed to be clicking for the visitors, and when a free kick was given, only twenty seconds of added time remained.
It was thus beyond the five minutes as captain Thomas Monconduit launched the ball into the box, and Reims struggled to clear, the ball bouncing wildly in the air until it came to the feet of Emmanuel Bourgaud, who clumsily slammed the ball across the face of goal for a 2-1 win and with it, a first spell in Ligue 1 for Amiens.
Troyes were devastated after staging their own dramatic comeback, while Lens, who had sealed a fairly comfortable with over Niort were denied even a play-off spot. Thus we were granted an exhilarating end to a an evening that highlighted determination, attacking intent and, despite some ragged play, a thorough validation of why we love football.
Amiens will likely struggle in Ligue 1 without any attacking prowess, having sold then-leading scorer Jonathan Tinhan to Troyes in January. Strasbourg may fair better given a more experienced squad and deeper pockets, but are sure to find their return to the top flight every bit as grueling as it had been a decade earlier. Troyes, if they succeed in the play-off, are similarly positioned to their eastern rival, but before looking ahead to potentially difficult campaigns in three months' time, we should savor these sides' achievements, borne out of a taxing season and a demanding final day.
Devoid of multimillionaires and glamorous internationals though it may be, Ligue 2 shook off its reputation for negativity and Friday showed the world, even if briefly, the magic of football, and for this we should be grateful. Similarly tight battles for relegation will be waged in Italy, Germany and France's top flight, but the thrill of promotion surely outweighs the dour, guilt-ridden avoidance of relegation. Unique across Europe this season, Ligue 2's rapturous conclusion should be thus savoured for its invigorating and rewarding sense of drama, unlikely as it is to be repeated any time soon.