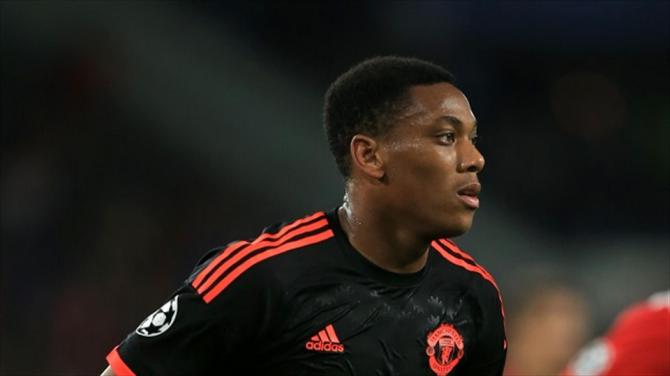 FEATURE | Anthony Martial: A Crisis?
Why the young Frenchman is facing his first hurdle at Manchester United.
It has been over a year since Anthony Martial's emphatic Premier League introduction triumphantly announced his astonishing big money move from Ligue 1. A scintillating debut against arch rivals Liverpool accompanied by his first goal helped earn him United's 'PFA Fan's Player of the Month' award for September, with four goals in his first four games in a fairytale start to life in England.
And incredibly, the young Frenchman would taste more success a few days later as he was awarded United's 'Goal of the Month' for September for his debut strike, followed by his third accolade as he was named 'Premier League Player of the Month' for September, the third-youngest player to receive the award after Micah Richards and Michael Owen. Certainly such early doors recognition was testament to the former Ligue 1 starlet's incredible Premier League debut.
It was a fine introduction for a young player few in England were familiar with, with even fewer aware of his delicious and abundant potential. The name Anthony Martial was relatively unknown before his big money move brought the Frenchman sharply into the public consciousness.
However, fast forward one year on and such has been his subsequent loss of form, that few could argue that any newcomers to the English game would still be left wondering who this expensively acquired French prodigy is.
Inconsistent. Injured. Not trusted, motivated or included by Mourinho; Martial's United fairytale has stalled alarmingly, presenting the former AS Monaco winger with undoubtedly the first real hurdle in his burgeoning career.
But what are the reasons for such a dramatic turnaround? How could a player with so much natural ability and potential fall away so badly after such a promising debut?
Certainly it has not been the easiest time within Old Trafford, for the young Frenchman or any of his teammates. Managerial upheaval, poor results, inconsistency, unease, and the slow but inevitable truth dawning on the footballing world that the behemoth United brand is simply not the colossus it once was; it has all played a part in the slow regression at Old Trafford.
Internal politics and stockbrokers now prevail at the Theatre of Dreams, as they desperately paw the market for solutions to reinstate them at the top of the Premier League tree and the subsequent financial nirvana.
And arguably that is where Martial's struggles can be pinpointed. No-one could doubt his potential on sporting grounds, but the young Frenchman was seen as part of a quick-fix strategy to reinvigorate an aging and stagnating team that had gone into decline following Sir Alex Ferguson's retirement – a desperate lunge into the market to plunder the European leagues for the brightest prospects, the best of the best. But such motives only serve as sticking plasters to patch-up far more serious failings.
Nevertheless these expensive benchmarks were used as the ammunition to fuel Van Gaal's ultimately unsuccessful tenure, alongside other stellar incomings such as Ángel Di María and young Englishman Luke Shaw.
Without the fear factor of the United of old beating teams into submission before they even set foot on the hallowed lawn at Old Trafford, and the gaping chasm left by Sir Alex Ferguson becoming ever more prevalent, United had little option but to make a statement – that they were still very much the powerhouse of old and had the financial muscle to prove it.
Unfortunately, very few of these signings actually came to fruition for a variety of reasons. And in Martial's case, through no fault of his own, it was always inevitable that he would suffer inconsistency in his youth as he adapts to the pace and intensity of the English game.
It has been a risky strategy from United, to buy big and attempt to stamp their authority back onto the footballing hierarchy and regain their old superiority while results on the field have dwindled.
But therein lies the risk; buying young prospects is never necessarily a sound sporting or financial plan. A young player may have all the potential in the world, but potential remains just that until it is realised, and inconstancy must be tolerated along with the peaks and troughs in form along the way before the natural talent can be enjoyed and allowed to bloom.
Indeed, one only has to look at Martial's statistics this season so far to see a stark reminder of how quickly form can evaporate, even for the most gifted. He has only made 8 starts in the Premier League this season, playing only 646 minutes with two goals and three assists.
And with only six goals to his name in all competitions in 25 appearances and an average player rating of just 6.67 according to whoscored.com, then it is clear that his high standards have significantly dropped.
While managerial upheaval will no doubt have played a mitigating part in the Frenchman's temporary decline, it does not however tell the whole story.
Utilized initially as a left winger during Mourinho's first few games in charge, it was clear that incoming superstar Zlatan Ibrahimović was always going to be United's main attacking thrust.
But whereas Martial has shown flashes of his true talent playing further forward, a wide attacking role has only fleetingly looked his true calling; wide roles after all are notorious for breeding inconsistencies amongst younger players, as discipline and stamina become a player's main repertoire instead of maverick ability.
The young Frenchman does possess the skill0set to thrive as a modern day winger, to cut inside or travel to the byline and torment the opposition with his dribbling prowess, but at his age he still does not have the natural feel for the position or stamina to make it his own.
His destiny you feel is certainly as a more fluid attacker as opposed to a player shackled as a workhorse on either wing, which is certainly one reason he has not thrived so far under Mourinho – a manager well known for sticking rigidly to a set first team XI and formation.
It was very much a case of trying to make a player for the position, not the other way around.
But nonetheless, while United were initially making decent headway during Mourinho's debut in the job he has craved for so long, it did not last. They endured a torrid run of results heading into December, including six draws and a 4-0 defeat at the hands of former club Chelsea, during which time Martial was the obvious casualty as his inconsistency began to surface. He was left marginalized as an impact sub as Mourinho searched for his strongest and most consistent XI.
He was not alone, with United's golden youngster Marcus Rashford also seeing playing time reduced to drips and drabs, and Armenian Henrikh Mkhitaryan also needing to convince the Portuguese manager of his pedigree before a belated inclusion in the first team has seen a corresponding upturn in the team's performances.
And then there is the fact that like all Premier League debutants, Martial is now a known quantity, and Premier League defenders are now well versed enough to know his strengths and weaknesses.
The once searing pace and incredible dribbling ability that made him such a feared prospect has not been lost, but such a skill set is always more easily nullified when one is familiar with the threat to be faced. There is no surprise factor anymore.
So reduced playing time, shackled on the wing, adjusting to new tactics, a team still struggling for results and consistency, and the arrival of Ibrahimović adding competition for places in the United forward line; it is little wonder therefore that Martial's form has dwindled quite so much.
When one also considers that the youngster's mantle as the Premier League's breakthrough superstar has since been handed to compatriot Paul Pogba following his world record switch to Old Trafford, it is clear some of the magic surrounding Martial has begun to fade.
He's been overtaken by Pogba, and outshone by Zlatan.
However, there are few who believe this dip in form is an indication of any serious decline. And even by his own admission, the youngster has pin pointed his failings this season down to a lack of consistency on his part, holding him back as Mourinho demands more.
Speaking prior to the game against West Brom before Christmas, the Frenchman was quick to point to a lack of endurance that has hampered his performances so far this season.
"I think consistency is my big problem," he said.
"I have a tendency to have a good 35 minutes, and I drop in the last 15.
"I think it's mostly an endurance thing. I've improved my endurance a lot, but I know that if I improve it even more, I'll be able to progress".
Such issues are not uncommon for younger players, particularly those wishing to establish themselves and live up to their potential in the physically exhausting Premier League. However, after also being dropped from France's squad by Didier Deschamps in November, Martial must hope he can quickly outgrow such premature drawbacks. He cannot blame youth for his inconsistencies forever.
Indeed, after belatedly starring in United's victory over Middlesborough, a performance in which he scored and starred, manager José Mourinho claimed the player should "listen to me and not his agent", following rumours of a move to Sevilla.
His equalizer was only his sixth strike of the season, and after scoring 17 goals last campaign to end as United's leading scorer, it is a sure sign of the youngster's struggles.
Mourinho however remains optimistic, and joins the vast majority who believe hope is not lost on his young superstar. Speaking after the match, he added:
"He is a player with amazing conditions to be a top player"
"Martial played, he created, he scored. He fought. He was very positive. I know he is a top talent."
Certainly he was instrumental as his side came from behind to beat Middlesborough, and it was a sure reminder of the talent he possesses and the impact he can have; it was his finish that gave United the impetus they needed to claim victory.
And in light of the glimpses we have witnessed of what he can so easily produce, he need only use team-mate Henrikh Mkhitaryan as an example of how he can force his way back into United's XI. The Armenian was told to "do more" by his manager, and has subsequently scored three goals in his past five games. Martial will hope he can enjoy similar fortunes.
Mourinho continued: "I knew Mkhitaryan is a top talent but I was not playing him. At this moment he even plays left-back when the team is winning and we need to defend and need more balance.
"Martial has to listen to me and not his agent. He has to listen to me in training every day and in every feedback I give to try and improve him.
"With Martial every day I read the newspaper, 'Anthony Martial goes to Sevilla, Anthony Martial goes on loan, Anthony Martial is not happy'. Anthony Martial has to listen to me".
Despite the glimmer of a belated rejuvenation this season however, it is certainly also true to say that his time on the sidelines will not have been completely wasted. For every element of his game that has been critiqued this season, being excluded from the team by megastars such as Zlatan Ibrahimović does have some priceless advantages for the young Frenchman that may hamper him in the short term, but will hopefully play dividends for years to come in a career still in its infancy it must be noted.
Indeed, Martial has been quick to salute the impact that Ibrahimović has had on the dressing room at Old Trafford, particularly for the younger members.
The Swede is currently spearheading United's attack with 16 so far this season, but Martial has been quoted as saying he believed the 35-year-old's influence off the pitch has been just as important.
"He is a top player and we can't help but learn from just being alongside him, playing and training with him, seeing what he is doing now and what he has done in the past," he said.
"In spite of his age, he has been a tremendous help to our side; he is doing loads for us. Let's hope his form can continue because that is going to help us to climb the table, which is our goal".
He adds that "everything is possible" in the second half of the season if the Reds' current form continues, saying: "We have a lot of experience in the squad and, together, we have to show what we can do to progress".
"We are a few points behind the top four at the moment, which we have got to make up, but it is down to us to maintain our good form and turn it into even more victories".
It seems then, there are tell tale signs that the young Frenchman can still rekindle the form that endeared him to so many in his debut season. Certainly, analyzing United's victory over Middlesborough, former United defender Phil Neville said:
"I think it's pretty simple. He needs to play like that consistently. He has to ask his agent why he's linking him to Sevilla and say, 'I'm at one of the biggest clubs in the world, I want to stay here'."
Ex-England captain Alan Shearer added: "Martial was the best player on the park. He played a big part in getting United back into the game. He was positive from the start.
"He went at defenders, got into the box and created chances. The effort from 30 to 35 yards out was a brilliant strike. He should take huge confidence from that display".
Despite not being a key component of Mourinho's evolving and new look United so far, Martial has still shown in flashes the abundant talent at his disposal. He is certainly still more than capable of asserting himself as one of United's, and Europe's, key players; he need only harness his supreme ability consistently and the fortunes of both he and United will drastically change for the better.
While it was perhaps inevitable that his dip in form would reflect United's recent turmoil, with Mourinho starting to find consistency and therefore results at Old Trafford, it seems Martial could yet still become the main benefactor.
And although his decline does not auger well for the future of United or Les Bleus, when his character and competitive edge will come into question many more times if he is to succeed at the very highest level, his ability to hurdle such struggles nevertheless offers hope for the young star, still beginning to shine brightly in his blossoming career.
It would seem Anthony Martial has begun to find his feet again, and in this New Year we shall all enjoy seeing the results when he does.