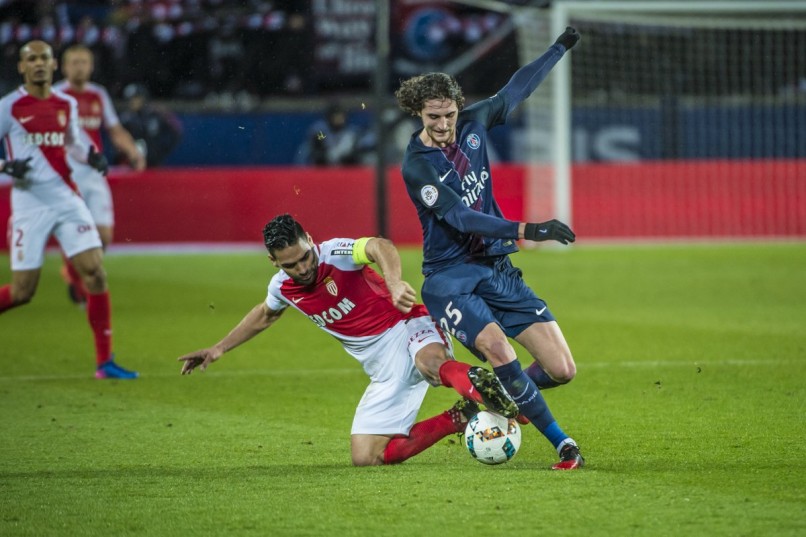 FEATURE | AS Monaco reaffirm their title challenge with PSG draw, as their revised project comes full circle
"We could have never had the same project as PSG. Here, it is nice, but too small." Whether Vadim Vasilyev, AS Monaco vice-president, was being entirely honest about Les Monegasques' ambitions is open to debate. Nevertheless, their on-field expectations were very much aligned with their rivals' in Sunday night's showdown in Paris. Since the steely Vasilyev made those comments to Canal + in 2014, Monaco have evolved from nouveau-riche, cash-splashing outfit to freewheeling gunslinger through footballing pragmatism, philosophical overhaul and a bitter divorce to become French football's premier captivation.
Their professional and confident display in the well-deserved draw with champions PSG at the Parc des Princes exemplified Monaco's exponential progress this season and the shift in power that has characterised this Ligue 1 campaign. A vehement press and willingness to push forward had Leandro Jardim's charges in the ascendancy for much of the cagey encounter.
An undeserved PSG second-half lead, courtesy of an Edinson Cavani penalty, was crucially erased by the superb Bernardo Silva in injury time to keep Monaco atop of Ligue 1 as they emerge as one of the European game's most enthralling attractions. Although it may have been a while coming, they are only just getting started.
Christmas 2011; AS Monaco, Champions' League finalists just seven years earlier, are bottom of Ligue 2. A shock final day relegation from Ligue 1 and a solitary win from their first 18 games in the second tier had left the seven time French champions staring at the gaping trapdoor to the semi-pro National. However, with the festive period came salvation.
Just six months after QSI's acquisition of PSG, Russian businessman, Dmitry Rybolovlev, listed (at the time) as 93rd on Forbes' billionaire list, bought two thirds of the principality club and promised a return to both national and continental glory. By the end of the season, Monaco sat eighth; a year later, under the guidance of Claudio Ranieri, they were Ligue 2 champions and back where they belonged.
Promotion back to the top-flight initiated a summer spending spree of more than £140 million. Radamel Falcao, James Rodriguez, João Moutinho, Anthony Martial, Éric Abidal and Jérémy Toulalan all joined the Ranieri-Rybolovlev revolution on the French Riviera for an assault on Ligue 1's finest.
However, despite a brace of draws with champions PSG, a superb 80-point haul and a second place finish, the following summer brought uncertainty. The revolution faltered. James Rodriguez's glittering World Cup saw him swept up, inevitably, by Real Madrid. Falcao, his infamous ACL injury limiting him to just 17 league outings, also wanted out, while the club's hierarchy decided Ranieri had taken the team as far as he could.
Almost overnight the philosophy of the club dramatically altered tact. The seemingly modest off-season additions of Aymen Abdennour, Tiemoué Bakayoko and a loan move for Bernardo Silva provided stark contrast to the James/Falcao whirlwind of the previous year. Rybolovlev knew he could no longer afford such an aggressive transfer policy due to what was billed as "the most expensive divorce in history". As far back as 2008, Rybolovlev and former wife Elena had been embroiled in a bitter legal battle to settle their separation, which endured into May 2014 before a settlement was reached in 2015, concluding in Rybolovlev losing vast swathes of his estimated $8 billion fortune.
Monaco's backing was no longer without limits. La Provence reported last year that their 2016-17 budget would drop to €145 million, compared to €500 million for PSG and €235 million for Lyon. With the 'Monaco project' now at a crossroads and Vasilyev, installed as vice-president and CEO, he told L'Equipe in September 2014: "There were two possible roads to go down. The first was to spend big, that's what we did at the beginning.
The second, now, is to build a project for the long haul. Yes, it takes longer, it is less glorious, we will be talked about less in the press, people will be worried, there are no longer stars and there is less glamour… but we believe in it." Vasilyev's spin aside, Monaco had little choice but to overhaul their philosophy, morphing from the ultimate buying club into the ultimate selling club.
Now under the stewardship of former Sporting Club coach Leonardo Jardim, young prospects with high sell-on potential define Les Monegasques' model. A summer 2015 exodus saw Layvin Kurzawa, Aymen Abdennour, Anthony Martial, Yannick Ferreira-Carrasco and Geoffrey Kondogbia vacate the principality for a combined fee of more than €150 million. Vasilyev even overtly played down the club's size and standing in the continental arena: "Look where our players left to: Real and Manchester United. We should be proud that our players are going there. I believe in our project but we are not at the level that those clubs are at."
This is true. Monaco are often derided for sparse crowds at the Stade Louis II, their average attendance is the lowest in Ligue 1 at around 8,500, but given that Monaco itself is a state of just 37,000, this is hardly surprising. The club's inherent footballing infrastructure fails to lend itself to a "super-club" identity. Monaco, in European terms, are simply not a 'big' club and likely never could be.
Fallout from the Rybolovlev divorce was followed by UEFA's attempt to introduce Financial Fair Play, further restricting the club's ability to move freely within the transfer market. Rybolovlev himself reaffirmed the shift in model to Le Parisien last October that "for two seasons, the club is self-financing and retains high performances. I am pleased to see that the strategy is working and that AS Monaco has positive accounts."
Financial pragmatism bred footballing expediency. A mediocre third place finish in 2014-15 came virtue of the meanest defence in Ligue 1 and in spite of a goal tally of just 51. A poor start to the following campaign had Jardim under pressure and the availability of Nice's Claude Puel was then allegedly sounded out by club officials over dinner. Vasilyev, however, repeatedly reiterated that Jardim was the right man for the job. Vasilyev's faith would turn out to be well placed.
The failure to reach the Champions' League group stages last season severely limited the club's scope in the rapidly closing summer window, the loses of Kurzawa, Martial and others being direct consequences. Anthony Martial's sale to Manchester United proved to be a particularly sore point for Jardim, leaving him frustrated and with no time to arrange an adequate replacement, no small factor in the side's sluggish start.
As a result, ousting Villarreal to make the last 32 in this campaign could be seen as the most important result of both the Rybolovlev reign and Jardim's career. Monaco were able to keep their exciting young squad together, rejecting a number of serious offers from the continent's elite. Youthful exuberance has turned into the bold intensity of a compelling and effective unit that, coming into the game with PSG, sat at Ligue 1's summit, averaging three goals a game while comfortably topping their Champions' League group with a game to spare.
If PSG's stuttering transition under Unai Emery has taught the rest of Ligue 1 anything, it is that the Parisians' midfield can pressed into mistakes. Montpellier and Guingamp proved as much in comfortable wins before Christmas, following Jardim's example from Monaco's 3-1 triumph over Les Parisiens' at the Stade Louis II back in the autumn.
Sorely missing the in-form Marco Verratti, throughout the first period PSG struggled to play out of their half. Monaco's striking partnership of Falcao and Valère Germain were able to get close enough to the deep-lying Thiago Motta to cut him off from his centre backs, forcing Thiago Silva in particular to play risky, longer balls. Options were similarly limited for PSG's full-backs, Thomas Meunier and Kurzawa, much to the delight of the narrow Monaco midfield four who hassled, pressured and pickpocketed their way into some dangerous turnovers.
Unusually for Monaco however, a lack of conviction, saw despite their territorial advantage, few genuine openings created, contributed to by a surprisingly reserved PSG display, who were both unable and uninclined to commit men, most notably Kurzawa and Meunier, in attack. The guile, grace and dogged determination of arguably the league's best player this season, Bernardo Silva, caused Emery's side a number of issues. Silva and the mercurial 21-year-old Frenchman, Thomas Lemar, both regularly tuck inside with and without the ball to form a formidable and dynamic foursome alongside the rangy sentinel Bakayoko and the tireless Fabinho.
The latter's usually pitch-perfect passing game was more than a little off-key on the night which left Germain (14 goals for high-flying Nice last term) and a rejuvenated Falcao (12 in 16 league games this year) with little to feed off. Width would then normally come in the form of the marauding Djibril Sidibé and powerful Benjamin Mendy from full-back areas, but this was largely where Monaco fell short; delivery from crosses ranged somewhere from average to woeful for long stretches, Mendy being the main culprit.
Sidibé's 80th minute tug on Julian Draxler as he attacked a cross during a rare PSG sortie forward finally broke the cycle of play. Cavani coolly converted from the spot. Having seemingly accepted a point, exchanging Germain for Moutinho to move to 4-4-1-1 just four minutes earlier, Monaco and Jardim were forced to take more chances, throwing on the trickery and pace of Kylian Mbappé in response. Nevertheless, it was the waspish Bernardo Silva who rescued a much deserved point, cutting in from the left after a succession of corners to fire through the crowd and past an unsighted Areola for what was a potentially title-winning equaliser.
Whether or not Vasilyev was right that Monaco will never truly able to follow in PSG's footsteps is somewhat irrelevant in this special 2016-17 campaign. Monaco's meandering path, their captivating group of young guns and an all-action style has led them to the top of French football with the Ligue 1 title and Manchester City in their sights. A small club? Perhaps. Potential trophy winners? Absolutely.