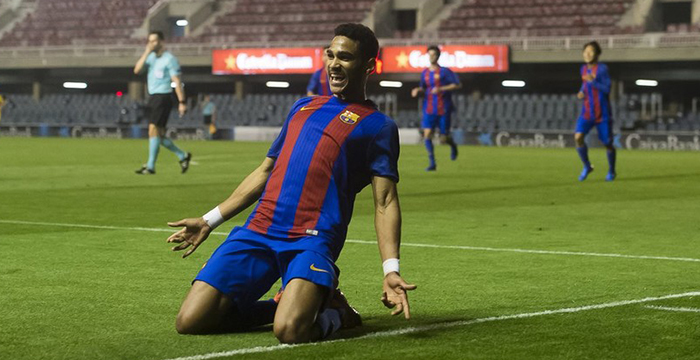 FEATURE | Jordi Mboula – why AS Monaco might have another Kylian Mbappé on their hands
Jordi Mboula isn't the first, and nor will he be the last to leave the Barcelona nest.
This time it's Monaco where a product of La Masia will end up, as the club from the principality look to boost their every growing reputation as the environment for young players to develop in.
"As we have done with players such as Bernardo Silva, Fabinho and Tiemoue Bakayoko, we will support him and help him grow in our team." said Monaco vice-president Vadim Vasilyev on the club website.
Even amongst those impressive names, Mboula might well turn out to be a special case. Whisper it ever so carefully, but the Ligue 1 title holders might have another Kylian Mbappé on their hands.
In terms of potential the Frenchman is undoubtedly a unique player. He has it in world class proportions and has shown every sign of fulfilling it – even in these tender stages of his career. Mboula, while not packing as much potential, can still be an exciting prospect for Monaco to possess. Credit must go to Monaco behind the scenes, with much of the leg work on the deal being done by Antonio Cordón, a man who will no doubt be receiving more praise in the coming years as Monaco's new era continues to spin. The ex-Villarreal transfer guru has wasted no time in setting the cogs in motion at the French club.
His latest capture arrived at La Masia when just 8-years-old, Mboula had been long touted for success and was soon handed the monicker of 'Titi', referring to Thierry Henry of course. Ironic somewhat that he carries that name given the majority of comparisons Mbappé has had to contend with have been to the Arsenal icon.
Born just outside of Barcelona in Granollers to a Congolese father and Catalan mother, Mboula's impact in La Masia was fairly immediate when joining the Alevín B category. His approach to football was evident fairly early on with direct, explosive performances from a wide right berth. Graceful but at the same time powerful, Mboula's a melting pot of raw talent ready to be shaped by Monaco into a world beater.
Even at a club where the standards are at times unrealistically high, Mboula seemed to pass each test with flying colours. He even had his 'viral' moment this past year when starring in the UEFA Youth League, scoring a sensational solo effort against Borussia Dortmund that was very much the embodiment of his game. Picking up the ball on the halfway line, he drifted past a series of yellow shirts as if they were not there. Mboula showcased his ability to dribble with grace but also burst with speed in the blink of an eye. Dortmund, bamboozled, could not stop the player before he slammed the ball home. Twitter, Vine etc went into meltdown. La Masia had done it again.
Except, they kind of hadn't. As Mboula's star continued to ascend he grew more ambitious, and a shot in the first team was something he began to crave even more. When it became apparent it wasn't forthcoming for the current campaign – or as he later found out the next neither – Mboula began to have his head turned. Even coaches at Barça advised the player to leave, a damning indictment if there ever was one of the current state of the world's most famous youth academy.
Like others before him, and some who still remain with the club, La Masia has become a less of a sure thing. The pipelines to the first team have become clogged and it's now on the minds of several talents. Europe's elite are also taking notice, and others will follow Mboula out the door.
Barça's apparent reasoning was they didn't find the player ready for the big step-up to the first team, even if it was simply light integrating. His lack of consistency and physicality were both cited. In terms of the former this is a player who had 8 goals in 9 UEFA Youth Leagues, this from just 13 shots at goal. He'd also shown himself to be one of the most decisive members of the Juvenil A crop. Mboula meanwhile also packs physical strength, be it with his upper body to hold off challenges or his immense levels of speed.
As usual with Barça in these instances, negatives begin to suspiciously filter out once the player is heading for the exit door – or has already gone through it. They've even put out in local press that money was what motivated the teenager.
Mboula however, has been nothing but exemplary while at Barça, producing for the various teams he was assigned to in the academy and also off-the-field being a grounded, humble presence. His parents and family were regularly at the Joan Gamper training complex recording his every goal and flash of skill, cheering on like his biggest fans. The trip to watch Jordi will be a little longer now – but they won't mind.