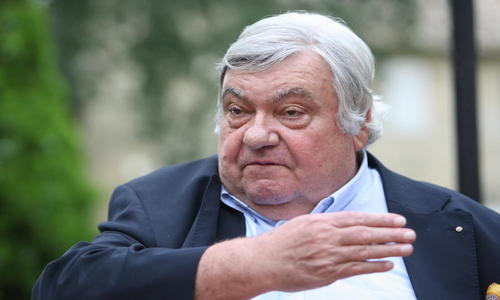 FEATURE | Louis Nicollin – French football has lost its most colourful character
"Montpellier champions of France? If I was Marseille, Paris, Lyon, Lille or Rennes, I'd stab myself in the arse with a sausage! What an embarrassment it would be for them."
The words of Montpellier president Louis Nicollin, a week before his club stunned the world by beating PSG to the 2012 Ligue 1 title, summed up a true entertainer.
A sexagenarian sporting a mohawk does not always make front page news but when Nicollin underwent this capillary overhaul in the days following that seemingly impossible title win, also dying his hair in the club's colours of orange and blue, it certainly did.
Nicollin died last week of a heart attack on his birthday, at the age of 74, and in a time when football is becoming more and more sanitised, his passing is worthy of consideration.
Once upon a time, French football was legion with such characters as Nicollin.
Jean-Michel Aulas, the Lyon chief who never met a television camera or microphone he didn't like, is now the last vestige of what has for decades been a mainstay of French football; the slightly-barmy club president.
A more colourful character than Nicollin won't be found in French football in 2017, but 25 years ago, he was one of many.
There was fast-talking entrepreneur Bernard Tapie, who had turned his grand vision into an empire at Marseille.
Few Parisians are embraced on the south coast of France but Tapie's ability to deliver on his big promises meant he remained beloved by OM even after his role in the match-fixing scandal that brought a screaming halt to the club's glory years.
Before Tapie there was Saint-Étienne's 'man with the pipe' Roger Rocher.
Rocher was the enigmatic auteur of nine Ligue 1 triumphs.
He relished Saint-Etienne's local rivalry with Olympique Lyonnais, declaring Lyon merely 'a suburb of Saint-Etienne' and 'the wagon behind ASSE's engine.'
Like Tapie, Rocher too was brought down by allegations of corruption.
The discovery of a slush fund of over 20 million francs landed him a 36-month prison sentence, of which he served four.
A contemporary of them all, and deserving of his place in the pantheon, Jean-Louis Triaud stepped down from his position at Bordeaux earlier this year.
The man who once invited Serge the Llama, abducted from a circus by drunken teenagers in 2013, to perform a ceremonial kick-off farewelled French football by holding a flare between his teeth in imitation of his infamous sideline smoking.
Co-founders of Ligue 1 in 1919, Montpellier were languishing in the amateur ranks when Nicollin arrived.
Nicollin, a self-made millionaire who saved the then-penniless fourth tier Montpellier by merging it with the employees' team of his waste disposal business, held a special place in the hearts of all French football fans.
A fan first and foremost, his collection of football shirts was legendary. Over 5000 from all over the world are housed in three buildings at his bull farm in the Camargue.
His 43-year reign yielded only two trophies but if you were to judge him on that basis, it would be to miss the point entirely.
Quite apart from the fact that he helped deliver Montpellier's only league title by denying the impossibly well-endowed PSG, Nicollin helped keep Ligue 1 relevant in a time when it was largely eclipsed by Europe's four bigger leagues.
Laurent Blanc, Roger Milla, Carlos Valderrama and the immortal Eric Cantona are among the luminaries to have passed through the club in Nicollin's time.
Each is better known for his exploits elsewhere but all retain fond memories of Loulou Nicollin.
The outpouring of sadness and celebration of a life well lived were notable in the days after Nicollin's passing.
He was no stranger to controversy, being frequently cited for his ill-conceived verbal outbursts but unlike many of his contemporaries there was nary a whiff of genuine impropriety.
So many of his quotes have passed into legend.
In 2013, he denied Montpellier's reported interest in QPR striker Djibril Cisse by saying the club weren't interested in paying a DJ so much.
His disdain for Newcastle, who he ironically referred to as a great English club, took on comic proportion after the Magpies signed two stars of Montpellier's title-winning team in Remy Cabella and Mapou Yanga-Mbiwa.
But Nicollin was no clown.
He founded Montpellier's women's team a full decade before Marseille launched their own. Today French women's football dominates Europe and some credit for that is due to Nicollin.
He was also awarded for his efforts against homophobia.
Although he was forced to return his prize just six weeks later, after using a homophobic slur in a radio interview, he remained a celebrated figure for his role in the fight against discrimination in sport.
The loss of Louis Nicollin is a profound one for French football.
There have been other great characters, many also sadly gone now, but there will only ever be one Loulou.