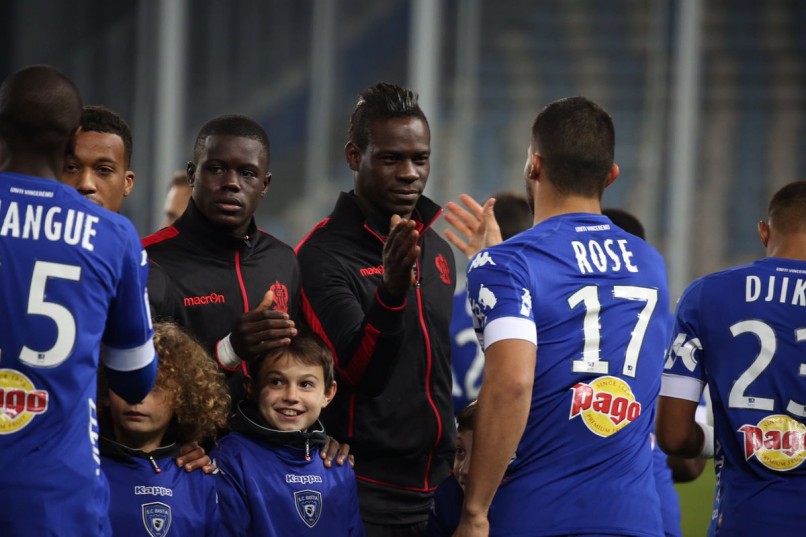 FEATURE | Mario Balotelli: An Example – a cry against racism
On January 20th during an away match at Bastia, OGC Nice wtriker Mario Balotelli was the subject of racial abuse from some sections of the Bastia home support. This included monkey noises during the warm up and throughout the game. Here is a video of just a portion of the chants directed at Balotelli.
Balotelli made no mention of this abuse until after the game when he wrote an Instagram post addressing it. His remarks in full:
"Yesterday the result against Bastia was right. We will work more and try to get our objective,=. The referee was good too but I have a question for French people. Is it normal that Bastia supporters make monkey noise end "uh uh" for the whole game and no one of the "commission's discipline " say nothing? So is racism LEGAL in France? Or only in Bastia ? Football is an amazing sport. Those people like Bastia supporters make it horrible!"
Nice forward Alassane Plèa later backed this up, saying "Yes, I can confirm it. We heard it during the warmup [and] during the game as well, monkey chants," he said. "At the end of the game he [Balotelli] was very, very upset. They insulted him the whole game. It's dreadful to hear these things on a football pitch."
This is not the first time Balotelli has had to endure this type of horrendous abuse. In fact, many black players can name times when they have been racially abused while playing. This systemic racism throughout football only represents a fraction of the fans who attend football matches. However, this problem is not one that we should allow to be swept under the rug. Racism will continue unless football as a whole rejects it. It is laughable that the governing body of football (FIFA) disbanded its racism task force in September of 2016 with the incredulous claim that it has "completely fulfilled its temporary mission" and "is hereby dissolved and no longer in operation."
Mario Balotelli is just one of the many players who would beg to differ.
In December of 2016, Lazio player Senad Lulić made racist comments about Roma defender Antonio Rüdiger. His punishment? A 20-day ban which conveniently only ruled him out for one match against relegation candidate Crotone. This is just one example of the problems relating to race within football, and there are quite literally hundreds more.
With FIFA clearly being irrelevant in the fight against racism in football, the responsibility has now fallen on individual football associations and clubs to penalise and enact proper punishments against fans and players who display racist behaviour.
On January 25th, five days after the incident occurred, SC Bastia announced that they had banned a fan from the stadium who had come forward after the LFP (French Football League) began an investigation into the incident. Banning the SC Bastia fan is a good start and at least shows that SC Bastia, alongside the LFP, who will take a view this evening once the disciplinary commission meets, is taking this matter seriously which cannot be said about a lot of other racial incidents around football.
This ban for the SC Bastia fan can mainly be attributed to Balotelli's decision to highlight the issue after the game. In essence, it proves that Balotelli took the correct approach when he publicly called out the supporters. He had every right to walk off the pitch during the match. No one should have to face this type of abuse and he would have been well within his right to walk off the field and refuse to play.
However, he instead chose to play on, and decided to show that their words and actions were doomed to failure and that despite their best attempts he would not let their abuse affect him on the field. By publicly revealing the racist abuse he suffered, he put pressure on the relevant authorities to not just brush this aside but to seek appropriate action.
This is the way forward for players. They must call out this type of bigotry and demand action. However, the fight against racism cannot be put on the shoulders of players alone.
When football allows itself to be given an image of racism and bigotry, it reflects badly not just on those who perpetrate this behaviour, but on every single football fan.
We as fans must publicly show that we will not accept this, and that we stand in full support of players like Balotelli who are forced to go through this awful experience again and again. It is a mark against football as a whole – a sport based on the principles of inclusiveness and acceptance. All of us must unite in calling out fans, players and coaches when they engage in behaviour that violates these principles.
We all have to be better than the people who drag football through the mud. This can be done in multiple ways. One way is by forcing clubs and associations to hold people accountable and enact fair punishments.
Also, real progress must come from within the football community as well. We all have to be louder than the voices that spread hate and intolerance. It is clear that FIFA has become a paper tiger when it comes to combating racism within football. Balotelli gave us a glimpse of how we can continue to fight racism without Infantino and co's help. Now it is up to all of us to stand with him.