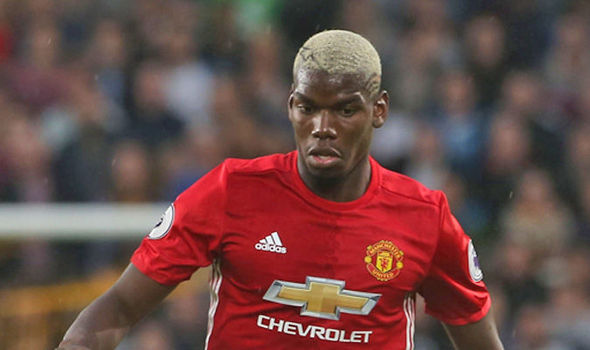 FEATURE | Misère for Martial, la patience for Pogba
Why Manchester's two French prodigies still need time to flourish after another difficult season for United and Mourinho.
As the 2016/17 Premier League season reaches another exhilarating climax, the battle for the top four is as tightly contested as ever. Chelsea may have already clinched another league title under the brilliant Antonio Conte, but further down the pecking order it is the battle for the remaining Champions' League spots that is really providing the final garnish on another otherwise intriguing campaign.
Pep Guardiola is all set for his worst domestic season in management, relatively speaking, finishing outside of the top two in a league for the first time and without a trophy. Spurs have pushed Chelsea hard all season, but in a carbon copy of the previous campaign, have just fallen short at the final hurdle to finish as runners up once more.
Liverpool remain consistently inconsistent, capable of blowing teams away then dropping points in the very games they are expected to win, while Arsène Wenger has endured a painfully torrid season in North London. Facing a barrage of criticism from the media and supporters, the Gunners face an anxious wait to see if an FA Cup trophy can offer some semblance of dignity and success to an otherwise arduous and disappointing season which looks all set to finish with Wenger's side outside of the top four for the first time in his long and illustrious reign.
But it is with Arsene's tormenter in chief, his arch-rival and fierce adversary José Mourinho where the greatest intrigue and excitement still lies.
His United side remain the only other team still able to finish the season with silverware, with the Europa League final showdown with Ajax on the 24th May confirmed after a long and exhaustive journey through Europe's sister competition. But with a place in next season's Champions League the added allure for the eventual winners, and with it a route straight to the group stages without the laborious qualification rounds, then quite suddenly it has become the sole focus for Mourinho and his men with a natural birth into the competition proving out of reach domestically.
With the league petering out to a disappointing conclusion for the Red Devils after their 25 game unbeaten run was ended by Arsenal, and with his side fresh from a 2-1 defeat at the hands of Tottenham on an emotionally charged night at White Hart Lane's final ever match and a mundane goalless draw with Southampton, United have been left with one final chance to end this season with silverware; the Europa League. And after their victory over a spirited Celta Vigo in the semi-finals, they are one game away from the only trophy that still eludes them in their glorious history.
Win the game, and Mourinho's first season in charge could be deemed a success; knitting a team spirit back together in his own famous siege mentality image after Van Gaal's confidence sapping tenure, and integrating an aging but still potent Zlatan Ibrahimović into a starting line-up that desperately cried out for his star quality and presence.
Plus, the task of successfully teasing the newly crowned world's most expensive player, Paul Pogba, back into life at Old Trafford after a successful and trophy laden coming of age in Turin with Juventus was entrusted to Mourinho, one of the few managers with the CV and stature capable of returning former glories to the Theatre of Dreams.
But amid their domestic tribulations this season, it is the careful tutelage and nurturing of his side's precocious French starlet that has proved to be one the main talking points of Mourinho's tenure to date. After all, despite a glittering pedigree, this is a manager with a boom or bust track record when it comes to handling many of the games' most prodigious talents.
Alternatively, should United lose the final and finish outside of the top four yet again, one would be hard pressed to categorise this season as anything other than a disappointment. Champion's League football would again appear a distant dream, tantalizingly out of reach and accompanied by only a Community Shield and League Cup to add to the trophy cabinet.
United's 25 game unbeaten run was a side event; an achievement papering over the cracks of a squad still boasting some considerable talent, but nevertheless still treads the path of recovery after a disastrous start to life in the post-Ferguson era.
The Red Devils have drawn a league high 14 games at the time of writing, which commendable it may be, only serves to place any unbeaten run into context; they aren't losing games, but they aren't winning them either.
There has also been much publicity and column inches devoted to Mourinho's less than loving attitude towards some of his players this season. The Portuguese manager has been particularly criticised for his treatment of left back Luke Shaw, who has regularly been berated for his apparent lack of desire and focus, as Mourinho employs his trademark bullish motivational tactics.
But it is a risky approach. Publicised spats in the past with players such as Mesut Özil at Real Madrid and the well documented dressing room discontent during his second stint at Chelsea prove he can often segregate his stars as much as inspire them.
While Mourinho has singled out United's Englishman for criticism this season, any serious question marks surrounding his and others' impact must be tempered by the fact that regardless of the quality of their performances, the truth is United have been ravaged by injuries in a hugely congested fixture list this season. The team has been stretched, and the quality of performances from all angles has waned.
But although other players like Henrikh Mkhitaryan have also felt the force of Mourinho's sharp tongue this campaign and emerged stronger from the experience, it is ironically United's most underperforming stars that have escaped the brunt of his criticisms so far.
Paul Pogba's world record switch back to Old Trafford for an eye watering figure of €105 million (£89.3 million) smacked of desperation, a player sold for a meagre £1.5 million then being bought back in a bold attempt to regain United's standing in the footballing hierarchy as the global force they once were; a statement that they could still compete with any club on the planet despite their lack of Champions League football.
His arrival along with Zlatan Ibrahimović, one of Mourinho's trusted allies from their brief stint together at Inter Milan, was meant to garnish a United side still gleaming with ability but lacking in genuine world class nous and star quality.
A monumental athlete, capable of breath taking box to box prowess, sublime footwork for a man of his stature and a force to behold when in full flight, it was seen as a calculated gamble; a player already familiar with United and their traditions, now mature enough to fulfil his potential after a successful spell in Italy.
He would energise United's aging and stale midfield engine room and provide the spark to reignite the Red Devils. And joined by compatriot Anthony Martial, himself still a glorious talent in the making with the potential to take the game by storm, the French duo would form a formidable part of United's newfound attacking might.
The only problem is, it has not really worked out that way.
Pogba has only shown glimpses of his immense natural talent, sporadically performing to a level he is capable of in flashes of excellence, before settling back into the sporadic and sedentary rhythm that United have fostered all too frequently this season as they battle out hard fought draws as opposed to thumping victories.
To say he has been a failure would be unfair, but no-one could argue he has been a certified success either. He certainly has all the traits of a brilliant player in the making, and his class was undoubted in Italy. But Serie A is not the Premier League. The pace is slower. The competition is less intense. Players have more room to breathe and opportunities to express themselves in the tactically superior league.
The Frenchman certainly has the potential to fulfil his price tag, but until that day comes when the judgement can be made, he'll have to shoulder the inevitable criticism that comes his way in light of his inconsistent performances thus far.
Indeed, after a dour 1-1 draw with fierce rivals Liverpool in January, BBC Sport pundit Pan Nevin described Pogba's performance 'absolutely awful'.
He duly conceded a penalty after a handball in the box, was guilty of fouling Liverpool captain Jordan Henderson and wrestling him to the ground in frustration, and ended the match having completed just 71% of his passes.
Nevin told BBC Radio Five Live: "I honestly think Paul, who is a fabulous player, was absolutely awful.
"He gave the ball away just about every time he got it, his pass awareness of other people, hitting the ball out of play, getting caught on the ball time and time again.
"And this is before you get to him giving away the penalty, the poor marking and also missing a one-on-one chance with the goalkeeper".
But while his effectiveness and form has come into question, one thing in his favour is that his commitment and attitude have not. Amongst the criticism for his under par performances there has also been praise for the Frenchman's attitude and for not hiding during games despite his inconsistency.
Nevin added: "There was one saving grace to Paul's game on the day, he never hid once. He kept on going".
So despite his luke-warm performances this season, is it then just a case of judgement pending for the Frenchman amid United's other difficulties? Do Manchester United simply have to hold a little more patience with Pogba?
When one considers that despite mediocre standards this season he has still returned 10 goals, four assists and an impressive 10 man of the match awards to date, the hall marks of a player with more to offer are there for all to see.
If so, can the same be said for his compatriot Martial?
The former Monaco starlet has endured an even more testing campaign, pushed well into the margins of Old Trafford under Mourinho; a peripheral figure as more trusted and harder working teammates are preferred to follow out the Portuguese's infamously tactually astute instructions.
Indeed, the former Chelsea and Real Madrid manager has spoken plainly of Martial's need to work harder to cement a place in the United first team, much in the same way as Henrikh Mkhitaryan has had to convince that he can fit into a José Mourinho template XI.
In December he publicly warned Martial to listen to him and not his agent amid rumours of a loan move to Sevilla in the January transfer window. And judging by his comments on the eve of United's Europa League quarter-final second leg against Anderlecht, Mourinho is still frustrated by Martial's attitude. He said:
"Do I think Anthony is player with great potential? Yes. Do I think he can play successfully for me? Yes. But he needs to give me things that I like".
With a total of 48 appearances this season so far which comprises of nine goals and six assists, a less than impressive average pass success percentage of 79.6% and an average match rating of just 6.78 according to Whoscored.com, it becomes easy to see why patience with Martial is starting to run thin.
He continues to endure a disappointing season, a far cry and noticeable fall from the grace and explosive impact he made in his first few months at Old Trafford when he took the league by storm with his electric pace, directness and dribbling prowess captivating the Premier League.
While the French duo have not been completely adverse to criticism this season, one gets the impression that had United not spent such an eye watering amount to bring the two to Old Trafford in the first place, particularly in Pogba's case, then Mourinho's patience would have waned much more severely.
As an example, United stalwart Wayne Rooney has been gradually eased to the wayside this campaign under the pretences that his time at United is naturally coming to its conclusion. Had it not been for the extortionate outlay on their heads, then it could be argued that it wouldn't have been surprising to see Pogba or Martial take a similar path, much in the same way as their counterpart Henrikh Mkhitaryan was briefly sidelined as he acclimatised himself to the Premier League.
But that has not been the case for Pogba. He has been an almost ever present figure in the United midfield.
Whatever the reason for his omnipresence this season, whether that be internal politics or pressure from above to shoehorn the world's most expensive player into United's first team regardless of effectiveness in the hope that his true form will return, the fact remains that it has fostered an inconsistency in his game and at times left the young Frenchman looking fatigued and a shell of the player he grew into at Juventus.
In this case, one could certainly argue that his inclusion in the first team has actually been a detriment on occasion, not a benefit to either himself or his team.
With 66 appearances in all competitions this season at the time of writing, one can fully understand why Pogba may have been over used to the point of nullifying the very qualities he was bought to provide. To put that into context, he has made almost 20 more appearances than his French companion.
So what can be said of Martial? A player with undoubted potential himself, the Frenchman was an equally expensive acquisition but has also been plagued by inconsistency as United have endured tepid domestic results, manager upheaval, injury ravaged spells and Europa League congestion in his time at the club so far.
Partly, it is an unfortunate truth in the game that playing as a winger can often induce inconsistency as young players balance the skill they possess with the work rate often required to fulfil their tactical requirements to the team. Too much talent and not enough work rate often results in a lop-sided team, unbalanced and likely to be exploited by the gaps they leave behind in their forays further afield.
Under van Gaal, it was a balance that Martial was getting right more often than not. Trusted by the Dutchman – or under the same pressure as Mourinho to play United's then most expensive player regardless of form until he came good – he showed his best form during van Gaal's ill-fated reign.
But Mourinho is a different breed of manager. He is arguably one of the most tactically astute in the game and renowned for his in-game management and strategic planning, but he nonetheless remains a firm favourite of a settled starting XI, always based on a single, consistent formation that is tweaked depending on the opposition.
It is very much the personnel that change under Mourinho, not the formation and that can be very hard to tackle for a young player. Prove you can work hard, follow his explicit instructions and express the kind of tactical awareness, technical quality and bravery he admires, and he will elevate you to new plateaus as a player.
But shirk your responsibilities, fail to perform you duties or display any maverick tendencies to abandon his rigid game plans and life can be very hard under the Portuguese, as we have seen this season with the likes of Mkhitaryan and Shaw in particular.
In that sense, Martial has been a victim of his own success; unable to break free from the shackles of the responsibilities Mourinho places on his charges. His effectiveness as an explosive winger, cutting inside and tormenting his opposition has been diluted by the tactical awareness required of him.
Coupled with the natural inconsistencies of youth as he grows into his position and into the Premier League itself, and it is little wonder a player of Martial's ilk and style has struggled this season, amongst United's other well document travails.
However, there is hope for both players.
Should United triumph on the 24th May, then a Europa League trophy, plus a League Cup and Community Shield as well as a place in next season's Champions League all on their CV will hugely boost their confidence. It will provide the clearest indication yet that United lie on the right path moving forward and Mourinho can still steer them back to the upper echelons of world football, both domestically and as the global brand they have become.
There is no doubt that money will be spent this summer to once again galvanise Old Trafford with a further influx of talent, with the rumour of Atletico Madrid's Antoine Griezmann refusing to go away amongst other stellar names. It is a certainty that next season will see another shift of power at United, and despite their inconsistencies this campaign, for Pogba at least, the future can still look bright.
He needs time, a rest, and a league campaign with room to breathe that isn't stifled by an exhausting and congested Europa League fixture list impinging on United's domestic form. Whether the ability that then unfolds will ever truly justify his exponential and bloated price tag remains a question for another day. It looks ludicrously out of touch with reality right now, but should Pogba hit his stride consistently, he still has the opportunity to thrive.
The future for Martial however looks less certain. Rumours of a loan move away were quiet but persistent in January, and while United would be reluctant to cash in on such a precocious talent after spending so lucratively on the former starlet, he will face a more anxious wait for next season than his compatriot. The big names will continue to be linked with a summer move to the Theatre of Dreams, and should more stellar signings make their way to Old Trafford, it still isn't beyond the realms of possibility that the Frenchman falls even further down United's pecking order.
With Marcus Rashford already beginning to overshadow Martial and perform so spectacularly both up front or in the wide attacking role the former Monaco man normally favours – plus any new summer arrivals – Martial has work to do in regaining his first team birth and then asserting his authority over it.
For United this season, the Europa League may be an ensemble to the main event, the Champions League, but it has nonetheless still allowed Pogba and Martial the opportunity to showcase themselves amongst European opposition and continue their development.
For Martial, it has given him further experience of European football that will benefit him in his growing maturity, while Pogba, already tasting the delicacy that is the Champions League with his time in Turin, will know what is required to push him and his team back to that level after using this season's European jaunt to settle himself into United and Mourinho's style.
When the cold hard facts of this season are laid bare when the dust has settled, it is still questionable whether a Europa League triumph will completely assuage the criticisms and murmurings of discontent surrounding United under Mourinho's first season in Manchester. But hope should not be lost for United's French duo.
They still have all the potential to form a formidable attacking partnership. They just need a consistent season and a boost in confidence. A win on the 24th May might just provide them with the spark they need.