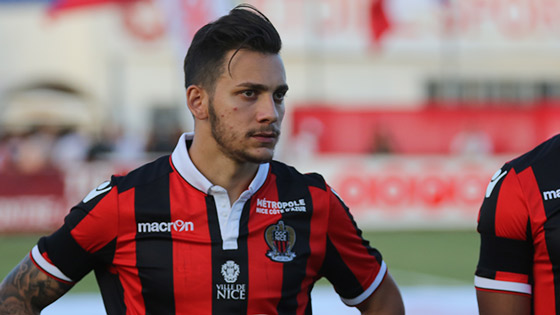 FEATURE | Why Anastasios Donis can lead the line for OGC Nice to the Ligue 1 title
It has not been a good month for Nice.
Champions' League football is almost assured, barring a major disaster, but those dreaming of a Leicester like title win have seen their hopes begin to fade. Monaco have continued their imperious form, while PSG have shown huge improvement recently. Nice began the month of February by being beaten 3-0 by fellow title challengers Monaco, and on Monday were rocked by the news that current top goalscorer Alassane Pléa is out for the rest of the season with an injury.
In addition, Mario Balotelli is badly out of form and has scored just once in his last six Ligue 1 matches. Balotelli's recent contributions were summed up when he was sent off against Lorient for insulting the referee. His troubles have left Lucien Favre with a choice on whether or not to continue playing the volatile Italian.
Early in the season Balotelli was in scintillating form, however, he still did not contribute much besides goals. This was not necessarily a bad thing as it gave Nice a constant threat inside the box. Balotelli left much of the defensive and creative burden to fellow strike partner Alassane Pléa who excelled in this role. For much of the first half of the season this tandem worked like a fine tuned machine. However, Nice have recently experienced difficulties.
Pléa has struggled with injuries and Balotelli has suffered a loss of form. Because of this and other factors such as the loss of Jean Michel Seri to the AFCON, Nice have lacked a spark in attack. Balotelli has been largely pedestrian and has shown his petulant side with his outburst against the referee during the match against Lorient. When Balotelli was in form, his goals justified his lack of output on the creative or defensive side of the game. Since dropping off, Balotelli has contributed almost nothing to Nice's attack and results have stagnated.
This brings us to the current situation. Alassane Pléa was enjoying a very successful season and was a big part of Nice's attack. Losing him for the rest of the season is a huge blow for Nice and leaves them with just Balotelli, Anastasios Donis and arguably Alexy Bosetti (who does not appear to be liked by Lucien Favre at all) as striking options. Herein lies the problem for Lucien Favre. Balotelli is the more established option and has the star power that Donis obviously lacks.
However, in light of Balotelli's poor form and outburst, Favre should be courageous and trust Donis to lead the line. Donis lacks the pedigree of Balotelli, but has shown a much more hardworking style of play when making appearances this season. His impact in the Ligue 1 fixture against Rennes which ended in a 2-2 draw is undeniable and he has shown that he is willing to be a nuisance upfront in order to create chances for his teammates. While he may lack the deadly finishing within the box that Balotelli possesses, Donis compensates with other skills.
Anastasios Donis was born in England. At the time of his birth, his father Giorgos Donis was a professional footballer with Blackburn Rovers. Anastasios Donis began his football career in the Panathinaikos youth team before joining Juventus in 2013. At Juventus he began to display his talent by playing with the Primavera side in the UEFA Youth League. In January of 2015, Donis joined Serie A side Sassuolo on loan for the remainder of the 2014-2015 season.
However, Donis failed to make an appearance with Sassuolo in Serie A, and spent most of his time either on the bench or playing with the U19 team. At the start of the 2015-2016 season, Donis joined Swiss side FC Lugano on a season long loan. It was at Lugano that he finally made his professional debut and at the age of 19.
Donis went on to make 25 appearances in the Swiss Super League, scoring four goals and giving seven assists. He was also prolific in the Swiss Cup and scored four goals in four games, helping Lugano reach the final where they lost 1-0 against FC Zurich and finished the season with 8 goals and 7 assists in all competitions, a quite impressive tally considering his young age.
Nice noticed his potential and signed Donis on a season long loan in the summer of 2016, with an option to buy at the end of the season. He has until now failed to achieve much playing time with Nice as Favre has preferred the partnership of Balotelli and Pléa. However, Donis has impressed when given the opportunity.
He played a total of just 79 minutes in Ligue 1 before February 12th with all of them coming as substitute appearances. This all changed on the 12th of February when he replaced the injured Alassane Pléa in the 43rd minute with Nice losing 2-0. In the 59th minute, Donis latched onto Valentin Eysseric's through ball and finished calmly past Benoit Costil. Nice would go on to draw 2-2. The goal displayed Donis's movement and dribbling ability which previously made him stand out as a youngster at Panathinaikos.
Donis has proven to be a much more subtle player then his father Giorgos, who relied mainly on his pace. Anastasios's main attributes are his excellent dribbling ability, vision and intricate passing. His best position is probably playing as a second striker in the mould of someone like Stevan Jovetic. Despite this, Donis is more than comfortable playing alone upfront as his time at Lugano shows. He also has a penchant for scoring spectacular goals.
In closing, Favre has a choice to make on whether to start Donis or Balotelli upfront. While Balotelli may seem like the obvious choice considering Donis's inexperience, it would be a mistake to overlook the Greek prospect. Donis has shown that he is currently much more suited to lead Nice's attack and that he has the talent to be effective.
Benching Balotelli would also send the message that the Italian must improve, if he wants to be a starter. Nice are in striking distance of Champions' League football and a possible league title thanks to a policy of trusting young players. Continuing this policy with Donis can push them over the line.