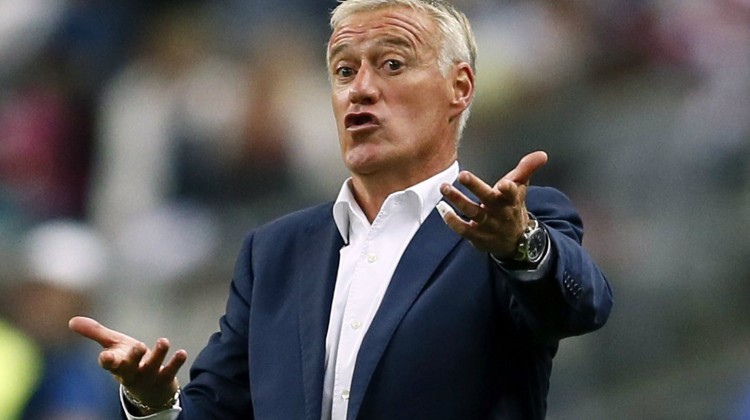 FEATURE | Why playing it safe, like Didier Deschamps has done with his latest squad selection, will not yield success at the 2018 World Cup
Club football in France is done for the year, save the Coupe de France final and the two play-offs, but that doesn't mean that there's not plenty more to come from the country's various national teams. The U-20s opened their World Cup campaign in Korea with a fine victory over Honduras, while the U-21s have a pair of friendlies against Cameroon and Albania.
There is also, of course, the storied Toulon Tournament starting next week, although France's side for that competition, announced today, will be on the inexperienced side, being essentially an U-19 side. But even as France' various youth sides take the pitch over the coming days, the focus is inevitably on the senior side.
France are all but qualified directly for the World Cup next year, and a win over Sweden in Stockholm on June 13 should just about do the trick, the team having rebounded nicely from a scoreless draw in Belarus. That match is sandwiched between two friendlies, both at home, to Paraguay and England, but more than the results on the pitch, there has been much debate engendered once more by Didier Deschamps' selection. Never one to kowtow to popular demand, the manager and his media battles with knight errant Karima Benzema took centre stage again this week, the former Marseille boss dismissing his erstwhile striker as "pathetic" after Benzema had shared a cheeky meme.
Deschamps continued, citing the need to grow a team without privileging an individual, This France side was constructed before the Euros. It was consolidated during that competition, where we made the final. I have a group that has an equilibrium, a harmony, a real dynamic that's been created. I've put my confidence in players who have shown what they can do on the pitch. I'm the only one who decides this. I make choices for the good of the team, and I'm not going to change that. Each time I pick or I don't pick a player, I think about what's best for the team and for the collective."
This is nothing new from Deschamps; wary of the events of South Africa, the manager has continued to prize team harmony over individual players, and his exclusion of Benzema may have also some merit on sporting and tactical grounds as France seek to build around Antoine Griezmann. Add in the emerging Kylian Mbappé and Olivier Giroud's consistency for France, and Benzema's exclusion is sympathetic enough. What isn't understandable, though, is Deschamps' exclusion of Tiemoué Bakayoko.
The young Monaco midfielder has had a fine first season as a starter, impressing alongside Fabinho in Leonard Jardim's 4-4-2 and recently earned his first cap against Spain. He was less than impressive in that match, although he was far from alone in that respect. He rebounded quickly and continued to impress for Monaco, both in Europe and domestically despite suffering a broken nose.
There is some suggestion that Bakayoko may be distracted over a potential summer move, with Chelsea most strongly linked, and he also may be fatigued after playing nearly 4000 minutes over more than fifty matches, totals that dwarf any of his previous seasons.
Given that this set of matches isn't imperative for France save the trip to Sweden, if Bakayoko is being excluded owing to fatigue, be it mental or physical, this would seem an ideal opportunity for rest, but the first of these matches isn't until a week from Friday, allowing plenty of time for rest. Beyond this somewhat obvious excuse, there remains another elephant in the room. Bakayoko did earn a cap against Spain, but as that match was a friendly, and not a competitive encounter, he is yet to be cap-tied, and remains eligible for the Ivory Coast as well.
Bakayoko has said that not being selected won't change his plans in that regard, telling Canal Football Club, "My first selection with the national team, it was an incredible moment. There was a lot of controversy surrounding my selection for Ivory Coast, from whom I was more or less waiting for a call. But when I heard that Didier Deschamps wanted to pick me, a lot of things were confusing, but I decided to choose France. A firm decision? Yes, it's firm, I'm not going to revisit it."
Bakayoko seems to be saying the right things, but if he does move to Chelsea but can't break into the first team, will his absence from the squad be extended when France convene again in August for matches against Holland and Luxembourg? Only time will tell, but for now, Bakayoko's word should be taken at face value.
Perhaps more troubling than Deschamps' exclusions for this set of matches are his inclusions. For these three matches, Deschamps has convened twenty-six players, which makes for perhaps a bigger tent, but if the manager is building towards a World Cup for which France are, if not favorites, among a very small group of contenders, there are still certain confusing inclusions.
It's hard to find fault with Deschamps' selections in attack, with Alexandre Lacazette back in the side at the expense of Kévin Gameiro and in central defense where Kurt Zouma and Raphael Varane return from injury, but in each of the other groups of players, there are seemingly bizarre inclusions. Chief among these is Moussa Sissoko, who has barely played for Tottenham since becoming their club-record signing last summer, and has been poor when he has featured. His dynamism and work ethic were important last summer, to be sure, but when Morgan Schneiderlin has impressed since moving to Everton and Morgan Sanson has performed to a very high standard as well, Deschamps should take a more expansive approach to squad selection.
In other areas, the exclusion of Sébastien Corchia for Christophe Jallet is also somewhat baffling. Jallet is a more assured and experienced presence, to be sure, but he is also 34 in October. Age never stopped Deschamps from picking Patrice Evra last summer, and Jallet was never a dynamic player even in his younger days, but Corchia has been arguably Lille's best player in a difficult season, markedly improving most of his defensive abilities without sacrificing anything going forward. There is nothing new to learn about Jallet, but Corchia, who has played just twenty minutes for France, would have been a good bet to benefit from more time with the senior side.
A similar situation has cropped up at goalkeeper as well, with Alphonse Areola, who has underwhelmed at Paris Saint-Germain this season, being selected ahead of a host of other good options. Steve Mandanda's injury means that Benoit Costil moves from being third-choice to the back-up, but despite Areola's promise, Deschamps could have opted for a player like Yoan Cardinale, who has impressed for Nice this season, or perhaps even Alban Lafont, although the U-20 World Cup is likely a mitigating factor there.
Lafont aside, if Deschamps insists on banging on about the collective, he should be taking a more youth-oriented approach towards this team. As the players born between, say, 1991 and 1998 start to peak, France should be favourites in at least the next three major tournaments, but how ready those younger players are for a higher level of competition will be down to the amount of experience they are given in the present. If that process is something that Deschamps botches, his reign as manager will have to be considered a failure, despite what he has already achieved.