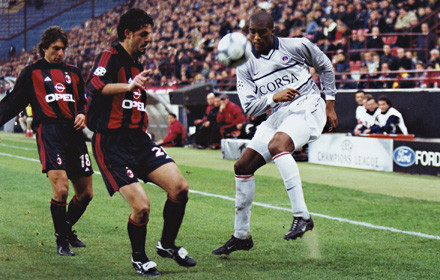 FEATURE | Why PSG's Champions' League mentality is all wrong
A new low
The date is March 7th 2001. Back then, the Champions' League adopted a format of two group stages before the quarter-finals. PSG progressed from the opening group stage with 10 points and were drawn against the likes of AC Milan, Galatasaray and Deportivo La Coruna (three sides that would hardly send shivers down your spine nowadays) in the second group phase.
PSG were not having a particularly good 2nd half of the season. Despite sitting 2nd in Ligue 1 in early November, those six games seem to aggravate their league form. They lost to Deportivo 1-3 at the Parc des Princes, then at Galatasaray 0-1 before managing two 1-1 draws against Milan home and away. The return game at the Riazor was the last chance for PSG to make the quarter-finals in what was turning out to be a disappointing domestic season.
In Galicia, PSG played out of their skin for 55 minutes as they led 3-0 thanks to goals from Jay-Jay Okocha and a brace from Laurent Leroy. Surely, defeat was impossible? Yet, no one can quite believe the final scoreline (4-3) as Walter Pandiani bags a quadruple to knock PSG out of the Champions' League. PSG and their fans were not quite sure what hit them or how it happened.
16 years later, older PSG fans now have this memory erased only to be replaced by a new and worse one. Being 4-0 after the first leg should have assured qualification to the next round, despite still having to visiting Barcelona, but fans who remember that game at the Riazor can relate to this week's encounter in terms of it being typical of PSG to throw it all away.
They did.
Losing 1-6 and not playing disastrously for 90 minutes.
Wednesday was different from 2001 of course. PSG have been winning leagues for fun and have money to spend whilst back then, a mid-table finish was the norm more than the exception. Most players that started in midweek are established and have enough Champions' League experience (only three of the 11 players that started the game had never played at the Nou Camp) to know how to defend for 90 minutes. But did they have to? The body language that every single PSG player had was all wrong from the kick-off until half-time. For some reason, Unai Emery thought it would be a good idea to sit deep and wait for the final whistle to go.
Not a horrendously ill-advised approach in fairness, but it made his players uncomfortable (not being accustomed to taking this defensive stance week in, week out) and they conceded two Sunday league-esque goals in the first half. Yet Barcelona were poor. Their distinct lack of invention and creativity were relatively easy to defend against considering the players that were on show but somehow they went in at half-time 2-0 up without being anywhere near their best level.
The second half was different from the first. The players went back on the pitch with the firm intention of attacking and, Meunier's ridiculous foul aside, PSG were well on top for most of the second half. What happened from the 86th minute onwards was and remains simply unexplainable and could not have been written in any script. Just like at Riazor, you can watch those final ten minutes a thousand times, yet you still cannot really understand how PSG threw this away.
Approach domestic competitions with full force
PSG put far too much emphasis on this competition. To Barcelona, elimination would not have been the end of the world. They believed they could achieve the "remontada" but had it not happened, so be it, Luis Enrique was on his way out. This is the same attitude massive clubs who are accustomed to having the Champions' League as a target tend to have. To them, it is just another competition, where they are expected to do well, but not desperately aiming to do so, with other titles to fight for. To PSG, it makes or breaks their season which really should not be the case. Especially this season.
The current campaign has seen PSG top the Ligue 1 table just three times (and one of those was on the opening day of the season on a Friday evening – the only game of the day) and, granted, they have not been as dominant, but Monaco and Nice have provided serious competition for PSG's domestic dominance.
Since the Qataris took over, PSG have been winning the league for fun and the Champions' League has become the aim, not the cherry on the cake. With competition emerging from the South Coast, PSG need to reverse their order of priority in terms of trophies to be less stressed and more relaxed when kicking off a major two-legged tie against one of Europe's greats.
Elimination from the premier club competition is not well received by the fans but it has not provoked havoc, mayhem or suicide attempts from sympathisers worldwide either. It is business as usual and there is always next season. This is the state of mind that PSG need to adopt if they want to be in contention for winning this much-coveted trophy. If they do not alter their mentality, they will continue to approach big European games with a massive pit in their stomach and the fear the aftermath of a surprising elimination brings. Of course Unai Emery must be blamed for playing defensively but less pressure, from the club hierarchy and the media, would likely have ensured PSG safely into the next round no problem.
Real Madrid did not win La Liga when they won the Champions' League in 2014 and 2016. Coincidence?