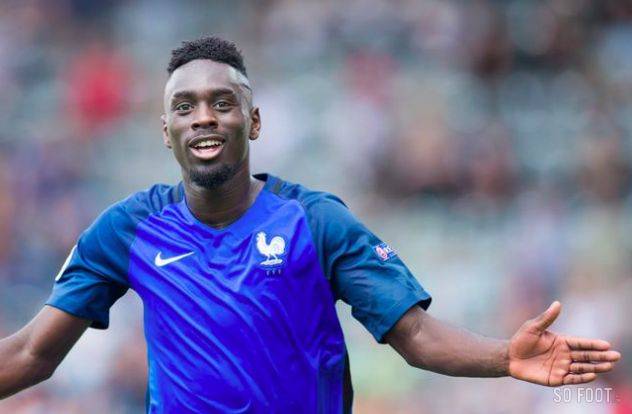 France U20s – Examining their failed South Korea World Cup run
The recent travails of France's youth teams are well-documented; the U-21s have failed to reach the upcoming European Championship, extending that streak to at least thirteen years. This is despite Les Espoirs having several Ligue 1 regulars in their ranks, including Corentin Tolisso, Adrien Rabiot, Thomas Lemar, Benjamin Mendy and Tiemoué Bakayoko. While the current crop may be superlatively talented, recent vintages that failed to qualify included Antoine Griezmann, Alexandre Lacazette and Layvin Kurzawa, the last of whom's infamous antics proved pivotal in a play-off tie against Sweden.
While it's far from only being individual mistakes, or moments of hot-headedness that have shaped the prospects of France's young players in recent seasons, incidents like Kurzawa's winding up Sweden after scoring have persisted. Paul Nardi was send off before the match was ten minutes old against Iceland, and the current crop also conceded a gut-wrenching last-minute winner to Macedonia; who eventually won the group. Admittedly there is a small margin for error with many of these competitions, as only the group winners and the best four second-placed teams qualify for the tournament proper, but still, given the calibre of opposition, and the experience many of these players have in league matches, more might be expected.
Last summer, though, brought with it a significant improvement, a beacon in the fog in the form of the current crop of U-20s. In last summer's U-19 European Championship, the team did well to overcome a sloppy draw to England in the first game of the group stage before thumping Italy and Portugal in the knockout rounds. Coming on the heels of an earlier valiant performance in the Toulon Tournament, where an U-20 side had impressed in reaching the final, things finally seemed to be coming together for the generation of players born in 1996 and 1997. Their victory in the European Championship carried with it direct qualification to the U-20 World Cup in South Korea, and France, with a bevy of Ligue 1 regulars (Issa Diop, Ludovic Blas, Allan Saint-Maximin) among the side's stars.
It wasn't to be, however, as the team crashed out to an unfancied Italy, a team largely composed of the side that they had thrashed in the European final. Once again, mental errors were to blame, as Italy's opener came from a moment of madness on the part of Faitout Maoussa, the Nancy youngster failing to track the run of Riccardo Orsolini for the opener.
Maoussa had been a surprise starter last summer, and he rewarded the faith of Ludovic Batelli by being named team of the tournament. France leveled through a penalty by Jean-Kévin Augustin, but Italy were soon in control once more, with the neglectful Maoussa being caught out as Andrea Favilli streaked down the left flank to make Giuseppe Panico's winner.
It may seem cruel to take Maouassa, who was a late replacement for the injured Ronael Pieree-Gabriel, to task, given his impressive finish to the season with Nancy. Used in a more attacking role, the little winger prospered as he proved instrumental in allowing the eastern club to avoid the drop until the season's final day. A clever player with the ball at his feet, Maoussa regularly played with an uncommon effervescence that captivated the imagination. He also, however, was given a position of privilege in Pablo Correa's tactical systems. The Uruguayan manager was desperate for any sort of attacking impetus after a largely season, and the raw Maoussa delivered that in spades.
Along with that run of performances, though, Correa's privileging of Maoussa may have had a drain on the player's sense of self-worth. Not in a negative sense, but in being used in such a way, Maoussa's ego, duly stroked by his manager may have lead to a level of self-belief that caused him to operate outside Batelli's instructions.
Similar concerns will have followed Saint-Maximin at Bastia and Amine Harit at Nantes. Harit had been dropped for a spell by Sergio Concecaio, but under the Portuguese and previous manager René Girard, he was similarly given license to roam. Faulting this trio's club managers is a futile exercise, as needs must when the devil drives in the relegation places, but might Batelli have placed a stronger emphasis on positional discipline and working within a system?
After all, he had ample opportunity to impress the importance of the World Cup on these players, having convened them roughly two months ago for a friendly tournament involving Portugal, England and Senegal. France failed to impress in those matches, looking shaky at the back and only managing to beat Senegal owing to their opponents' poor execution at set pieces, ending the match with ten men after Denis-Will Poha was sent off. An unimpressive loss to England and a draw with Portugal followed, and while caveats could be made about the absence of key players in South Korea (Kylian Mbappé, Joris Gnagnon), there were already worrying signs in March.
Batelli failed, like so many of his fellow youth managers, to instill the necessary level of discipline in his squad, and a genuine chance for a major trophy went begging. The confidence that can be gained from a win along those lines shouldn't be downplayed, as many players from the 2013 winners (Paul Pogba, Samuel Umtiti, Kurt Zouma) have become regulars with the senior side.
It follows thus that their ability to play with maturity and brio, traits gained by succeeding in a lengthy tournament were down to their willingness to sublimate their individual talents for the good of the whole. At present, too many players of this generation are simply guilty of believing their own hype, a condition enabled to no small degree by their managers for both club and country.
A chance at redemption waits ahead of 2019's U-21 Championship, but it will require a renewed focus on the part of the players and the association. If success with the various national sides is to be achieved, France's crop of youngsters must be willing to work together as a team shifting their focus away from the individualism that has sparked interest in them.
Until this is demonstrably achieved, it seems more likely that more frustration is yet to come. Sylvain Ripoll has been brought in to manage the U-21s, but despite a fine win over Albania, his ability to get players on the same page wasn't exactly on full display at Lorient, presaging what would be continued doubts over the national set-up's approach to youngsters. If Ripoll can turn the page, more credit to him, but France's ambitions are in real danger of being frustrated by a culture of individualism.