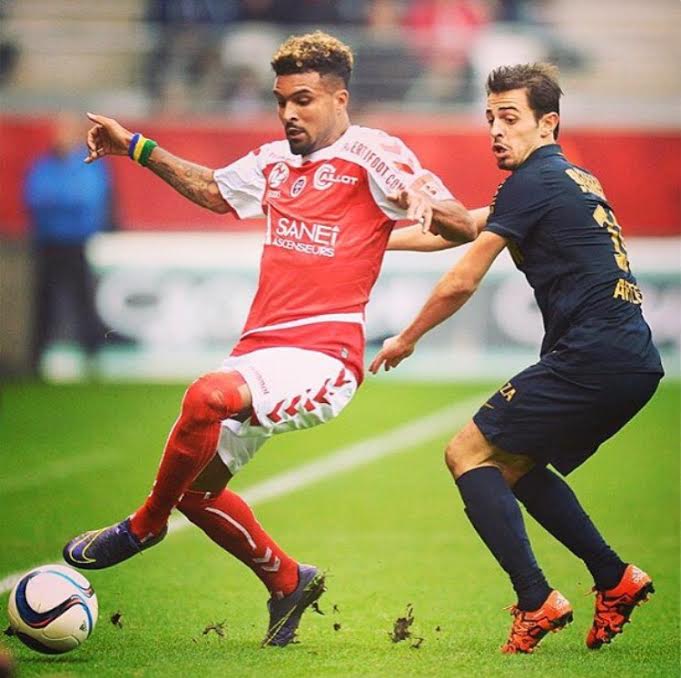 Exclusive | Frédéric Bulot: "Reims did not give me the necessary treatment because my contract is ending."
Get French Football News had the pleasure of sitting down with Gabon international Frédéric Bulot who discussed his peculiar current situation at Reims where he is not playing, his belief in Monaco to make the final of the Champions' League and much more.
Born: 27th September 1990 (26)
Nationality: Gabonese
Current Club: Stade de Reims
Previous Clubs: AS Monaco, SM Caen, Standard Liège, Charlton Athletic (loan)
When you were young, you played at Châteauroux and Tours, before joining Monaco's youth academy for five years between 2005 and 2010. There have been other notable players who went through the same academy including: Layvin Kurzawa, Kyllian Mbappé, Yannick Ferreira-Carrasco and Stéphane Ruffier, as well as some older players like Thierry Henry and Lilian Thuram amongst others. Monaco's youth academy is currently among the best in Europe, so when a young player receives an offer from the club, what goes through their head?
Firstly, the prestige of the club. The environment and safety as well, because Monaco is very safe. It helps to reassure the parents and kids that they are in a good living environment and that the latter will be well-looked after.
In France, when you are young and go to a youth academy, parents will always worry because of the distance between them and their children. It is a big step in life seeing as this is ultimately where you choose your profession.
I was used to being far away from my family very early on. We started talking about a sport-study program, as early as when I was 12. I was in a sport-study program in Tours up until when I was 13 and then I went to Châteauroux, where I would only come for weekend games to play with Tours.
It is a habit that I had and that I got used to when I was young. In Monaco, you are already prepared for the distance and absence of your parents, and that was never really a problem for me. However, it is not a given for everyone. Some have more difficulties and need their parents near them. Otherwise, it can affect their development seeing as they will have one foot in one place, and their other foot in another. A player has to consider this for their well being and their way of being.
Is there anything that really stands out at Monaco, whether it was the facilities, the squad atmosphere, the sporting project? What seems to attract young players to the club? Or what spoke to you when you finally decided to go?
I had around 14 offers before deciding to sign with Monaco. I visited Rennes and Monaco before finally deciding, even though Rennes was the best youth academy in France at the time. After that, there were clubs like Monaco and Lyon.
Honestly, once you visit the facilities, you already feel like you are in a different world. When you fly from Paris and arrive on the French Riviera, you are surrounded by palm trees and luxury cars, instead of ordinary trees and cars. You also feel incredibly safe seeing as there are cameras all over the city.
The sense of protection helps to reassure your parents as they know that you will be in a place of the utmost safety. You are in a principality, where there is also nice weather. Being African, the weather is really important for my state-of-mind and well-being! It really is a different world.
Monaco have had a great season and are amongst Europe's best at the moment, having just beaten Manchester City in the Champions' League. Where do you see your former club finishing the season?
Honestly, I am picturing them in the final already. If you look at their squad in relation to their budget, they do not have the biggest of budgets like Barcelona for example.
But in relation to the quality of their young players, they have youngsters who are destined for greatness in better clubs. These players also have a market value that large clubs can afford to pay and would like to have in their ranks. They have plenty of room for growth.
As shown by Rothen or Giuly – before I went to Monaco – the players from that generation ended up in more prestigious clubs. They did not cheat their way to the final.
It would also be great for French football. I hope they will win it, because French football really needs it!
In Ligue 1?
They can become champions too! But it is more about Paris who have a greater budget, and consequently, fly through the league. So, it would be more of a failure for PSG if they were not to get first place. Every year, it is like that. Monaco also has a decent budget, but not quite that of Paris. They also do not have the same stars in regards to their quality and experience.
There are a lot of young players who have just started in Monaco, and that is what got them to the top of the league and good Champions' League results. Of course, the management also plays a part. Despite their inferior budget to PSG, Monaco deserve to be where they are and continuing in the league in this manner due to their room for growth.
You played for Monaco's senior team eight times before being transferred to Caen, where they put more faith in you, and gave you more game time. You had your best season statistically-speaking before being transferred to Standard Liège. You were also loaned to Charlton before coming back to Reims.   
More experience obviously. A different vision of the country itself. For example, I was not necessarily too keen on going to England, but I had one of the best years of my professional career there. You begin to ask yourself questions and to have a different vision of things in a club, country or championship. It definitely changed a lot of things on a personal and professional level.
That is interesting because when a lot of people think about England, it is actually quite a popular destination. It is very competitive and financially superior to Ligue 1.

The Championship is also financially superior!
We also hear certain journalists who say that players are only confronted by a demanding environment when they leave France. Seeing as you had the chance to discover two other large footballing nations, would you say that your stints there were more demanding? Did discovering other leagues help you reach another level?
Not at all. France is actually one of the countries that best develops young players, seeing as most of them go to big clubs when they end up leaving. The problem is linked to the fact that the investments that large teams make, like those in England, are what make the players leave. Financially, France cannot keep their youngsters. Due to their quality, they are all destined to leave.
When I went abroad, I had a technical basis, but I learned even more on the pitch. It is more about the fans' demands which are not the same as those in France. When I came to Monaco, the supporters were great. Those in Caen were too. The passion for football and high demands in Standard Liège in Belgium are comparable to those at Marseille for example. I was not able to handle those kinds of emotions when I was young, before going to larger clubs abroad.
Was it only about the fans?
Not only. I am saying that because they give heart to the club. But also because of how demanding a big club is and because of the change in mentality. There are clubs like Saint-Étienne, Lens or Marseille which are similar, but that is also because the fans give their lives to it.
Did you gain anything else off the field? A new cultural experience? A new lifestyle?
Yeah, it definitely makes you grow, and you learn to see things differently. You become a man. You have responsibilities, and deal better with pressure on and off the field. You ask yourself questions, and reassess yourself. It changes your way of living, and you also have a new lifestyle. You advance and grow. You learn to take lessons from difficult experiences. And that helps you to become the person you are.

Was it difficult to learn the language in England?
(Laughing) It is an issue in French education. You learn English, but not like in other countries where people speak it like a second language, but nearly fluently. I had basic knowledge in English, but it was really difficult.
It might not be easy for some when they are not immersed in it.
Definitely. It is important to continue studying. But when I became a professional at 16, I was in the first team, so I was always practising. In defence of many youngsters, when football starts that early, it is difficult to keep up in school. Especially when you are an international and you leave for periods of two weeks to a month. You cannot be fully invested in both at once.
Currently, you are with Reims who are third in Ligue 2. You have not played this season, but do you think Reims can make it back to Ligue 1?
The players have that capability to come back up. The team is also a lot better than some in Ligue 1. It is just about having a good cohesion between the players, the rest of the group, the representatives, since it is all linked. We all want promotion. If there is a disruption, regardless of where it comes from (technical staff, players etc.), things cannot work. It is similar to when Monaco were relegated. They had a better squad, but they did not come back up right away.
Reims also have considerable Ligue 1 experience, having only been relegated last season after a longer period in the top flight. 
There were a lot of factors. We had some important players who left during the last transfer window. As opposed to this transfer window, where we managed to keep more or less everyone, apart from those who really were not playing that much. In my opinion, we have the best team in Ligue 2. The players all have things on their mind. But do the players all have the same goal of being promoted with Reims? That can help a lot!
Certain players have expiring contracts and will not be too bothered if Reims stay in Ligue 2 or get promoted, seeing as it will not change much for them. Some players have two years left on their contract, and have to get promoted from Ligue 2. In football, even if it is a team sport, the individual still worries a lot about themself.
That is where the management is important. They have a role to keep everyone sound and make sure that the group remains focused on the same goal. If there is disorder, people will think about their personal interests, and not those of the club. Everyone has to share the same interests. That is part of why big clubs are able to win many titles and remain on top. There is a lot to it. The players have a mindset which is formulated by the club.
Do fans sometimes forget that?
You can live football, meaning that you are close to the field, the players, the coach and know what it is going on in the club. But then there is being a fan or viewer. That would just mean that you see the players running around, but that you do not see the preparation during the week. You see the results, both good and bad, but you do not know what it is due to or who is to blame. We criticise people at the moment when it all happens. It is all linked though. Those that you do not see are just as responsible for what happens, for the better or worse.
I have been in situations where coaches and players were targeted. But when the coach is targeted, the players know very well that it is not the only the coach's fault, it is a collective responsibility. It is important to take responsibility and not incriminate others.
You climbed your way through the French youth setup before finally choosing the Gabonese national team in 2014. Since 2014, there has been more talk around Gabon seeing as there are players like Pierre-Emerick Aubameyang, Mario Lemina and Didier N'Dong amongst others.
There was also the arrival of a great coach like Jose Antonio Camacho. Gabon was also the host country for the African Cup of Nations. Gabon managed three draws against Burkina Faso, Cameroon and Guinea-Bissau. You did not play in the last competition, but you followed your team during the competition as they got eliminated. What was missing for Gabon to have a better tournament?
Luck. We had our chances, but we were not very lucky. There was big pressure on us, seeing as off the field, elections in Gabon were taking place, and the country was hectic. Additionally, there was unrest amongst the population. Some were against the African Cup of Nations taking place, while others wanted Gabon to do well during the competition to help forget the difficult political situation. The unrest was very unpleasant for the players, seeing as they had to deal with all that pressure.
They did their best. There was also the arrival of a new coach for the competition, who was maybe not familiar with all the players. These are some of the things that prevented the group from being fully ready overnight. This requires a lot of time, that the coach knows the players, that the players know each other. There were also young players who were playing their first AFCON.
Beyond the political situation and the competition being given to Gabon at the last minute, there is also the fact that you do not see each other as often. It is not only the inherent quality of the squad which is important. There are other factors, and planning for the long-term is also important.
The long-term is important. But we were all just as stressed as the next person. It is very demanding, there is a lot of pressure on players, but we only see them on the field. They are a vehicle for what happens on and off the field, which goes beyond the inherent quality of the players. There are plenty of average players who can manage incredible feats, like Montpellier for example. They had good players, but they really represented the values of the clubs. Conversely, there are big players, who cannot free themselves from the pressure, and freeze up due to the stress.

Do you think Gabon could do well in the next African Cup of Nations? Is there a World Cup in sight, even if you are in the same group as Morocco and Ivory Coast?
Yeah, I think we can do well in the next AFCON seeing as we have the best Gabonese generation ever, with top quality players who play in big clubs and who are well-recognised. We have all the elements to succeed, but we need to spend the right amount of time together, and work together regularly and for the long-term. We just changed coaches and there were political issues. The AFCON also came very suddenly, so for players who are already under immense pressure, it is a lot to cope with. We are talking about the weight of a nation on our shoulders. It is not the same weight as a player who only has a stint in a club. The national team and one's origins are for life.
And there is definitely a World Cup in sight, otherwise we would not be here! Gabon has never made it to the World Cup, but it is an objective for us all. Not everyone wanted the AFCON to take place, but everyone can get behind a World Cup! This goes beyond all politics. It would be a failure to not make it.
The African continent is also becoming more competitive and player development is also better.
The best youth coaches are now coming to Africa to develop young players. A young African player will not cost as much as a European who is developed and can be resold for a certain market value afterwards. It is a question of finance, investment and earning money, which is not difficult to understand. The means need to be put in to improve young players.
Do you have any personal or team objectives with the national team? Any personal objectives with Reims before the end of the season? Playing in Ligue 1 again or getting more game time?
I am in a complicated situation where I am not at the club. I was not allowed back to the club due to my physiotherapy, and that is why I was not able to play in the AFCON. I should have been ready for the AFCON. I had my operation in July in Barcelona and I arrived back at the club on December 1st , but they did not give me the necessary treatment because my contract is ending. So, playing with Reims again would require them to pay me, which is not in their interests, and which is why they refused to provide proper treatment. So I am taking care of things, and I am trying to come back well. I know it is difficult, but I am doing it on my own.
It is a significant (meniscus ed.) injury, but I am not the first and will not be the last one to suffer from it. It is feasible to recover, but I did not get the support from my club who did not take the necessary steps for me to be operated. When I came back, I was surprised by the club's financial interest, even after my sacrificing seven months between January and July 2016 to help them avoid relegation, despite the fact that I was already in pain. Giving to others was a sacrifice of my values. The club was not able to give me anything, and, on the contrary, took a lot from me. I am still under contract with Reims and belong to the club, but I do not work with them in their interest.
It is part of learning; knowing that some are not there to give, even if at one point in time, you are told yourself that you are a major player and that you are the best. But that is life. As soon as you are not healthy and you are not in their best interest, everyone changes and you learn. There is a lesson to be taken from it. Despite the situation I was put in, I have learned from all this. I find that it is an admirable story, because I never gave up. Even if people may hurt me, it will not change my way of being. I will never be mean or arrogant. I will never change regardless of what happens around me.
It is important that I speak up. I have only started to be more vocal with the fans. Whether it be the Gabon fans or those from the clubs I played at. People have not seen much of me on the field. So, seeing as I was back from Barcelona in December, and I was meant to go back in January, people were aware that I was coming back soon.
Not being on the field and not being too vocal or making any announcements made people ask questions. The club, in all comfort, chose not to make any announcement on my state of health, which was not in their interests. They played on this to win time, and today, I am starting to clarify my health situation a bit more so that people know that I am fighting to come back and not criticising the club, because that could make things worse. It is being done in justice, and "underneath the radar", let's say.
Otherwise, I just want the fans to know that I am fighting to come back as I was before, to live, take pleasure and make others happy too. It is a complicated situation, and you have to force it to make things go your way. If you do not, you might as well quit. A player's fight is part of what makes their strength. It is part of a mountain that I have to climb and slowly descend when I can. If I do not fight to reach the top, then I will never manage!
What does your relationship with Reims look like now?
I would like to clarify that I forged very strong links with those with Reims. I get along really well with everyone. That means the administrative staff, the medical team, the coaching staff, the players, the fans, and, I can not forget those there who assured our comfort, including the cleaning ladies.
It was but the decision of one person and the rest followed, which is normal. They all have families, responsibilities as employees and need to assure a certain stability. That does not necessarily mean that they condoned what was going on. I will always thank the club for supporting me because I understand the differences between all tasks on a hierarchal level in a company.
You are a player who has managed to branch out by finding an interesting project on the side. Can you tell us a bit about your charity and your experience with volunteer work? You founded Phil & Tropy which looks to raise money to finance solidarity projects. What made you want to create Phil & Tropy?
I have always given without expecting anything in return. Simply put, seeing others happy makes me happy. For example, fans do not necessarily know this, but by giving them shirts, we are paying them. I give a lot every time, and I always promise them shirts. I give them to fans, and I pay for them with my own money. The pleasure they get from receiving it, it is just as great as the one I get from giving them.
Being close to and having a charity which helps impoverished children, who do not have a normal lifestyle, is important to me. Children in complicated family situations, who are in the street, who are beaten by their parents or raped etc. I want to help them feel happy during moments when we forget them. For example, during Christmas, when everyone is celebrating with their families.
My charity makes it so that when a product is bought, the customer is making a donation, without even being aware of it. All the money that is raised goes directly to charities that help these children go to school or get enough food, amongst other things. I invest in it, but I am not gaining anything in return. I am here to give back what I have been given. I am lucky enough to be a footballer and earn a decent living. Making others happy is what makes me happy.

What was the biggest challenge?
It is important to understand how everything works and to work with people that you know so that it will hold up on the long term. It is also important to work with people that you know so that it can work over the long-term. Apart from that, I started my charity in 2015, and I also had my injury around then. So it slowed me down, and it slowed the rhythm of everything else down.
I had new products ready to be given out, but I had to put it on hold because of my operation and physiotherapy. I was giving 200%, and with the little I had left, I could not really forget it. I always have an eye on it, even it it functions on it is own. I am waiting to be fully recovered so that I can go back during the holiday periods to make these children happy again, like I did in Gabon when I brought 300 – 400 gifts to them. I also invited some artists and did a lot of cool things that I had to put on hold for the time being.
We get the sense that you are very involved and passionate for this project, but more than anything, you feel a great sense of fulfillment. Is there an ultimate goal with Phil & Tropy? Or are you just looking to keep on helping others like you know how to, and help others become aware, so that they can contribute?
I want it to grow as much as possible, and I want people to be happy by making those around them happy, without being entirely aware of it. I am lucky enough to be a footballer, so having a network of friends and people who follow me is important. I know that people before me have had similar projects, and after me, people will too.
It depends on the person. I am not the same as someone next to me who says that I am doing this for myself. You will not change and you cannot criticise that person's mentality. It is just their way of being.

Y.H.