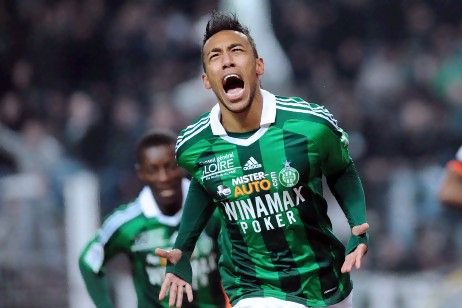 How signing players from Ligue 1 helped Borussia Dortmund prosper in Europe
After Paris Saint-Germain's epic collapse against Barcelona in the Champions' League Round of 16, Ligue 1 enthusiasts were finding it hard to defend a top flight that had not captured a major international title since Marseille's 1993 victory in the Champions' League. Sure, Monaco could carry the banner in this year's edition, and had themselves reached a final in 2004, but there remained more than enough ammunition for those who would simply continue to dismiss Ligue 1 with that distasteful phrase "tinpot league". Even though French club sides have struggled in Europe of late, the league's exports have been instrumental in this year's competition, perhaps ahead of any other nation.
Real Madrid boast Karim Benzema, Atletico Madrid have Yannick Ferreira Carrasco, Miralem Pjanic has been impressive for Juventus, and Samuel Umtiti is the latest French export to have found success at Barcelona. The venerable Franck Ribéry is still influential for Bayern Munich, and Leicester City's Premier League title triumph would have been impossible without former Caen player N'Golo Kanté. Monaco, naturally, have a cadre of French talent, but among foreign clubs, the influence of Ligue 1 is strongest in their opponents this evening, Borussia Dortmund.
The club have no great history of recruiting from French football, but in recent years, the arrivals of Pierre-Emerick Aubameyang, Raphaël Guerreiro and Ousmane Dembélé have been unqualified successes, especially compared to their recruitment domestically and from other European leagues. The trio's near-seamless transition from mid-table sides in France to the Champions' League quarterfinals is a testament not only to their abilities, but also the vision of Dortmund's recruitment policy and the attention to detail in the players' acclimation that the club have taken.
Aubameyang became just the second player in more than a decade to sign for Dortmund from Ligue 1 in 2013, but, unlike Dembélé, he was an established player, 24 years old and with more thirty caps for Gabon. Guerreiro, too, was far from callow upon his arrival, even at 23, having played four full professional seasons in France and been a key part of Portugal's title-winning squad at this summer's European Championships. But the inexperienced Dembélé represented a considerable risk on Dortmund's part, given he had started just 22 matches for Rennes. The team had been burned in the recent past after signing players such as Ciro Immobile and Adrian Ramos, who had failed to continue to produce after a single impressive season elsewhere, and despite Dembélé's obvious gifts, there remained some doubts.
The presence of fellow Francophile Aubameyang would be key in persuading Dembélé, and there was also the corporate link of Puma, who sponsor Dortmund and whose chair, Francois-Henri Pinault, owns Rennes. But more than that, the club represented a place where Dembélé, still just 19, could be given opportunities to compete at a high level without pressure. The philosophy of manager Thomas Tuchel is highly youth-oriented; Dembéle, despite not turning twenty until next month, frequently lines up alongside players younger than himself, including the American Christian Pulisic and Felix Passlack.
It is not only that Tuchel gives these youngsters chances, but that he is unafraid to experiment with them tactically. Aubameyang's conversion from a winger to a centre forward was something that had been toyed with by Jürgen Klopp, but Tuchel has doubled down on that notion, whilst also converting Guerreiro from a left winger/left back to a central midfielder. Dembélé, though, has benefited most from his manager's approach; used wide on the right at Rennes and for France, he has been moved inside to a play-making role with a great deal of latitude at Dortmund. Taking to the conversion like a duck to water, he credits Tuchel's approach with a heightened level of maturity.
In an interview with L'Équipe yesterday, Dembélé was almost fulsome in describing the freedom he is afforded, and how it's been a boon to his confidence, "He tells me to show what I can do, my qualities, my dribbling ability. When I have the ball, it's (almost) total freedom with a few defensive instructions, like pressing for ten seconds or less if the ball is lost. But, really, I have freedom. It's something that I need, I am allowed to play centrally, in the role of a no. 10, to change sides. It's nice to have that confidence, as if I were 25."
With sixteen assists across all competitions, Dembélé's conversion to a more creative presence has been impressive, but his recruitment was also approached with care, Dortmund marking their interest in the youngster at an early stage. That early interest served Dortmund's pursuit of him well, as Dembélé continued, "It was a choice that I made early last season, because I spoke with the coach early on. I didn't have but two or three goals with Rennes, but he said he wanted me. After listening to his pitch, I told him I would sign with Dortmund no matter what happened, that my choice was made. There was interest from other clubs afterward, but it was a story of his speech, a decision on which I wasn't about to renege."
Tuchel's pursuit of young players looks set to continue apace, as Dortmund's recent purchase of the Swedish striker Alexander Isak suggests, but that is not to suggest it is all been smooth sailing for the manager. With Bayern a club in transition after the departure of Pep Guardiola, many had looked to Dortmund to mount a more serious title challenge this season, but the club instead sit in fourth, behind not only the champions but upstarts RB Leipzig and Hoffenheim. However, given that the team has suffered through a raft of injuries to more established stars, (Mario Götze, Marco Reus, André Schurrle) that they are in good stead in Europe, and still alive in the DFB Pokal is a testament to the club's faith in youth and its attendant focus on recruitment from Ligue 1.