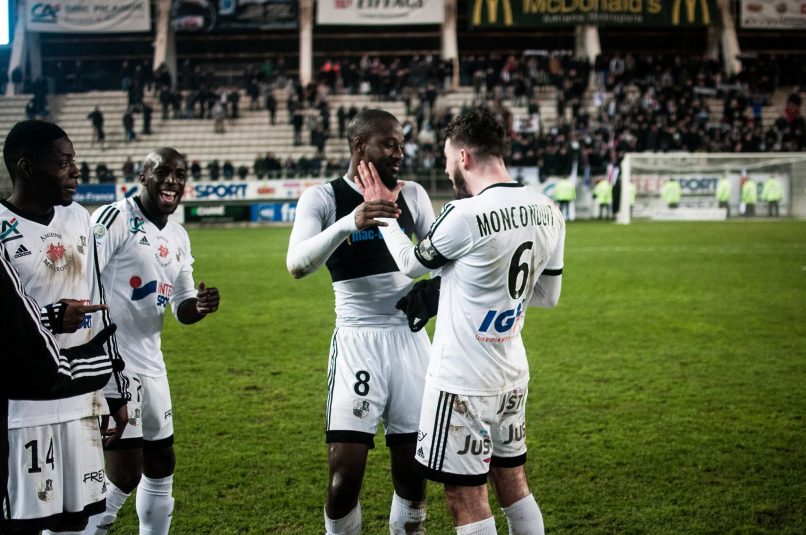 Ligue 2 Showdown – what to watch out for
On Friday, Ligue 2, France's second division, will play its last batch of the 38 chapters that constitutes the 2016/17 season. At the end of which, not three but two sides will be directly promoted to the country's top division, with the third-placed club forced into a play-off fixture with whichever side finishes 18th in Ligue 1. In a quite extraordinary turn of events, any side currently occupying the top six places in the Ligue 2 table can win automatic promotion on Friday evening, with an enormous 30 different combinations of how the top two will finish being possible. With only three points separating the top six, literally anything could happen.
Below are the games relating to the race for promotion which you should look forward to:
Strasbourg v Bourg-Péronnas
Reims v Amiens
Sochaux v Troyes
Lens v Niort
Brest v GFCO Ajaccio
Laval v Nîmes
Strasbourg
As competition in the French top flight has strengthened, France has seen a fair share of big town-clubs falling down the football league ladder in recent years, Strasbourg being one of them. If the Alsace-based side do seal promotion on Friday, they will achieve a feat that is not as uncommon as its inherent nature might suggest: winning back-to-back promotions from National (3rd division) and then Ligue 2. Recent examples of this include Evian-Thonon Gaillard's surge in 2010/11 and Gazelec Ajaccio's double-promotion which saw them be a part of Ligue 1 in 2016/17. The latter club has deep connections associated with Strasbourg's success this season, with manager Thierry Laurey and talismanic Moroccan international Khalid Boutaïb both quitting Corsica last summer to join the then newly-promoted from National side. A return to the top flight for Strasbourg would represent their first foray in the French top flight since 2008 and provide the 1995 UEFA Intertoto Cup winners with the chance to re-establish themselves as a landmark on France's football landscape.
Amiens
The hometown of recently elected President Macron, if Strasbourg's potential back-to-back success would be a surprise, then Amiens' would be nothing short of a miracle. Like Laurey's side, Amiens spent last season in the French third division and have relied on an indomitable team spirit and the tenacious midfield duo of Tanguy Ndombele and Guessouma Fofana to provide constant shocks to the Ligue 2 system. Described insultingly by French football magazine France Football as "goats" in its Ligue 2 season preview, manager Christophe Pélissier's decision to stick the article on the dressing room wall as motivation serves to encapsulate the Amiens' combative, gung-ho approach. A win would seal their first ever French top flight campaign so long as Troyes do not better their goal difference, but a trip to Reims, relegated just last season, represents the toughest of all the final hurdles that face the promotion-seeking pack. Their presence in Ligue 1 would certainly be a fairy-tale – there is currently only one bus that leaves the city centre for the stadium when you seek to go to an Amiens match.
ESTAC Troyes
A perennial yo-yo club, ESTAC Troyes have created a reputation for flourishing in Ligue 2 only to perform dreadfully on each opportunity that they have to rub shoulders with France's best in Ligue 1. In possession of arguably the French second flight's most technical player in 40-year-old attacking midfielder Benjamin Nivet, the club has the necessary motivation to return to the big time in order to eradicate a pitiful record which they established over the course of the previous Ligue 1 campaign, recording the division's worst ever points tally: 18.
RC Lens
Lens were in fact playing their home matches at Amiens during their last successful Ligue 2 promotion campaign in 2015/16 owing to their usual ground, the Stade Bollaert-Delelis, being renovated at the time for EURO 2016. The club may be enjoying the creature comforts afforded to them by returning home but they are one of the few Ligue 2 sides this season to have actually collected more points on their travels (two, to be exact). This can perhaps be explained by their famously outstanding away fan contingent. A club that is rich with history in a town that breathes football, the return of Lens to the top flight would undoubtedly be a victory for French football. This, even though manager Alain Casanova has received plenty of criticism for his side's rather apathetic brand of football this campaign. He has journeyman Habib Habibou to thank for a recent injection of life into his team that might well propel Lens back to the top flight after a two season-long hiatus.
Stade Brestois
Despite sitting in 5th before the start of play on Friday, Brest have been sitting top of the league for most of the season – specifically at the end of 25 of Ligue 2's 37 rounds of fixtures thus far. They failed to pull away from the rest of the pack, losing three matches on the spin against direct promotion opponents (Amiens, Troyes and Nîmes). They play mid-table outfit Gazélec Ajaccio who in theory have nothing to play for. A win is essential, but one fears that come the end of the evening, Brest may have the biggest regrets.
Nîmes
Kicking off the 2015/16 campaign with an eight points point deduction following an unsavoury match-fixing affair, Nîmes miraculously remained in the Ligue 2 after a hard-fought relegation battle last season. At the turn of the calendar year, Nîmes were on nobody's radar but an incredible run of fixtures has seen them lose just twice in 2017 and incredibly put them in the mix for promotion. This is a sensational story that deserves the ultimate climax – Nîmes have not finished above 8th in Ligue 2 since the turn of the century. With a trip to already relegated Laval, the odds are certainly on UNFP Ligue 2 Manager of the Year Bernard Blaquart's men to grab three points.
In a league where the final promotion place last season was decided not by points, nor goal difference but number of goals scored, as Bob Bradley's charges at Le Havre were denied a Ligue 1 adventure by the smallest of margins, turn your attentions on Friday night to the weird but wonderful French second tier for what is sure to be a spectacle of drastically contrasting emotions