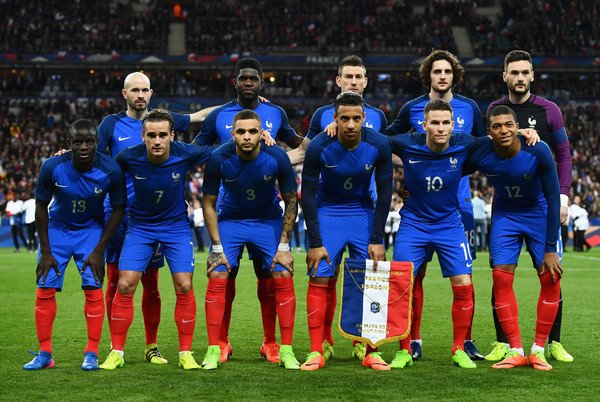 PLAYER RATINGS | France 0-2 Spain – How the French fared
France's 2-0 loss to Spain was a brutal reminder that, for all of the young talent the country boasts, they are still far away from reaching a high level. Yes, this was a team without Paul Pogba, playing an inexperienced midfield in an unfamiliar shape, but France were abject when dealing with Spain's press. What was nominally a diamond 4-4-2 instead ended up taking the form of a 4-3-1-2, with none of the three midfielders having any success in linking play with the attack.
The shape itself is not the problem, but the personnel may have been, as Adrien Rabiot and Corentin Tolisso, normally so effervescent in Ligue 1, were too reticent to get forward, perhaps fearful of the impact of a defensive error on their nascent international careers.
Antoine Griezmann, for his part, seemed lost playing behind Kevin Gameiro and Kylian Mbappé, and could have perhaps provided more leadership in a callow side. Perhaps the lone positive Les Bleus can take from the match was that it was only a friendly, and that there is plenty of time to re-evaluate tactics and personnel before the next set of matches in June.
Hugo Lloris – 6
Made a few fine saves and was quick off his line against the pressure of Morata. Slightly caught out on Deulofeu's goal, and passing was less than ideal, but generally a better performance than against Luxembourg.
Christophe Jallet – 5
Often played very narrow, inviting Andrés Iniesta and Jordi Alba into space on the flanks, poor positionally for Spain's second. Made a few decent clearances, but offered nothing going forward save a ball over the top for Griezmann's offside goal. 34 in October, would be a surprise to see him called up again.
Laurent Koscielny – 4.5
Conceded a needless penalty, and struggled aerially against Morata. Unlucky to see Piqué clear his header from a free kick early in the match. Had a few decent clearances as well, but below his best on the evening.
Samuel Umtiti – 6
Intelligent positioning and a few good interceptions. Nothing to write home about, but looks certain to remain first choice.
Layvin Kurzawa – 5.5
Poor in the first half, but grew into the match in the second, appearing to have a better rapport with Tolisso than Rabiot. Still has much to do if he hopes to displace Mendy, but with Digne not playing regularly, remains second choice by a wide margin.
Corentin Tolisso – 5.5
Forced to play deep to protect Jallet and Koscielny against Iniesta and Alba in the first half, but looked sharper in the second half. Showed a decent understanding with Kurzawa and did well to break up play when called upon, but could have offered more in attack.
N'Golo Kanté – 5
As bright as he was against Luxembourg, he was equally invisible here. His lack of ability on the ball was badly exposed by Spain's press, and his passing was also disappointing.
Adrien Rabiot – 4
An ignominious match for the Paris Saint-Germain youngster, who could have made a big statement after Blaise Matuidi's indifferent performance Saturday. Too easily bypassed and offered next to nothing going forward.
Kylian Mbappé – 6
Showed good endeavour but like the other members of the front three, struggled somewhat with spacing and link-up play. Played a good ball to release Griezmann at one point, but could look uncomfortable on the right.
Kévin Gameiro – 5.5
First touch and link-up play was disappointing, but not through a lack of effort. Snatched at a couple chances, and could have used his pace to better effect.
Antoine Griezmann – 5.5
Never a creative midfielder in a 4-2-3-1, Griezmann looked even more out of sorts playing behind Mbappé and Gameiro. A good finish on a goal that was ruled out, but an otherwise forgettable evening.
Substitutes:
Tiemoué Bakayoko – 5
His poor pass sold Koscielny short for the penalty, but did have some decent moments going forward. A difficult occasion for a debut, but perhaps might have done better in a different system.
Olivier Giroud – 5
Anonymous on the night, failed to link play or get a shot away. Not an ideal system for him tactically, but should have offered more in half an hour.
Ousmane Dembélé – 6
Bright in fifteen-odd minutes at the end of the match, playing in a couple good crosses and having a shot himself. Probably France's best player over these two matches.
Thomas Lemar – n/a
On at the same time as Dembélé, but unfairly asked to play in midfield, replacing Tolisso. Should be aggrieved not to have started or played more in this match, should replace Payet if both players' form stays as it is.
Video Referee – 7.5
Man of the Match performance, correctly made the call on goals by Griezmann and Deulofeu. A slightly longer delay on the Milan man's effort than would be ideal, but certainly showed how it can help the match officials when used properly.