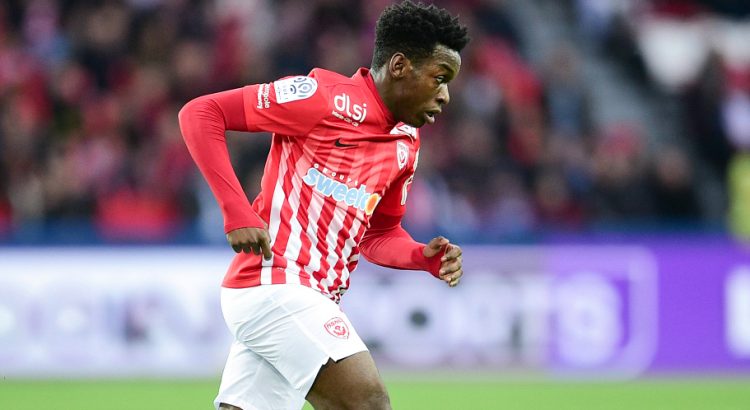 PROSPECT | Faitout Maouassa
Sometimes it can be difficult for a young player to hold a position down. When they finally break into the first team, it can take them a few weeks, months or even years in some cases to really nail down what space on the field suits their swiss army skillset.
One such conundrum has popped up at Nancy in the shape of Faitout Maouassa, who began at left-back and has been played almost everywhere since. Manager Pablo Correa has tried him there, as a wing back, as a left midfielder or winger and in the centre of midfield but he's yet to find a home that quite fits him nicely.
The 18-year-old actually got his big start two years ago in the 2015 U17 World Cup, starring for the French national team. It did not instantly translate to a place at his club side though, with Nancy relying on more experienced options so Maouassa was restricted to just a few sporadic appearances in the club's promotion season of 2015/16.
Again, it would be a somewhat surprising call up to the France under-19s squad for the European Championships that would see his name up in lights again. The Nancy man saw plenty of game time and even made the Team of the Tournament at left-back, alongside his more well-known teammates like Issa Diop, Amine Harit, Lucas Tousart and Kylian Mbappe.
But much like before, this did not give him a free pass to the starting line up at Stade Marcel Picot. He again had to wait for his opportunity, a couple of substitute appearances in October and in the cup competitions were his only little glimpses until a combination of injuries and poor form finally opened the door.
Truth be told, it was a test of fire for the teenager. Played as a wing back against Lyon, he was a little out of his depth and that continued as he saw himself get sent off in his second appearance against Caen, again as a defender.
This was when Correa tried something different in a struggling team, pushing the fast full-back further forward and something clicked. In a more central position against Paris Saint-Germain, he caused plenty of problems with his ability to probe, press and create.
Since then, he has scored two goals and had two assists while playing as a winger, an attacking midfielder or in the middle of the park. Those roles have seemingly matched his skill set better, especially in a weaker side where is defensive liabilities cost his team more than his attacking side benefitted.
Maouassa is quick and he knows it. The youngster regularly looks to burst past players wherever he is on the field, usually knocking the ball past them and testing their acceleration against his, a battle he tends to come out on top of.
He also uses that pace in a defensive sense, whether it is to cover ground to catch an opponent or to close down a player in possession. The latter is a real positive, his eagerness to harry is a well sought after quality for bigger teams looking to win the ball high up the pitch and start short counter attacks.
However, his speed is also his crutch. The reliance on catching players means he can be caught out of position often, his mind allowing itself to wander and making more hard work for himself. The youngster can also tend to rush in a little too rashly, leading to four yellows and a red card in just 12 league games this season.
Crossing is another strong point, shown by his ability both as a corner kick taker and his games out wide. Once he's beaten his man, he has the ability to pick his head up and deliver the ball to where it needs to be for attackers and makes that decision quickly.
The issue becomes when he holds onto the ball as his first touch can be lacking, his shooting is somewhat erratic and his passing has been off. So far this season, Maouassa has a 61.2% pass completion rate on an average of just 14.5 passes per game with 0.3 long balls, not good enough at this level.
Although just 5" 7, he does have a good amount of upper body strength. There are numerous occasions, especially in a superb performance against Rennes, where he not only held off defenders when attacking but put his body in the way when tracking back to recover possession as well.
As for where he suits best, it depends on where teams see his trajectory. Playing for a mid-to-Europa League level team, he should focus on becoming better with the ball at his feet as well as cutting inside to shoot.
His pace and crossing is already there but his tendency to do the same move to beat players will be easily stopped by higher quality defenders. The two goals he has scored this season, running across the defence and opening his body up to meet a cross, shows that he can be tidy within the box when he chooses the right options.
To go any further than that, he would need to pull up the defensive and positioning side of the game. He's not flashy enough to be a winger for any of the bigger clubs in Europe, so he needs to work on being better at holding his ground more, adding to his physicality and recycling possession better.
The same goes for being in midfield but his best attributes may be a little wasted there. If he's not afforded freedom and cover in a central area, he will be a liability on the defensive end but there's certainly potential there if he prefers to play as an attacking midfielder.
All those factors probably add up as to why Correa has slowly integrated him into the team and as to why the player hasn't found his niche just yet. He is still very young and has time to improve but he also needs to find out what direction his career will be heading in.
With Nancy practically relegated unless a few results go their way, which even then will likely mean a play-off at best, a move to a more established Ligue 1 side would seemingly be ideal. Again, the progression may slow down as his new side mould him into what he needs to be but there's a little bit of something to be uncovered in this unpolished, unsharpened little gem.