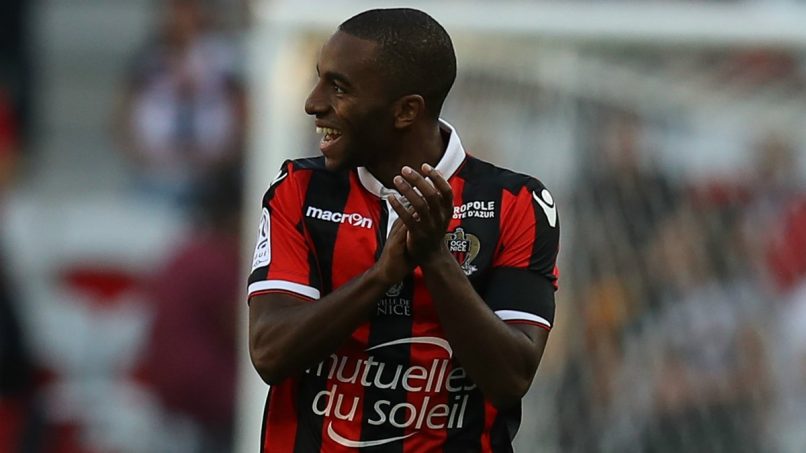 Ricardo Pereira – why his presence in Ligue 1 has been an honour and a privilege
If you have had the chance to watch OGC Nice this season, then your attention would have been immediately captured by several players. First of all, you would have noticed the mercurial and enigmatic Italian striker Mario Balotelli, a player who seems as likely to get sent off as he is to score a goal. Next your gaze perhaps rested on Dante, Nice's Brazilian centre back who always seems to play with a smile on his face. After this that your attention likely shifted to the incredible work-rate of Jean Michaël Seri and his wonderful technique on the ball.
However, if you look past all of these pillars of success for Nice this season you find another talented player in Nice's team of journeymen and youngsters who have combined their talents to challenge the very best sides in Ligue 1. This player does not possess the fame or public recognition of some of his teammates, but he is just as, if not more important to the success of his club. He is short and appears skinny which gives him an unimposing first impression. But look a little closer and you will realize that he is a force of nature. Whether it be from the position of right back or right winger, he is an unstoppable presence down the right hand side of the field. He drives his team forward and sometimes almost singlehandedly fashions attacks, leading to chances for his teammates or, more recently goals in his own right.
This player who I speak of is Ricardo Pereira.
Born in Lisbon and of Cape Verdean lineage, Pereira's plunge into professional football began with modest beginnings. After being released by Sporting's academy, he rebounded by joining Associação Naval 1º de Maio, a small club located on Portugal's west coast. After a year under Naval's tutelage, Pereira transferred to Vitória de Guimarães who had just hired future Benfica manager Rui Vitoria. Despite making just three appearances in his first season, Pereira excelled at the youth level and quickly developed into a skilled winger and sometimes striker. In his second season at Guimarães, Pereira broke into the first team under the guidance of Vitoria. It was here that he began to develop his skill as a right sided player. Pereira made 27 league appearances and helped Guimarães finish ninth. Towards the end of the season, it was announced that the twenty-year-old speedster would join Portuguese giant FC Porto.
Before the move went through, Pereira cemented himself in the Guimarães history books by scoring the winning goal in the cup final against Benfica – the club's first ever piece major silverware.
Porto seemed like the perfect place to continue Pereira's meteoric rise to the top of Portuguese football. Unfortunately, Pereira's arrival coincided with a period of change in strategy for Porto. Manager Vítor Pereira, who had lead the club to two consecutive league titles, had been replaced by Paulo Fonseca who had just led the modest side Paços de Ferreira to the Champions League. It ended up being a disappointing season for both Pereira (or Ricardo, as he is known in Portugal) and Porto. Pereira spent the majority of the 2013-2014 season on Porto's bench or with the reserve team and ended the campaign with only 14 league appearances. It proved to be an underwhelming season for Porto as well, and under Fonseca's leadership they finished the season with only the Supertaça Cândido de Oliveira (Portuguese equivalent to the Trophée des Champions) as their reward.
If there is one positive aspect that came from this season of mediocrity, it was that Pereira began to make the transition into becoming a full-back. Fonseca first experimented with Pereira playing in the backline in a Taca De Portugal match against Atletico CP. Pereira started at right-back and provided an assist as Porto easily won 6-0. After the success of this initial experiment, Fonseca began to occasionally start Pereira as a full-back. However, the good form of first choice starting pair Danilo and Alex Sandro meant that his opportunities were limited. In March of 2014, Fonseca was sacked and former Spain U-21 coach Julen Lopetegui was appointed manager at the start of the 2014-2015 season.
This marked the start of the worst season of Pereira's career. Because of the good form of Danilo, Pereira played just five times in the league and twice in the Champions' League. One of these two appearances came in the 6-1 thrashing at the hands of Bayern Munich. Without the services of Danilo who was suspended, Lopetegui opted to start Diego Reyes at right back with Pereira on the bench. However, after a disastrous first thirty minutes in which Bayern scored three unanswered goals, Lopetegui subbed on Pereira for Reyes in the 33rd minute. His introduction did little to stop the bleeding for Porto and Bayern scored two more goals before halftime. While Pereira did improve in the second half, the way in which his side capitulated without the presence of Danilo may be what led Lopetegui to sign Maxi Pereira in the summer of 2015.
All signs pointed to the 2015-2016 season being another disappointing one for Pereira, but the summer of 2015 was where everything changed, a shift made possible by attacking midfielder Brazilian Carlos Eduardo.
Eduardo had spent the 2014-2015 season on loan at Nice from Porto and proved to be an instant success. He had scored 10 league goals and Nice were eager to retain his services on a permanent basis. However, Porto accepted an offer from the Middle East for the services of Eduardo.
Nice had been led to believe that they had the first option in terms of a permanent deal for Eduardo and were understandably annoyed with what they felt were underhanded dealings by Porto. In an effort to prevent Nice from taking the matter up with FIFA, Porto agreed to loan Pereira to the French club on a two-year deal. Pereira had been relegated to second choice right back, once again, thanks to the arrival of Maxi and was desperate for playing time.
In hindsight, this loan deal was almost certainly the turning point in Pereira's career as a footballer.
When he arrived, Nice were in a state of flux. They had just sold one of their best prospects Jordan Amavi, who had been tipped by the media to become France's starting left back in the future. This left big shoes to fill for Pereira, and to add onto the pressure Nice were coming of a season in which they finished a disappointing ninth and conceded 53 league goals.
Manager Claude Puel also had the newly arrived talents of Valère Germain and Hatem Ben Arfa to fit into his lineup and had not yet settled on a formation.
Eventually, Puel chose a 4-1-2-1-2 system which allowed him to give Hatem Ben Arfa the free role he desired and partnered Valère Germain with the young Alassane Plèa upfront. This system placed huge importance on the ability of the fullbacks to get forward and provide width.
On Pereira's arrival in Nice, manager Claude Puel stated "I like athletes with good technical ability, who could bring a lot to the game Ricardo has that characteristic." This proved to be true during Nice's second league game of the season against Bastia during which Pereira provided two assists. The first was a simple pass into midfield which allowed Nampalys Mendy to unleash a rocket into the top corner. The second assist showcased all of Pereira's best qualities. After dribbling down the left wing he played a brilliant 30 yard pass into the feet of Said Benrahma who finished with glee.
Pereira had not played regular first team football for two seasons, but his transition into the Nice starting lineup was rapid and seamless. Nice fans soon began to forget about the loss of Amavi as Pereira's rampaging runs down the left flank became a familiar sight.
After a brilliant first season in France for Pereira, Nice finished fourth and conceded 12 fewer goals than the previous season. This was partly thanks to Pereira's efforts, which aided in solidifying Nice's defence and provided security to the inexperienced Maxime Le Marchand who played at centre back. After such an impressive season, Pereira was perhaps unfairly left out of Portugal's Euro 2016 squad.
Fortunately, Pereira did not have much time to lick his wounds. A new season arrived for Nice and with it came new changes. Much of the team that had dazzled Ligue 1 during the previous campaign left for greener pastures.
Valère Germain returned to Monaco while Ben Arfa chose to end his Nice adventure and join French champions PSG. Nampalys Mendy was recruited by Leicester City and both Jeremy Pied and manager Claude Puel left for Southampton.
With so many changes, it seemed a tall order for Nice and Pereira to replicate the heights they had achieved last season. However, thanks to astute signings and the hiring of Lucien Favre, Nice have outdone themselves this season.
Favre started the season playing a 4-3-3 formation with Pereira playing as a right back. This only lasted a couple of matches as the arrival of Dante allowed Favre to switch to a 3-5-2 with Pereira now playing as a right wing back. This role suited Pereira's attacking instincts perfectly, and Nice achieved early success as they took Ligue 1 by surprise with their quality attacking play.
Nice's successful season took a hit when Pereira suffered an injury that kept him out for eight matches. During this time, young central defender Malang Sarr suffered a dramatic loss of form, Alassane Pléa was ruled out for the rest of the season, and Nice lost 3-0 to fellow title chasers Monaco. With Nice in danger of perhaps beginning to slip out of the Champions league places, Favre once again adjusted, switching to a 4-3-3 with Arnaud Souquet fulfilling the role of right back. This change steadied the ship and gave Nice more solidity. Results returned to normal and five matches after the Monaco loss, Pereira returned from injury, but as a right winger.
This alteration allowed Favre to combine the defensive solidity of Souquet and the attacking prowess of Pereira to great success. The two quickly developed a partnership down the right hand side in which one of the two would stay wide while the other would drive inside and underlap the former. Pereira continued to blossom and his day of international recognition came in a match against PSG.
The match had been built up as a title decider, and PSG knew that nothing less than a win would keep them in the race for the title, while Nice were desperate to prove their worth over the champions of France. Pereira provided the assist for Mario Balotelli's opening goal before deciding to steal the headlines for himself. A few minutes into the second half, Younes Belhanda combined with Arnaud Souquet on the right side before feeding the ball to Pereira on the right corner of the eighteen. Without hesitation, Pereira took a touch inside and curled a wicked effort past Kevin Trapp and into the far corner. Nice would go onto win 3-1. The plaudits were immediate, and suddenly people around the world sat up and took notice. For Pereira, however, this was just the culmination of two brilliant seasons.
Pereira has retained his attacking instincts throughout his career and used these qualities to great effect in whatever position he played. Gifted with large amounts of pace and dribbling ability, Pereira combines these traits with smart decision making and stamina which allows him to be a constant threat down the flanks. His passing and build up play have also seen significant improvement under Favre. Another positive component to his game has been his strength when using either foot which has made him unpredictable in one-on-one duels.
On the defensive side of the game, Pereira had previously struggled with being caught to high up the field and committing rash tackles when trying to recover. However, this has also improved under the guidance of Favre and his skill at defending has increased exponentially. If he has any weakness, it is his lack of height (1.75m). This has put him at a disadvantage when competing in aerial duels. Despite this, Pereira has not shown major signs of being a liability to his team when defending crosses and set pieces.
In summary, Pereira possess all the qualities needed for a modern full-back and has used his attacking background to become a fearsome threat down the flanks for his team. Pereira will rejoin FC Porto at the end of the season, with no option to buy the player in his loan deal with OGC Nice, and a €25m release clause in his current contract which Nice cannot afford.
While some may balk at such an extravagant fee for a defender, Pereira is one of the greatest talents in French football. European sides would do well to exploit this clause to good effect, with Porto currently trying to get Pereira to sign a contract extension which would enable them to elevate that clause.
At his best, he is a force to be reckoned with down the wing and a tremendous talent capable of achieving world class heights in the future. Whichever club lucky enough to capture his services, they will share this opinion. Opposition fans will hope that he does not punish their team with one of his trademark bursts down the wing. Just ask PSG.
This piece is not just about capturing Pereira's tremendous ability, but also serves as a message of gratitude towards, and celebration of, one of the gentlest, kind-hearted men on the French football circuit. Polite, humble and proficient in multiple languages, the Portuguese's human qualities are worthy of his footballing abilities and we speak on behalf of French football's journalists when we say he has been a total pleasure to interact with. It has been an honour and a privilege to cover Ricardo Pereira's two-year stint in Ligue 1 – we wish him all the best.